What Might Abortion Access Look Like In A Post-Roe V. Wade World?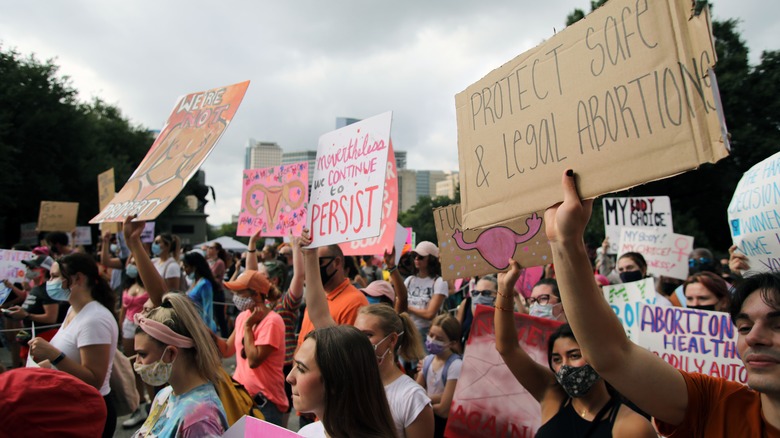 Vic Hinterlang/Shutterstock
A woman's right to have an abortion became a hot political and cultural topic following the leaked Supreme Court draft opinion in May that indicated a potential future overturn of Roe v. Wade. This 1973 landmark court case established a woman's constitutional right to have an abortion. However, despite abortion being currently legal nationwide, Healthline reports that certain states already have tight abortion restrictions and that these are beginning to shed light on what abortion access would look like in the United States in a post-Roe v. Wade world.
For instance, in 2021, Texas passed the SB8 law that only allows women to have an abortion up to the sixth week of pregnancy and penalizes anyone who assists a woman in obtaining an abortion thereafter, per Healthline. According to Zaena Zamora, the executive director of the Rio Grande-based abortion fund Frontera Fund, women in Texas currently seeking abortions are forced to go to other states to get them, which becomes expensive, due to travel, lodging, food, and child care costs. If Roe v. Wade is overturned, more states are expected to ban abortions, which means more women will need to travel further and spend more money if they choose to get an abortion. As a result, the Frontera Fund anticipates that 20% more people in the Rio Grande Valley would need the organization's funding support to travel to get abortions.
Here is what will happen if Roe v. Wade is overturned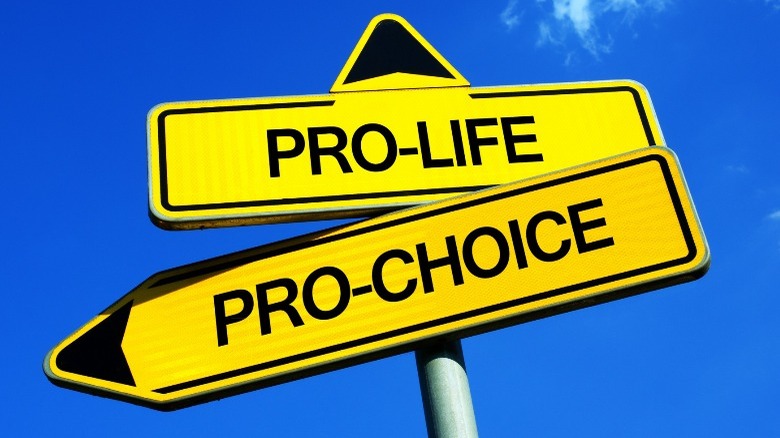 M-SUR/Shutterstock
According to Politico, in anticipation of Roe v. Wade failing, pro-choice activists are looking into legal avenues to push back on abortion bans at the federal, state, and local levels. They also plan on making their voice heard at the ballot box. The fight will require a multi-pronged approach, Alexa Kolbi-Molinas, a senior staff attorney at the ACLU's Reproductive Freedom Project, told Politico. Some abortion advocates have already sued towns that have become self-described, pro-life "sanctuary cities." Others are prepared to battle states that penalize women for seeking abortions across state lines. State constitutions may also provide an opening for legal action, as their language tends to be broad regarding privacy protections for its citizens.
16 states, plus Washington D.C., have abortion access protections in place that experts believe will remain should Roe v. Wade fail, per CNN. Governor Kathy Hochul of New York stated that New York is ready to welcome those seeking an abortion "with open arms" who are unable to access the procedure in their home state. Each of these states' abortion protection laws is distinct within certain parameters and how far into the pregnancy an abortion is legal. However, they are all far less restrictive than states with near-total or total bans.