Accidental Melatonin Poisoning In Kids Has Risen At A Startling Rate. Here's How To Prevent It
Bondar Illia/Shutterstock
New statistics provided by the U.S. Centers for Disease Control and Prevention (CDC) on June 3 in their Morbidity and Mortality Weekly Report indicate there has been a startling rise in melatonin poisonings in children. In fact, over the past decade, the annual number has surged by 530%.
According to WebMD, melatonin is a hormone made in the human body which regulates sleep-wake cycles. It's thought that some people do not make enough of this chemical so taking supplements may be helpful. Many people purchase it over the counter as a sleep aid for insomnia.
U.S. News & World Report writes that the most common manifestation of a melatonin overdose is being very sleepy and, in some cases, not being able to wake up.
The CDC states that during the study period, 260,435 cases of pediatric melatonin ingestions were reported to poison control centers. They additionally report that 4,097 children were admitted to a hospital with 287 needing to spend time in an intensive care unit. Of these, five children needed mechanical ventilation. Two babies, aged 3 months and 13 months, died in their homes.
The biggest rise in accidental melatonin poisonings was observed at the height of the pandemic when cases increased by 38%. Lead author Dr. Karima Lelak, from the department of pediatrics at the Children's Hospital of Michigan, speculates that this might be because more people were coping with the stress of the pandemic by using melatonin to help them sleep (per U.S. News & World Report).
How to prevent melatonin poisonings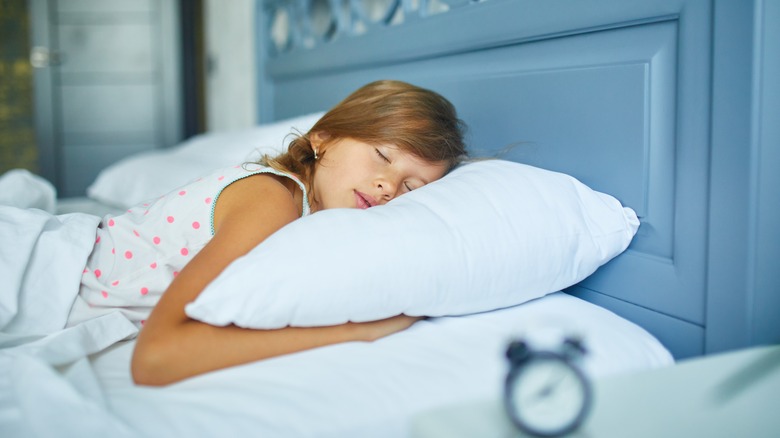 T.B. photo/Shutterstock
Poison Control notes that, even though melatonin is not a medication, it can cause side effects if a person takes too much. These side effects might include sleepiness, nausea, headache, or sometimes agitation.
They suggest that if a person does take too much melatonin, an adult should monitor them, waking them every half hour, until they are completely awake. If their breathing is not normal or they can't be fully awakened, immediate care should be sought through 911 or the nearest emergency room.
In order to reduce the risk of accidental overdose, Healthline advises that melatonin should not be given to young children unless your doctor specifically recommends it. They note that doses between 1 and 5 milligrams could cause them to have seizures or other complications.
WebMD states that melatonin is safe for children when used properly, but you should consult with your pediatrician to decide on an appropriate dose. In general, however, children will need very small doses, with amounts as low as 0.5 milligrams sometimes being enough. Healthline says that it is generally wise, even for adults, to start low and work up slowly to the lowest dose that helps you fall asleep.