The Startling Number Of Adults Who Need Mental Health Care But Don't Have Access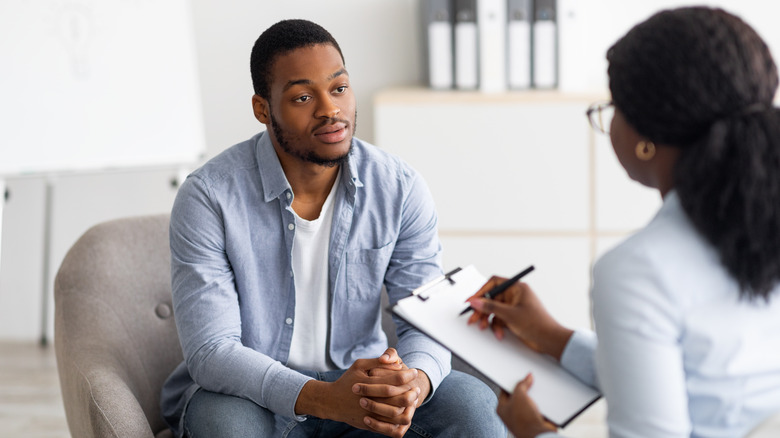 Prostock-studio/Shutterstock
Since the COVID-19 pandemic began, the need for mental health care in the United States has been increasingly in demand. From mental illness to substance abuse, getting adequate mental health care is just as important as primary care. And yet a new poll shows that a startling number of Americans don't have access to it.
Mental health goes hand in hand with physical health since each one can impact the other, according to the Centers for Disease Control and Prevention. For example, depression increases the risk for conditions like diabetes and heart disease, while chronic illness can increase the risk for mental illness. Mental health is important at every stage of life, from early childhood through older adulthood. Mental illness is also very common — one in five Americans will experience a mental illness in any given year, and more than half will be diagnosed with a mental illness at some point in their lifetime. And those who are minorities, including racial/ethnic, gender, and sexual minorities, often experience multiple factors that lead to poor mental health outcomes, such as cultural stigma around care, discrimination, and inaccessibility to high-quality services (via American Psychiatric Association).
Why mental health care is so challenging to access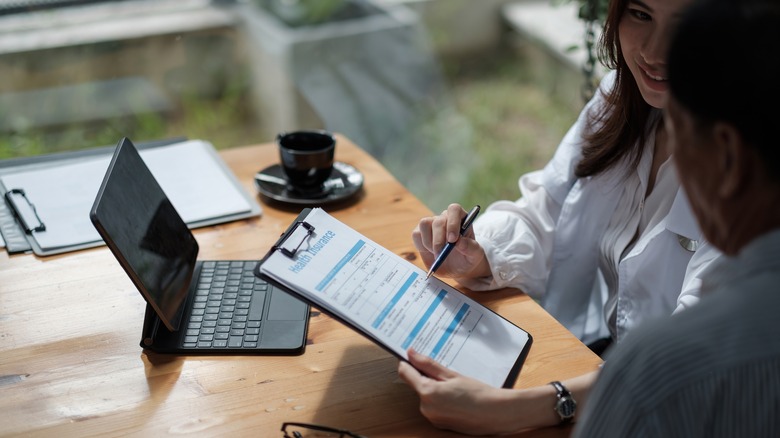 Natee Meepian/Shutterstock
A new survey conducted by The Harris Poll on behalf of the National Council for Mental Wellbeing found that 42% of American adults who needed mental health or substance use care in the past 12 months did not receive it due to multiple barriers (via U.S. News & World Report).
The 2022 Access to Care Survey polled 2,053 U.S. adults, finding that even those who received care cited difficulties in getting it (per National Council for Mental Wellbeing). Lack of insurance and too-high out-of-pocket costs prevented 37% from getting mental health care and 31% from getting substance use care. Being unable to conveniently locate providers, like those in rural areas, was a barrier to 28% of those getting mental health care and to 22% getting substance use care. 25% couldn't get mental health care due to the inability to find a provider who offered a format they were comfortable with, like in-person or telehealth, which also affected 31% of those seeking substance use care. Long wait times were also barriers, affecting 21% of those receiving mental health care and 28% of those receiving substance use care. Additionally, 13% said they didn't get mental health care due to a lack of providers who were good cultural fits, along with 17% of those seeking substance use care.
Why this research matters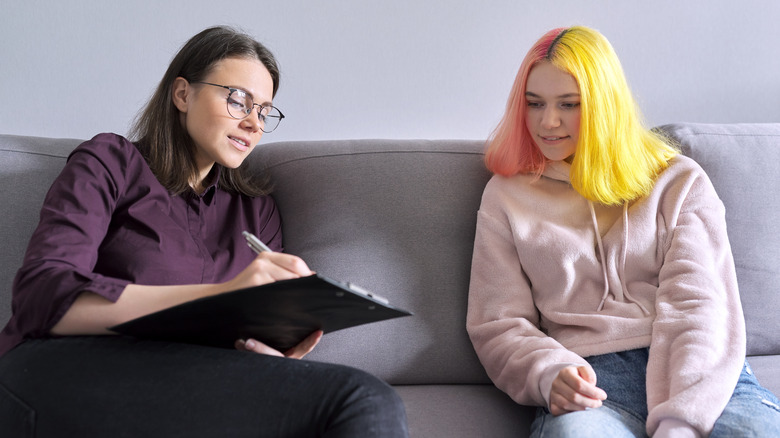 VH-studio/Shutterstock
Many folks who didn't receive care reported that this impacted their personal relationships, contributed to work issues, and led to a decline in their mental wellbeing (via National Council for Mental Wellbeing). The populations with the greatest need for care were men and younger adults.
Chuck Ingoglia, President and CEO of the National Council for Mental Wellbeing, said that we're in a mental health and substance use crisis, and failing to eliminate barriers to access will only worsen the crisis. We can't just acknowledge the problem, according to Mr. Ingoglia, but rather we must actively work to break down these barriers. The National Council for Mental Wellbeing suggests that some solutions to eliminating barriers include passing legislation that would help to overcome the national workforce shortage, permanently lifting restrictions on telehealth services, investing in certified community behavioral health clinics, improving our understanding of substance use disorder, improving health equity, integrating primary care with mental health care, and ensuring that 9-8-8, the new three-digit phone number for the National Suicide Prevention Lifeline scheduled to go live on July 16, 2022, is successful.