Why Step Aerobics Is Making A Comeback
Syda Productions/Shutterstock
If you're old enough, you probably remember step aerobics. Stepping was an amazingly popular way to get your cardio by stepping up and down on a platform (via Healthline). Routines can be simple or complex, and some are choreographed to include squats, lunges, leg lifts, turns, and kicks. Stepping can be low- or high-impact, and you can do it all at home, with a video, or in a class.
While step aerobics may have taken a back seat to more modern types of working out, it is making a comeback (via Well+Good). One of the reasons step aerobics is becoming more popular is because it is a versatile form of exercise. Most step benches are adjustable to a height of 4" to 12", so you can advance when you're ready (via WebMD). This adaptability makes stepping an inclusive activity, CPT and development specialist for Les Mills, Judson MacDonald, told Well+Good. People at different fitness levels can enjoy a single class, he added. This means more people can share the experience, and that creates motivation.
Just about anyone can benefit from step aerobics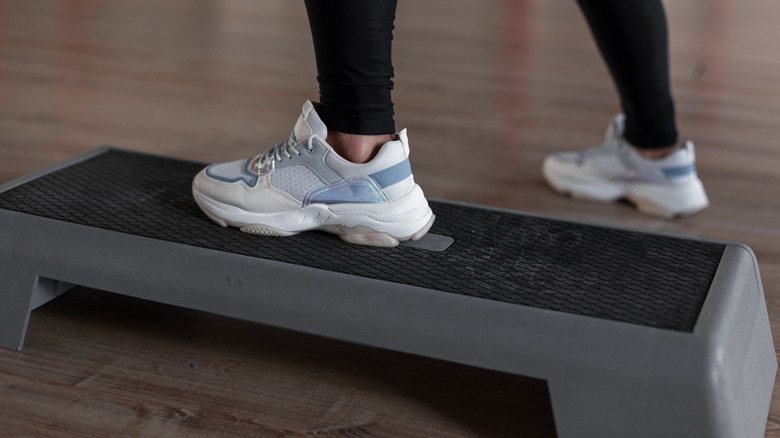 Alones/Shutterstock
Another reason why step aerobics has managed to still be liked is that it is a form of functional training, as per Well+Good. It mimics everyday activities, such as walking, using stairs, stepping out of your vehicle, and stepping sideways. In fact, just about anybody, regardless of their fitness level or age, can benefit from it, Judson MacDonald explains. Stepping is primarily a lower-body workout, meaning it can help improve coordination and joint stability. You're also less likely to be bored with the activity because it requires a certain amount of focus. Stepping is a tried-and-true routine because it delivers results explains WebMD. Whether you are looking to lose weight, manage diabetes, control high blood pressure, or simply find a creative way to be active, stepping is a fun alternative.
That said, this workout might not be for you if you have hip, knee, ankle, or foot pain. If you have any health conditions or other concerns, it's best to check with your doctor before beginning a step routine, per WebMD.