Why The CDC Still Wants You To Keep Your Mask Handy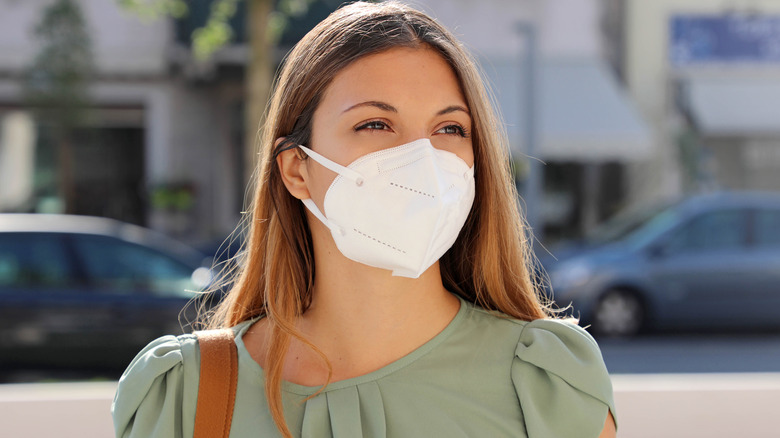 Zigres/Shutterstock
While masking is at its lowest level since the beginning of the pandemic (per Gallup), new data from the U.S. Centers for Disease Control and Prevention (CDC) suggests that many of us should still be masking up. As of Thursday, June 9, greater than 67% of communities throughout the United States were ranked as being at a "medium" or "high" COVID-19 community level. The CDC explains that this assessment is based on the number of new cases and hospitalizations, as well as the availability of staffed inpatient beds to serve these patients. 
The CDC announced on Twitter that 45% of people reside in counties that are at a medium COVID-19 community level, while 22% live in counties that are at a high community level. According to U.S. News and World Report, this represents a large increase from data provided just three weeks ago by the CDC. At that time, 28% of counties were at a medium community level, while 18% were at a high community level.
Knowing your COVID-19 risk
Rido/Shutterstock
If you want to learn more about the risk of COVID-19 transmission in your own community, the CDC suggests checking its county map. Each county throughout the country is color-coded to reflect its community level, with green indicating a low risk, yellow indicating a medium risk, and orange indicating a high risk.
If your community is in the green, you may be able to go without a mask. At a medium community level, or those counties colored yellow, the CDC recommends that people wear masks indoors if they are at risk of having a severe disease or are immunocompromised. At high community levels, denoted in red, all individuals should strongly consider mask-wearing indoors, regardless of whether or not they've been vaccinated.
According to the Mayo Clinic, older people, those with serious heart, lung, brain, kidney, liver disease, diabetes, cancer, weakened immune systems, blood disorders like sickle cell anemia or thalassemia, obesity, or Down syndrome are all at higher risk for COVID-19 complications.