What To Know About The US Ceasing Pre-Departure COVID Testing For International Travelers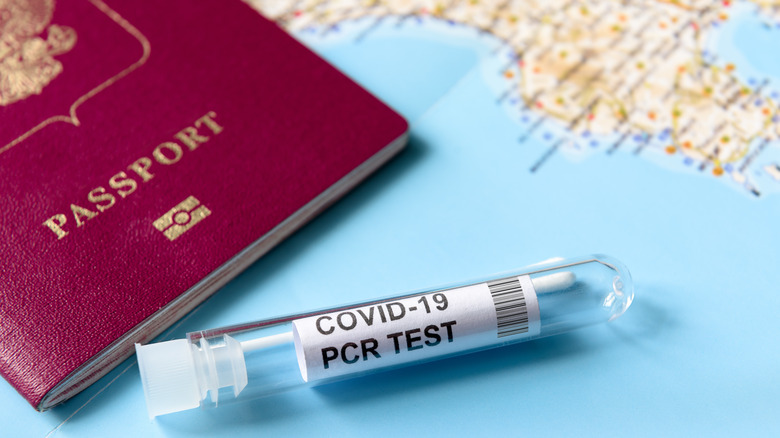 Viacheslav Lopatin/Shutterstock
The U.S. Centers for Disease Control and Prevention (CDC) has opted to do away with the inbound COVID-19 testing mandate required of all airline passengers entering the United States (via CNN). Having announced their decision on Friday June 10, the policy was implemented over the weekend and is now temporarily in effect for the next 90 days, at which time government officials will decide whether to continue to keep the testing mandate lifted (per Healthline). A significant increase in case numbers or the emergence of a new variant are possible factors that may cause the current administration to revisit its decision.
Explaining the reasoning behind their decision, the CDC told CNN, "The Covid-19 pandemic has now shifted to a new phase, due to the widespread uptake of highly effective Covid-19 vaccines, the availability of effective therapeutics, and the accrual of high rates of vaccine — and infection-induced immunity at the population level in the United States. Each of these measures has contributed to lower risk of severe disease and death across the United States." For many, the announcement comes as a breath of fresh air, as government officials pledge to work alongside airlines to make the transition as seamless as possible.
How travelers can continue to protect themselves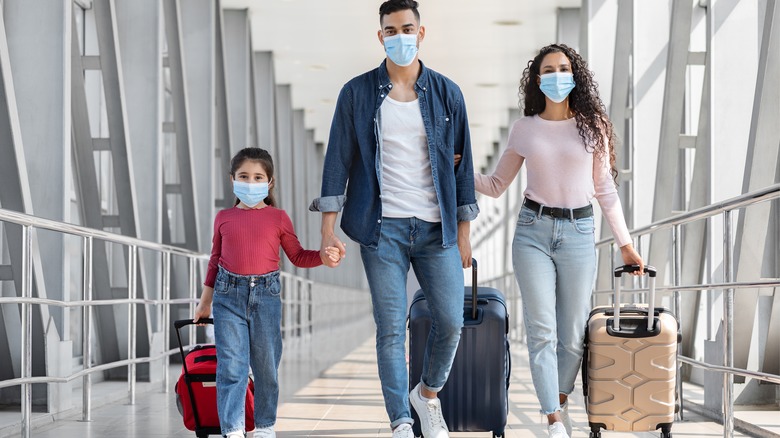 Prostock-studio/Shutterstock
Not only is the new policy expected to benefit the air travel industry, but the economy as a whole. A recent survey issued by the U.S. Travel Association (USTA) collected data from vaccinated international travelers across Germany, France, the U.K., Japan, South Korea, and India. The survey revealed that the need for a negative COVID-19 test result within 24 hours of departure made 57% of respondents "less likely" to travel to the U.S. due to fears of testing positive. Others cited concerns over having to cancel their trip in the event of a positive test result as another reason to avoid U.S. travel. With the mandate now lifted, SFGate suggests the decision will boost international travel to the U.S. and help accelerate economic recovery following the pandemic.
Although U.S. pre-flight testing is no longer mandatory, experts say that visiting passengers as well as those returning home can still take measures to protect themselves against infection — particularly individuals who are considered high risk. Healthline reports that travelers may opt to voluntarily test themselves before boarding a plane in addition to wearing masks and getting vaccinated.