What To Expect When Recovering From A C-Section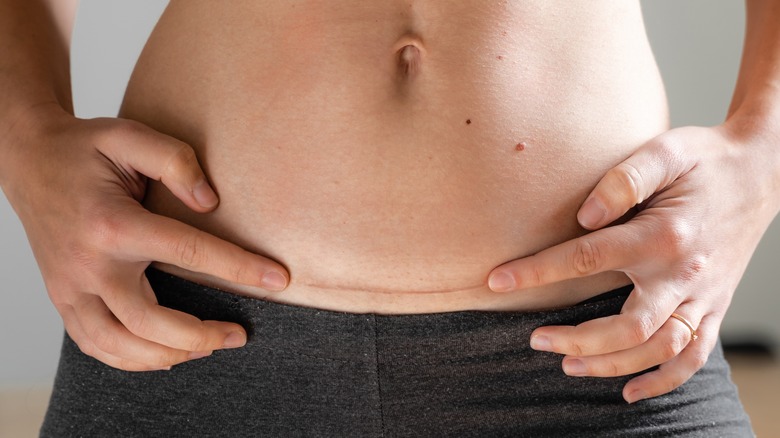 Troyan/Shutterstock
Preparing for the birth of a child is an exciting, and sometimes, scary time. Vaginal births are the most common type of birthing method, however, cesarean deliveries, or C-sections, are also a popular option. According to MedlinePlus, a C-section is a birthing method that involves surgery. While the surgery is safe for both the baby and the carrier, it is still considered to be major surgery, as an incision is made in the uterus and abdomen to deliver the baby.
There are many reasons why a person would need or want a C-section. Cesareans are sometimes scheduled, preferred, or needed during an emergency. Typically, a C-section is offered if it's safer for both the expecting person and baby than a vaginal delivery, the Mayo Clinic reports. For example, a C-section may be required if labor isn't progressing, there are multiple babies, the baby is in distress, health concerns, or you've had a cesarean before. Many women also choose a C-section to avoid a vaginal birth, but this is not recommended if you're planning on having several children. Multiple C-sections can result in an increased risk of health problems, such as heavy bleeding.
C-section recovery symptoms and tips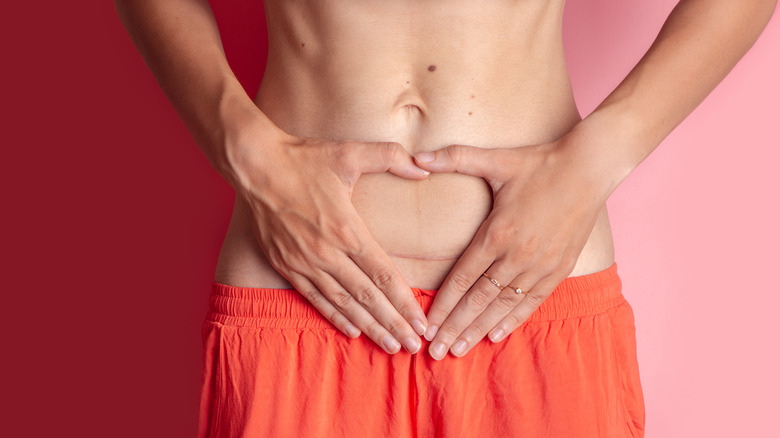 Troyan/Shutterstock
Because a cesarean delivery is major abdominal surgery, recovery will look different from a vaginal delivery. According to Intermountain Healthcare, you should expect to experience soreness, cramps, pain, and vaginal bleeding while recovering from a C-section. It's vital to recover properly, so you will have to change your amount of physical activity until you're healed. For example, you can walk every day, but your doctor may not want you to lift anything heavier than your baby.
When recovering from a C-section, you should also expect to take care of your incision. The typically-horizontal cut can take weeks to heal, and in the meantime, you'll want to keep the incision clean and dry, the Cleveland Clinic reports. Also, expect to check the incision for any signs of infection, and refrain from rigorous exercise and having sex. Most people who have a C-section recover in about six weeks, but each person is different so it may take another person longer to heal.