Worried Your Little One Will Have Side Effects From The COVID Vaccine? Experts Say They're Mild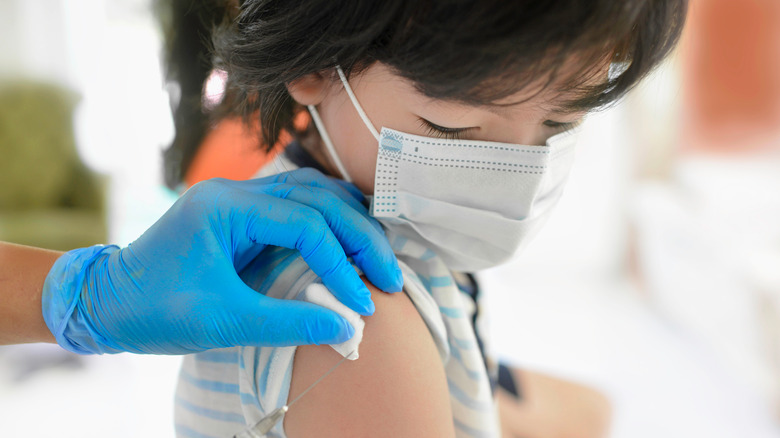 Jeanette Virginia Goh/Shutterstock
On June 17, the U.S. Food and Drug Administration (FDA) announced in a press release that both the Pfizer and Moderna COVID-19 vaccines had been approved for use in kids as young as 6 months old. The Moderna vaccine is administered in two doses spaced roughly four weeks apart for children as old as 5 (via NBC Chicago). The Pfizer vaccine for young children will require three doses, with the second dose issued three weeks following the initial shot; the final shot is given two months afterward. Moderna's vaccine for young children stands at one-quarter the strength of the adult dose, while the Pfizer vaccine is one-tenth the strength of its adult dosage.
With vaccinations beginning this week for those 6 months to 5 years of age, some parents have posed questions to their pediatricians regarding potential side effects their little ones could experience (per CNN). Dr. Grant Paulsen, the principal site investigator for the Pfizer and Moderna COVID-19 vaccine clinical trials in children up to 11 years old, addressed these concerns while speaking to CNN. "In general, I think the most common side effects from either of the vaccines are still the most common side effects we see from pretty much any child that gets any vaccine," Dr. Paulsen told the source.
How side effects may vary between children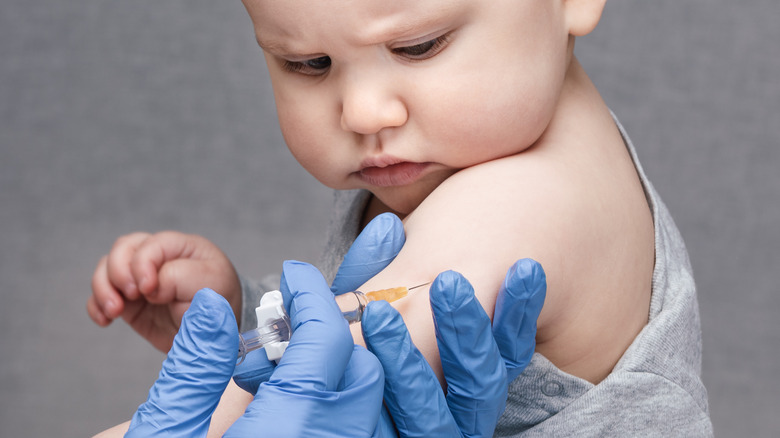 Dmitry Naumov/Shutterstock
Data from the FDA show that side effects for both vaccines are typically mild, if there are any at all (via Insider). Often starting a day or two following vaccination, side effects were generally shown to resolve within 24 to 48 hours. Among these side effects were pain at the injection site, swelling, redness, fatigue, sleepiness, irritability, loss of appetite, and abdominal discomfort, amongst others, reports CNN. No indications of long-term side effects were evident in the clinical trials.
The data further showed that some side effects were more predominant in certain age groups compared to others (via Insider). For example, irritability was the top side effect reported in babies ages 6 months to 2 years old who received either vaccine. Toddlers ages 2 through 5 who received either vaccine most predominantly experienced pain at the injection site. While some instances of fever were reported, cases were generally mild and only marginally more prevalent among Moderna recipients.
Health experts anticipate that parents and caregivers will continue to have questions regarding vaccine safety for young children. "There's going to be a lot of conversation the next couple of months, and I think all of us pediatricians are ready for it, and we're welcoming this kind of conversation, because overall, this is a really exciting time for us," Dr. Nina Alfieri, a pediatrician at Ann & Robert H. Lurie Children's Hospital, told CNN.