NYC Neuropsychologist Shares Ways To Cope With Difficult Emotions Over The End Of Roe V. Wade - Exclusive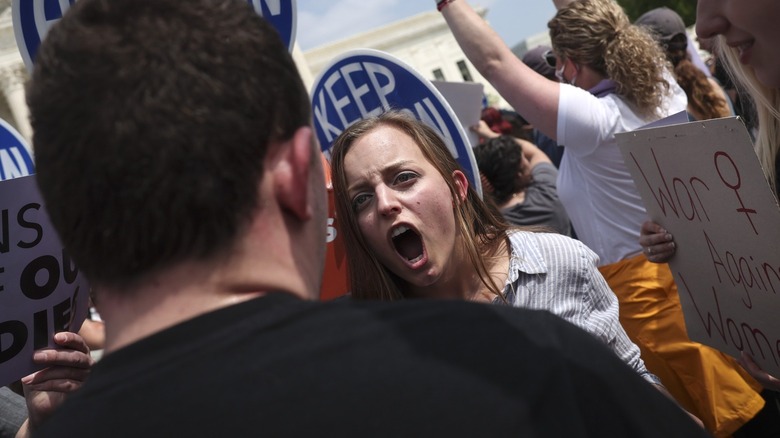 Win Mcnamee/Getty
The possibility of Roe v. Wade being overturned has been part of the public discourse since the Supreme Court's draft opinion leak in May. Last week, the Supreme Court finalized its decision, striking down the ​​1973 landmark court case that established a woman's constitutional right to have an abortion. While this result was expected, many people are experiencing difficult emotions in response to the decision. Health Digest caught up with NYC Neuropsychologist, Dr. Sanam Hafeez, about ways to cope if we find ourselves struggling. Dr. Hafeez is the founder and Clinical Director of Comprehensive Consultation Psychological Services, P.C., a neuropsychological, developmental, and educational center in Manhattan and Queens.
Dr. Hafeez emphasizes that there are an overwhelming number of traditional media outlets and social media platforms that have become primary sources of negative emotions. From Reddit threads to anti-abortion advocates expressing feelings on TV or via other media, it has been difficult to completely escape the flood of provocative news and opinions surrounding the overturning of Roe v. Wade, which can be triggering. "If you are in a situation where you fear your rights will be compromised if you or a loved one becomes pregnant, this can trigger anxiety, uncertainty and a feeling of being 'out of control' over one's own body," Dr. Hafeez told Health Digest. It can also evoke re-traumatization for those who have experienced having their rights violated or taken away, she added.
To manage these feelings, Dr. Hafeez advises that people seek like-minded individuals who share the same viewpoint and with whom they can talk about the ruling. A sense of kinship and empathy can be consoling, she said.
These are the best methods to manage uncomfortable feelings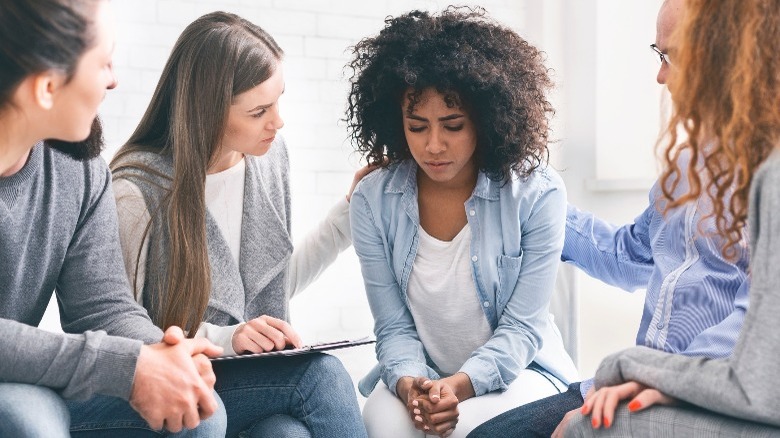 Prostock-studio/Shutterstock
In addition to talking with others to bring some mental relief, Dr. Hafeez also stresses its important to listen to your body. For instance, if you are experiencing symptoms such as heart palpitations, restlessness, headaches, a change in appetite or sleep issues, she says to consider taking a personal day off of work, getting in more exercise, or talking to a therapist.
However, not everyone has the luxury to take a day off from work, from parenting, or other responsibilities. So how can you keep your anxieties from interfering with your ability to take care of your obligations? Dr. Hafeez suggests a kind of mindfulness called "containment." "It's a mental exercise you can perform to contain emotions that are distressing you so that you can compartmentalize the emotions and revisit them at a time when you don't need to be processing other information," Dr. Hafeez said. Performing what she called "containment skills" or "containment therapy" is a useful way to get your emotions under control, she added.
For a greater sense of control and power, Dr. Hafeez suggests taking some kind of action. "Whether you engage in peaceful protest, sign petitions, donate to an abortion-related charity or fund, or join [a] social media group or put forth information via your own social media channels, getting into motion or action will make you feel empowered," she explained. COVID showed us how distressing it is to feel powerless. Using your voice to affect change or express your feelings can be a constructive way to use your fears to fuel action, she said.
Dr. Sanam Hafeez PsyD addresses some of today's common issues such as body image, social media addiction, relationships, workplace stress, parenting, psychopathology, post-traumatic stress disorder (PTSD), learning disabilities, attention and memory problems, and abuse. She often shares her credible expertise to various news outlets in New York City and frequently appears on CNN and Dr.Oz. Connect with her via Instagram @drsanamhafeez or www.comprehendthemind.com