Biden Administration Expands Access To Monkeypox Vaccine. Here's What To Know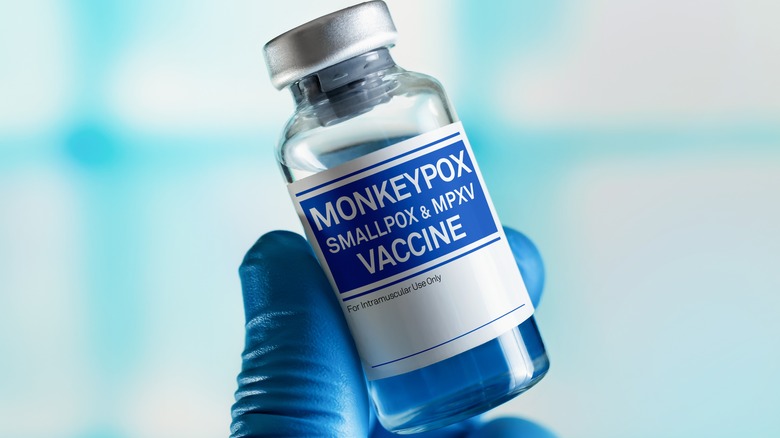 Angellodeco/Shutterstock
The current administration has already taken action to address the rising number of monkeypox cases in the U.S. and will continue to expand its efforts in the coming weeks, White House officials stated Tuesday in a press release. Case numbers across the country now stand at 305 as of June 28, reports the U.S. Centers for Disease Control and Prevention (CDC). As a result, the U.S. Department of Health and Human Services (HHS) announced to the public that it will be expanding the criteria for who is eligible to receive the monkeypox vaccine.
While vaccine access was initially exclusive to those with confirmed cases of viral exposure, government officials explained that the new guidelines will include "those who had close physical contact with someone diagnosed with monkeypox, those who know their sexual partner was diagnosed with monkeypox, and men who have sex with men who have recently had multiple sex partners in a venue where there was known to be monkeypox or in an area where monkeypox is spreading," as stated in the White House press release.
The Biden administration has plans to increase monkeypox vaccine availability well into the fall (via White House). With 9,000 vaccine doses having already been distributed to states across the country, this number will increase to 296,000 in the weeks to come, with 56,000 doses ready for immediate distribution. With additional doses to be administered throughout the summer and fall months, 1.6 million doses are expected to become available throughout the year.
Risk of side effects may vary between the two monkeypox vaccines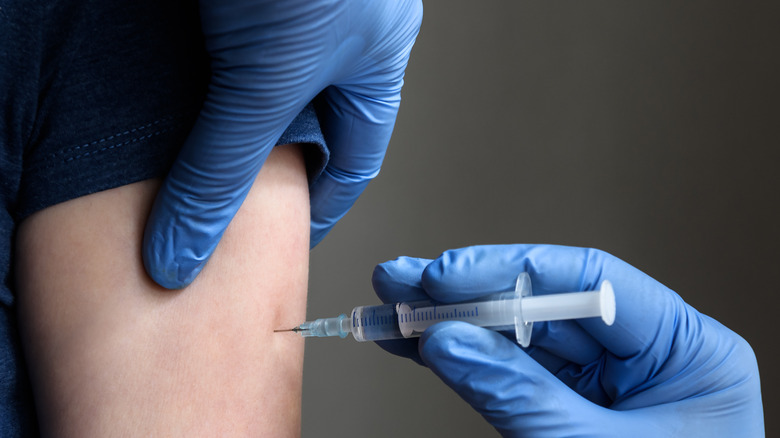 Viacheslav Lopatin/Shutterstock
More than 30 states and jurisdictions have already issued vaccine requests to the HHS, reports the White House. Factoring in the numbers of confirmed monkeypox cases in each state, The Washington Post reports that California, Colorado, D.C., Florida, Hawaii, Illinois, Massachusetts, New York, Rhode Island, and Utah have been deemed first priority.
Available monkeypox vaccine brands include JYNNEOS and ACAM2000. However, ACAM2000 is associated with more significant side effects and is not appropriate for use in those with certain health conditions, including cardiovascular disease or people with compromised immunity, as stated in the White House press release. Some common side effects include itching, fever, fatigue, mild rash, and soreness in the arm. The use of ACAM2000 has also been associated with a potential risk for myocarditis and pericarditis, as per the U.S. Food and Drug Administration (FDA). 
"We are focused on making sure the public and health care providers are aware of the risks posed by monkeypox and that there are steps they can take –through seeking testing, vaccines and treatments – to stay healthy and stop the spread," CDC Director Rochelle Walensky said while addressing concerns in a public statement issued by the HHS.