Speech Language Pathologist Anna Lichtenstein On Gender-Affirming Speech Therapy - Exclusive Interview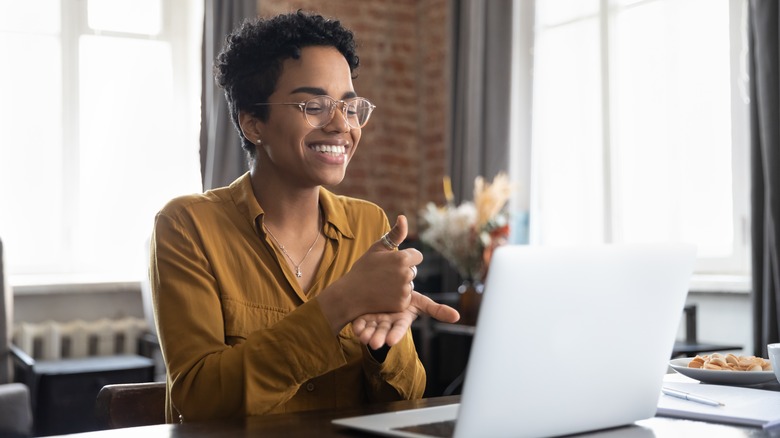 fizkes/Shutterstock
This interview contains descriptions of hate-based assault.
For trans people, being born in the wrong skin can be a lonely and scary experience. From social pressure to conform to expected gender norms, bullying, and worse for daring to embrace their authentic selves, trans people must navigate a minefield of misplaced expectations, misconceptions, and stigma. While gender-affirming surgery is becoming more common and accepted, it only addresses the physical aspects of transition. For many, a nagging part of their former selves remains: their original voice.
This matters more than you may think. Our voices not only reveal our gender, they trigger gender-based social assumptions in listeners. Even artificially generated voices come loaded with gender assumptions: As PC World notes, digital assistants, from Siri to Alexa to Cortana, are always female because customers and beta testers prefer female voices for these roles. If many find the idea of a masculine-sounding digital assistant hard to handle, imagine how they'd react to a trans woman with an unmistakably male voice. 
Safety issues aside, many trans people want to cultivate a voice that matches who they really are. And among the growing number of professionals helping trans people find their voice is speech pathologist Anna Lichtenstein. In an exclusive interview, she shares what gender-affirming speech therapy is and why it matters.
Gender-affirming speech therapy can make life safer for trans people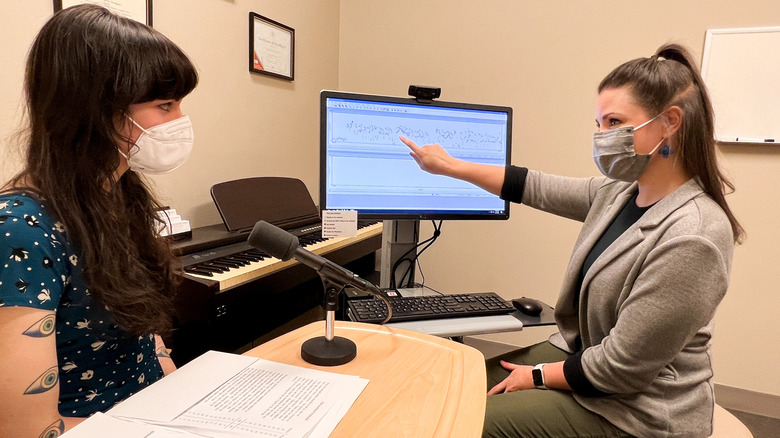 Ohio State University
Can you tell us a bit about your background? How did you get into gender-affirming speech therapy?
My name is Anna Lichtenstein, MA, CCC-SLP, my pronouns are she/her, and I am a speech language pathologist. I graduated from Miami University with my bachelor's degree in 2013 and The University of Toledo with my master's degree in 2015. I am currently enrolled at Northwestern University in the Doctorate of Speech Language Pathology program and am a full-time licensed speech therapist working at The Ohio State University Wexner Medical Center in the Department of Otolaryngology Head and Neck Surgery. 
I started at OSU in April 2021 and was hired to help build a gender-affirming voice modification clinic. In graduate school, I was directed towards voice therapy through a placement at an ENT office due to my interest level in patient support and the psycho-social counseling aspects of the field. Once I started my career, I was assigned to a patient who was a transgender woman seeking voice modification services, and that sparked a passion for providing the very best specialty service possible. Being raised in a liberal household, I was taught that all people are valuable, deserve respect, and should be accepted without question. I was motivated and inspired to pursue this unique and important clinical skill, and in 2016, I started to build a specialty practice. I now have the pleasure of working on an incredible team, including gender-affirming providers and support staff at OSU. I am proud to help move the world forward in this essential area of healthcare.
Why is this particular aspect of gender-affirming care so important?
According to the US Transgender Survey (2016), transgender people face a high level of "discrimination in numerous areas that significantly impact quality of life, financial stability, and emotional wellbeing, including employment, education, housing, and health care." The USTS (2016) was completed by 28,000 transgender people living in the US; 48% of respondents reported being denied equal treatment, verbally harassed, and/or physically attacked in the past year because of being transgender.
I had a patient recently share a story with me that she asked I pass along to whomever it would benefit. This patient is a transgender woman. She was a victim of a hate crime, and as she was being assaulted, she chose not to scream for help, out of fear that her aggressor would harm her even more significantly based on the masculine features of her voice.
This story is upsetting and significant to why she started working with me. She wants a more feminine voice, not to use all of the time, but one that she can have access to when she wants/needs it.
Quality gender-affirming care is important so that these individuals can have a higher quality of life as their true authentic selves. Humans are social creatures, and we are communicating constantly. My goal is for my patients to be able to communicate safely and with confidence in their day-to-day lives. We are treating gender dysphoria, but also the patient as a whole and providing support and resources along the way to help make services as accessible and competent as possible.
Gender-affirming speech therapy is a growing field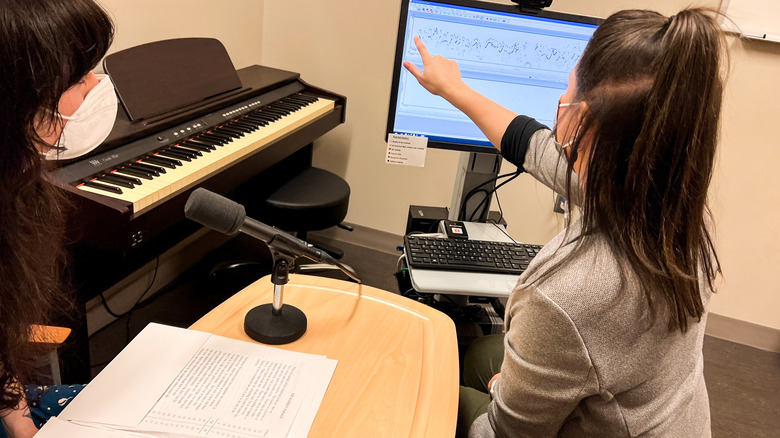 Ohio State University
Is this therapy commonly offered by speech pathologists? What kind of background or qualifications should trans people look for in a potential speech therapist?
Gender-affirming voice skills training for speech therapists is growing in popularity and prevalence within graduate programs, which is excellent! There are fantastic specialty trainings that exist and are recommended for any therapist who is interested in providing gender-affirming voice therapies. My most impactful training was Transgender & Gender Nonconforming Speakers: A Course for Voice Clinicians in Chicago, Illinois, led by Sandy Hirsh, MA, CCC-SLP, Leah Helou, PhD, CCC-SLP, and Christie Block, MA, MS, CCC-SLP. I am always happy to discuss service delivery and resources with students and other interested therapists. An important aspect of this work is advocacy and networking within the trans community providers and local organizations.
Can you break down for us the different aspects of speech that speech therapy encompasses? Things like pitch and intonation, etc.? Is it just about how our voices sound, or also about the words we use?
When initiating voice therapy, I often start with patient education and teach the systems of voice production: [the] respiratory system, phonatory system, articulatory system, and resonatory system. We discuss the basics of the larynx so that the voice and its physiology do not seem so abstract. When teaching voice exercises, we focus on all of the gendered parameters of voice including the pitch (how high or low), the resonance (location and quality of sound), inflection/intonation (movement patterns of the pitch), and airflow/respiration (the softness and coordination of systems). 
Some patients have voice-specific goals, and others are interested in discussing and targeting communication as a whole; in those instances, we can also focus on gendered verbal characteristics (word choice, sentence structure), non-verbal language characteristics (body language, gestures, etc.) and even non-speech voiced tasks (coughing, laughing, sneezing, etc.).
Trans women seek therapy more than trans men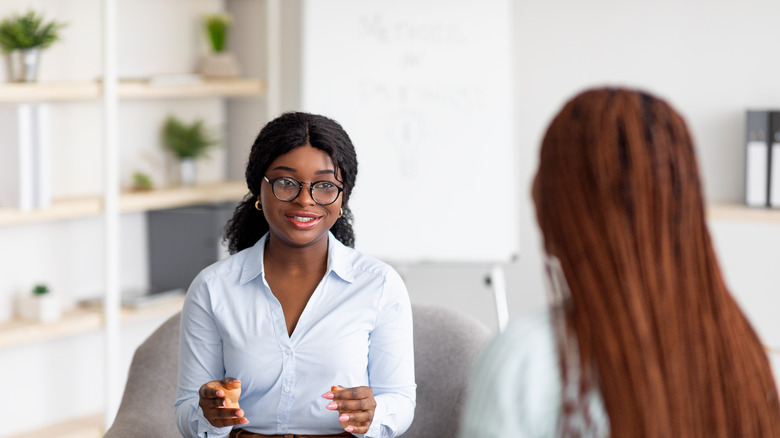 Prostock-studio/Shutterstock
What are trans men and women seeking to change about their voices or speech when they come to you?
I provide gender-affirming voice modification services to patients of all gender identities. Therapy plans are individualized to meet the patient's voice goals. The majority of my patients are transfeminine due to the hormone treatment having no impact on the vocal tract. Because of this, all voice feminization is through training. I do have transmasculine patients on my caseload as well for various reasons, but it is not as common. Testosterone thickens up the vocal cords after around 3-6 months, causing them to vibrate at a slower frequency leading to a lower pitch.
Another optional aspect of voice feminization offered within our clinic is a pitch-raising vocal surgery is called a Wendler's Glottoplasty. This is not generally the first line of approach due to the many drawbacks of the procedure. Laryngologist Dr. Laura Matrka is careful when determining if a patient is an ideal candidate and does extensive counseling on the impacts and follow-up.
Do other aspects of transition – such as hormone therapy, for instance — play a role in gender-affirming speech therapy?
I am not a person of trans experience, but I do recognize the value in a quality team of providers. Each patient has their own set of transition-related goals, and I have a responsibility as a provider on their healthcare team to assure they are connected with the services they are seeking. Some patients are seeking the ability to go stealth within society while others are seeking gender euphoria despite gender expression. Voice is very personal. To some, it is the most significant part of their transition journey. To others, their default voice is something they value and identify with. No two patients seeking gender-affirming care are the same.
Here's what the voice modification journey looks like
Brookie Cookie/Shutterstock
Can you describe a basic course of therapy — what happens during your first meeting with a patient, and what steps are involved in subsequent therapy?
In our clinic, we take a vocal health approach, starting with a scope appointment with one of the laryngologists. Laura Matrka, MD, sees most of my patients to collect initial information and get a look at the vocal cords at rest and in motion. Some patients have incidental findings that are very beneficial to me as the treating voice therapist, for example, significant reflux, vocal cord atrophy (maybe from underuse of the voice), muscle tension dysphoria (possibly from overexertion), lack of vocal cord closure, etc. Having this initial information as the voice therapist allows me to adjust my treatment program to be certain that the skills we are working towards are healthy and can be maintained. 
After this initial appointment, the patient is seen by me for a gender-affirming voice evaluation appointment. This 90-minute session allows for me to build rapport with the patient, discuss goals, measure quality of life impact, collect acoustics, and make a plan for therapy/training sessions. Treatment is typically weekly over the span of approximately 10 weeks. All of the parameters of voice previously discussed are manipulated from the sound level to the conversational level. An additional service is voice group. Voice group programming was created for those patients seeking additional support from other trans folks who have a shared voice experience and want to discuss it and practice it in a structured setting.
As a personal aside, I truly enjoy this work. My patients are incredible.
Anna Lichtenstein shares some dos and don'ts for trans people seeking voice modification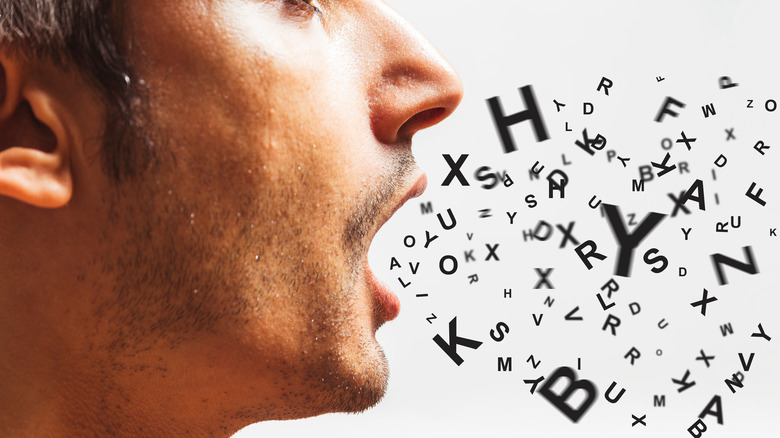 J.K2507/Shutterstock
How do your patients respond to therapy and to what they learn from you?
I want my patients to have a new sense of understanding and control of the voice. There is no such thing as a perfect voice, but there is a skill set involved in modifying the voice to feel more gender congruent. Even more important than the voice skills themselves, I want patients' before and after quality of life rating scale to improve and their communication confidence to increase.
What advice would you give to trans people still trying to find their authentic voice?
There are some excellent online resources for gender-affirming voice; however, there is also alarming content. For some individuals, the online resources are exactly what people are looking for. I will note that unwanted damage to the vocal tract can occur with independent voice use depending on the method. Voice work should not feel painful, tight, straining, or too tiring. One of the benefits of having a voice therapist in front of you is the constant feedback, prompting, and adjusting. Voice is closely tied to identity, personality, and overall interaction. I often tell my patients...it should feel good to talk and I am here for support.
For more information, see the Wexner Medical Center at Ohio State University's site for gender-affirming care and James, S. E., Herman, J. L., Rankin, S., Keisling, M., Mottet, L., & Anafi, M. (2016). Statistics are taken from The Report of the 2015 U.S. Transgender Survey, Washington, DC: National Center for Transgender Equality.