Firework Safety Tips For The Holiday Weekend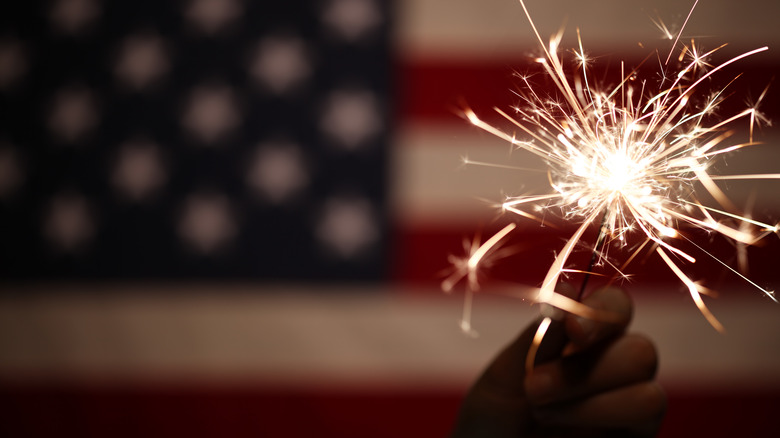 Leigh Prather/Shutterstock
The United States Consumer Product Safety Commission reports that rates of firework-related injuries have increased by 25% over the last 15 years. In 2021, 74% of these injuries occurred around the Fourth of July. With the holiday fast approaching, experts are urging families and individuals to exercise caution while celebrating.
A recent poll issued by C.S. Mott Children's Hospital found that only 19% of parents who watched a fireworks display with their family reported seating their child the recommended 100 feet back from the firework launch area. For families who launch fireworks themselves, 34% of parents reported they would permit their child to help if between the ages of 11 and 15. Alternatively, 19% of parents reported feeling comfortable allowing their child to assist at 10 years of age or younger.
The majority of parents reported implementing safety measures for their children when using sparklers, including keeping the sparkler a safe distance from their face, standing apart from one another, wearing shoes, and lighting only one sparkler at a time (per C.S. Mott Children's Hospital). However, only 50% of parents reported keeping water nearby to extinguish the sparklers when done. Contrary to popular belief, sparklers pose more of a burn risk than parents may realize. Able to heat up to more than 1,000 degrees Fahrenheit (per C.S. Mott Children's Hospital), the United States Consumer Product Safety Commission reports that sparklers were responsible for 1,100 firework-related injuries in 2021, only 400 less than the 1,500 injuries reported from firecracker usage.
Sparklers versus aerial fireworks safety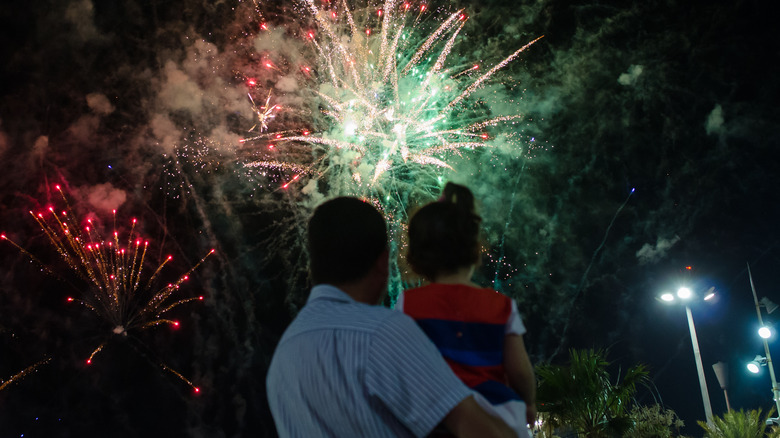 Kudinov Vadim/Shutterstock
"Our poll suggests that some parents may need to be more diligent to ensure a safe environment that minimizes these risks and protects children from firework injuries," poll co-director Sarah Clark said in a public statement (via HealthDay).
Of the many ways families can practice injury prevention, C.S. Mott Children's Hospital suggests that children and pets be kept a minimum of 100 feet away from firework launch areas in the neighborhood or to stick to professional firework displays (per C.S. Mott Children's Hospital). If setting off aerial fireworks on your own, be sure to wear protective eyewear. Additionally, families will want to ensure the area is clear of trees, homes, and anything else that could catch fire. Individuals should always purchase legal fireworks and have water readily available when setting them off. Wait until the following day to clean up any remains in order to allow fireworks sufficient time to cool.
When it comes to sparklers, parents can protect their children by teaching kids how to properly hold a sparkler well below the burn area (via C.S. Mott Children's Hospital). Try to minimize spinning and twirling, as this can make sure the sparkler is being kept at a safe distance from the child's face, hair, and others. You'll also want to steer clear of areas with rocks, tree roots, or anything else the child could potentially trip over. As the fun comes to an end, dispose of used sparklers in a bucket of water.