Why The FDA Is Warning Parents Of The Dangers Of Pool Neck Floats For Babies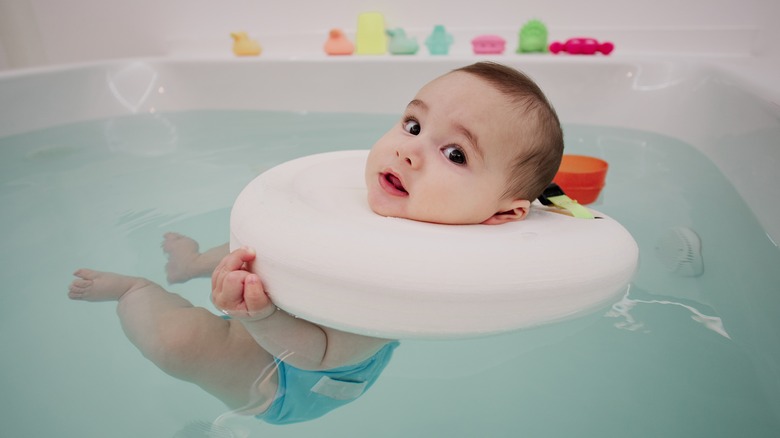 Daniel Vargas Peset/Shutterstock
The swimming pool is a popular place to cool off from the summer heat, but parents and caregivers are warned of a potential danger to infants. The U.S. Food & Drug Administration (FDA) has released an urgent health warning about the risks of pool neck floats. The inflatable ring accessory is commonly used to allow small children to move freely in water (per Good Housekeeping).
Pool neck floats are often marketed to increase muscle tone, brain and nervous system stimulation, flexibility, range of motion, and improve sleep quality (via TODAY). But according to the FDA, the use of neck floats can have serious consequences including injury, neck strain, or death. They are especially dangerous for babies with special needs or developmental delays.
In a statement released by the FDA, the agency says, "The risks of using baby neck floats include death due to drowning and suffocation, strain, and injury to a baby's neck. Babies with special needs, such as spina bifida or SMA Type 1 may be at an increased risk for serious injury" (via TODAY).
The warning comes after one report of a baby who died and another who was hospitalized due to the use of neck floats. Both children were reportedly unmonitored at the time.
The FDA also notes that pool neck floats have not been evaluated for safety or effectiveness, therefore should not be used.
Recommendations for parents and caregivers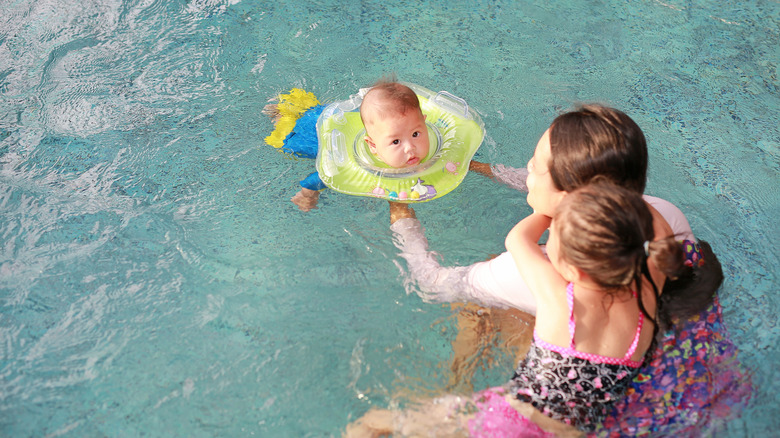 GOLFX/Shutterstock
The FDA is encouraging parents and caregivers to report any injuries that may be related to pool neck floats so they can better understand the risks (via U.S. News & World Report). Doctors and medical experts are also urged to spread the warning and inform the public of the dangers.
Kyran Quinlan, former chair of the American Academy of Pediatrics Council on Injury, Violence and Poison Prevention, tells Good Housekeeping, "Neck floats for babies scare me to death, and I hope they scare parents. These are potential death traps ... To have your precious baby one poorly sealed seam away from going under at the pool is frightening."
The FDA is also on high alert about companies marketing neck floats as an appropriate tool for water therapy in the pool or bathtub. Companies that promote unproven claims will be monitored. The general public can also submit their own concerns through the FDA's Allegations of Regulatory Misconduct system.