Should You Enroll Your Young Child In Swim Lessons?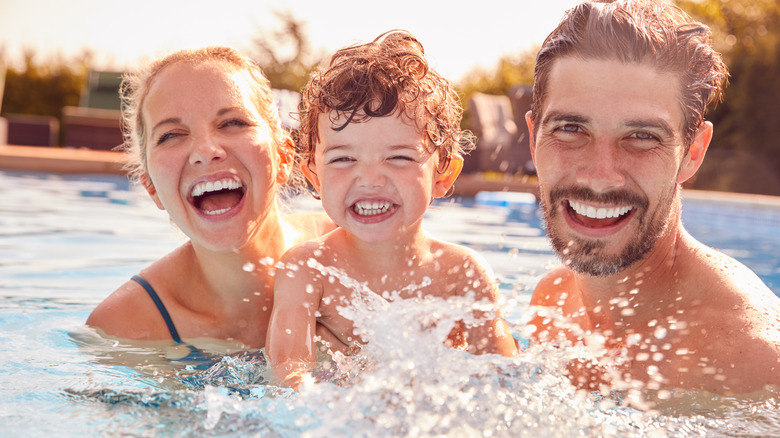 Monkey Business Images/Shutterstock
While many parents may have put swim lessons on hold since the start of the pandemic, it's still important to ensure that young children learn how to swim, according to HealthDay News. In fact, the American Academy of Pediatrics (AAP) recommends that parents enroll their children in swim classes as soon as possible. That's because drowning is the leading cause of death for children between the ages of 1 and 4 years old.
While these accidental drownings can occur during any time of year, they are much more common during the summer months when children have greater access to pools, lakes, and even the ocean. Swim lessons, however, can help save a child's life. "Research shows that formal swim lessons for children age 1 and older reduce the risk of drowning," Dr. Sarah Denny, the lead author of the AAP's Prevention of Drowning guidance, said in a news release. Learning how to swim can give children an added layer of protection when they're in or near a large source of water, alongside life jackets, lifeguards, and parental supervision.
When should your child learn how to swim?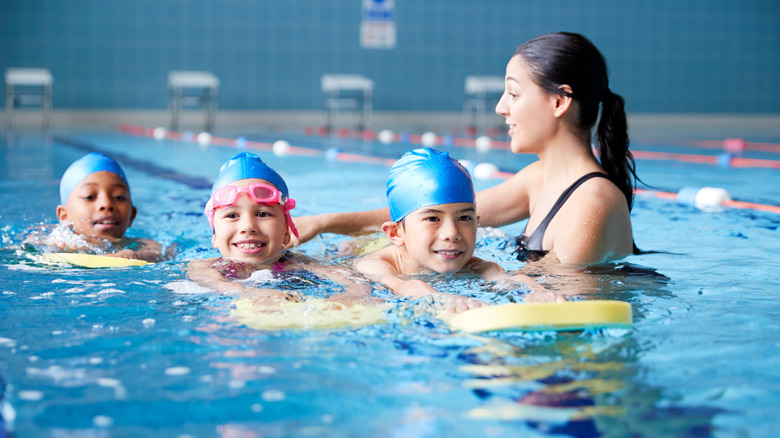 Monkey Business Images/Shutterstock
Although children can start learning how to swim as young as 1 year old, not every child develops at the same pace. That's why parents must consider their child's level of readiness when deciding whether or not to start swim lessons. According to experts at Parents, most children are developmentally ready for swim lessons by the age of 4.
That's because this is the age that children are old enough to learn slightly more advanced water survival skills, like floating, treading water, and swimming to an exit point in the pool. By 5 and 6 years old, most children should be able to confidently swim the front crawl stroke."Swim lessons can reduce drowning risk by 88% and can give children the skills they need to save themselves," Dr. Molly O'Shea, the official pediatrician for Goldfish Swim Schools, told Parents. When enrolling your child in swim classes, however, make sure the instructor is experienced and allows parents to join.