Carlos Santana's Heat Exhaustion Fully Explained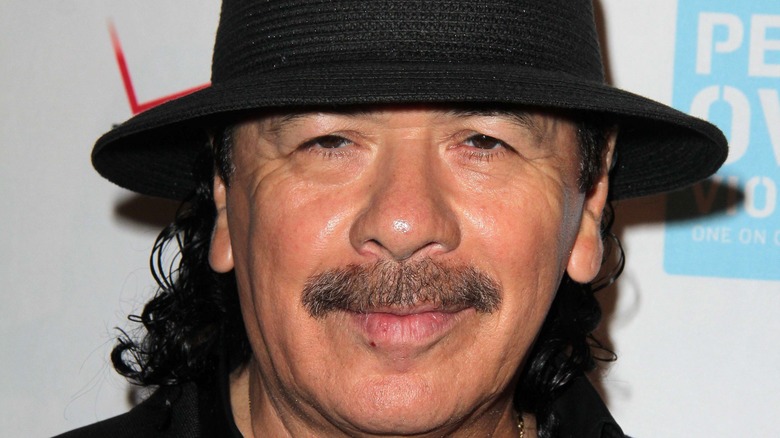 s_bukley/Shutterstock
Grammy Award-winning guitarist Carlos Santana was taken to the McLaren Clarkston hospital emergency room Tuesday after collapsing onstage from heat exhaustion mid-performance at the Pine Knob Music Theatre in Michigan, reports People.
Witnessing the event, music journalist Gary Graff tweeted that the singer had "just collapsed" and was carried out on a stretcher within 20 minutes, accompanied by cheers of support from the crowd (per People). Additional video footage showed the artist waving to fans as he departed. Citing the cause of the collapse as heat exhaustion and dehydration, a rep for the musician provided People with an update stating that Santana has been under observation and is "doing well."
Giving a status update to fans via social media, Santana posted on Facebook Wednesday morning that he and his wife, Cindy Blackman Santana, are doing well and "taking it easy." His wife Cindy provided additional context, also posting on Facebook that the temperature onstage had been 100 degrees Fahrenheit and that her husband had forgotten to eat and drink water the day of the concert. She concluded her post by saying that her husband will be "good as new soon!"
Signs of heat exhaustion to look out for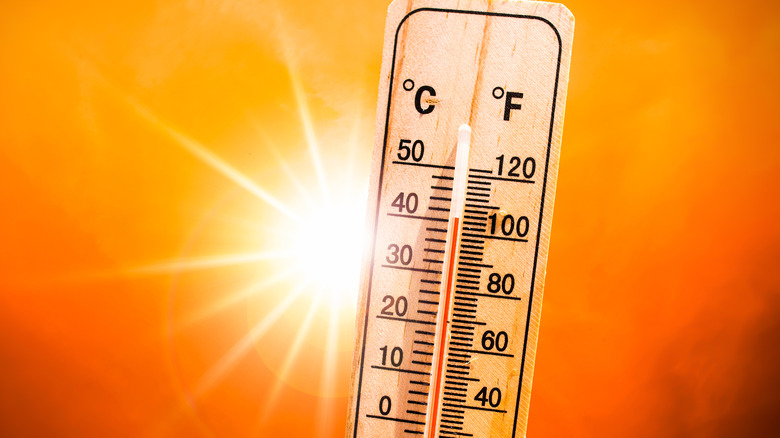 Guenter Albers/Shutterstock
Classified by the U.S. Centers for Disease Control & Prevention (CDC) as a heat-related illness, heat exhaustion occurs when the body is unable to adequately cool itself down (via Mayo Clinic). Hot weather conditions, dehydration, and strenuous physical activity can all cause the body to overheat, potentially leading to heat exhaustion. Considered a more serious condition than heat cramps, heat exhaustion can lead to heat stroke — the most severe form of heat-related illness — if not properly treated.
Heat exhaustion is characterized by heavy sweating, dizziness, faintness, rapid pulse, nausea, muscle cramps, and goosebumps, among other symptoms (per Mayo Clinic). While heat exhaustion can affect anyone of any age, kids under the age of four and adults ages 65 and older are particularly susceptible to the condition. Seek prompt medical attention if symptoms worsen or do not subside within 1 hour, or if symptoms of confusion, agitation, loss of consciousness, or an inability to drink fluids sets in.
Experts at the Mayo Clinic say those experiencing heat exhaustion should take measures to cool their core body temperature including moving to a cooler location, drinking cold water or sports drinks, as well as ceasing all physical activity. To protect yourself from heat exhaustion, experts suggest wearing loose, breathable clothing, staying hydrated with plenty of water, reapplying sunscreen with an SPF of 15 or more every 2 hours, and refraining from outdoor exercise during the hottest hours of the day.