Here's How President Biden May Try To Protect Abortion Access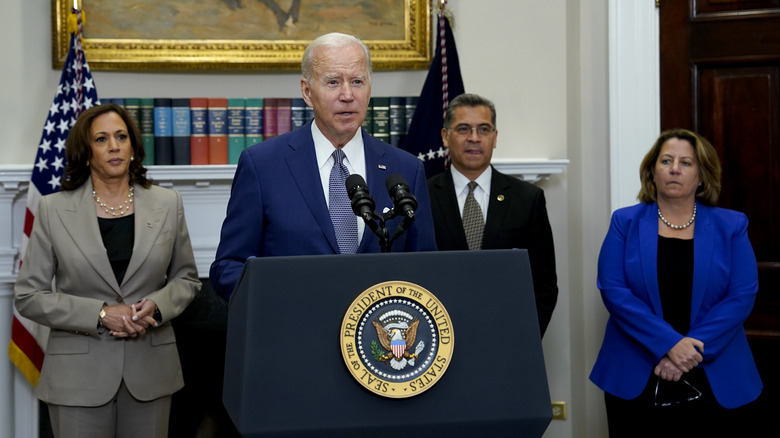 Bloomberg/Getty Images
After a monumental decision on June 24, 2022, the Supreme Court reversed the Roe v. Wade decision from 1973 which guaranteed the constitutional right to abortion. Since this landmark decision, President Joe Biden stepped in to safeguard abortion access by signing an executive order last Friday (via CNN). According to CNN, this executive order will promote more security, bolster efforts toward public education, and ensure more legal options for anyone seeking or offering abortion services.
The Biden administration is weighing whether it has the authority to declare the issue of abortion access a public health emergency, and whether it would open up a reasonable amount of federal resources, points out Yahoo! News. CNN notes that on Friday, Biden said he asked the Justice Department "to do everything in their power to protect these women seeking to invoke their rights".
Some progressives have even suggested legalizing abortion services on federal properties in states where abortion is banned, but the White House has dismissed this idea, with press secretary Karine Jean-Pierre warning it would have "dangerous ramifications" (via CNN). However, the Department of Health and Human Services was ordered by Biden to safeguard reproductive health by increasing access to emergency contraceptives, intrauterine devices (IUDs), and medication abortion (per ABC News). Biden also raised the idea of a filibuster carveout to protect abortion access, but his idea has been opposed by two Democratic senators.
What does this executive order do?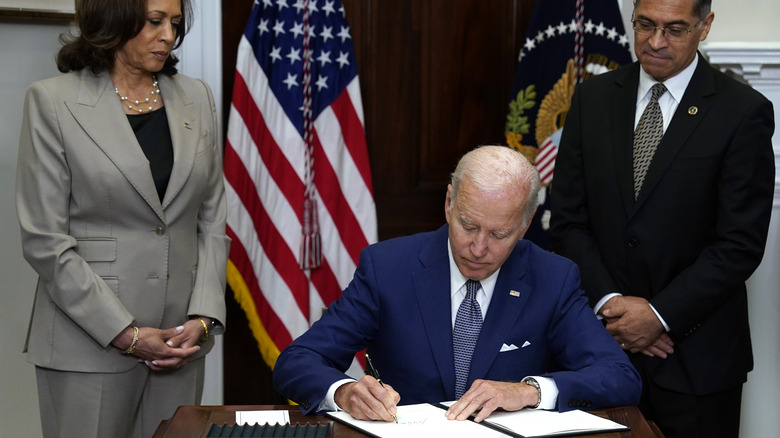 Bloomberg/Getty Images
Signed on Friday by President Biden, the mission of the executive order is to safeguard access to reproductive health care. According to The White House, this order aims to guard reproductive rights in four major ways. It aims to ensure patient privacy; preserve access to contraception, abortion, and other reproductive health care services; and guarantee the safety of patients, clinics, and doctors. Lastly, the White House will also use federal efforts to supply even more protection for reproductive services.
While the executive order may be a push to help restore abortion access, BuzzFeed News says that voting is the only way to truly restore federal rights. Per Buzzfeed News, Biden explains, "We need two additional pro-choice senators and a pro-choice House to codify Roe as federal law. Your vote can make that a reality. I know it's frustrating, and it made a lot of people very angry. But the truth is this."