What It Means When You're More Tired On The Days You Don't Work Out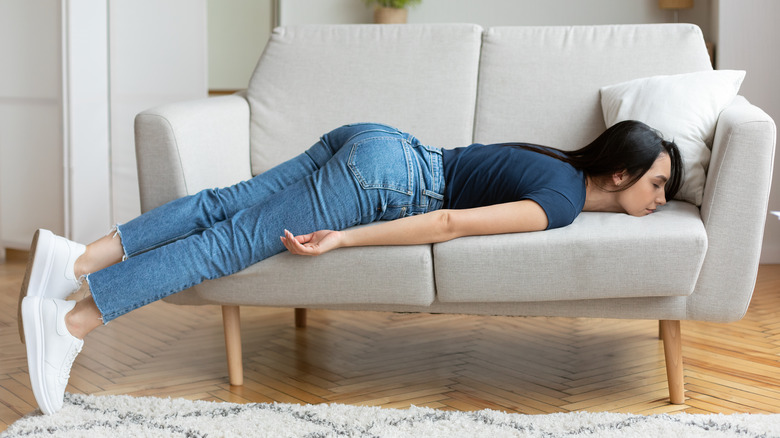 Prostock-studio/Shutterstock
Exercise makes you feel great, so you might be tempted to skip a rest day and stay in beast mode, but taking days off between workouts is essential to your training. Medical News Today explains that rest days prevent overtraining and can stave off injury. A day without logging miles or reps can also give your mind a break.
World-class triathlon coaches like Matt Dixon believe recovery days can be difficult, especially when your workouts feel good (via Purple Patch Fitness). When pushing your body to the limit, taking a day off might stoke your fears that you'll lose fitness. However, this is where the gains take place. Dixon writes, "Rest is a proactive action to facilitate high performance in the coming days."
Rather than enjoying the rest day, however, you might find yourself more tired. It might not seem to make sense, especially since you figure you're not exhausting yourself in a hard workout. Why do you feel so tired on the days you don't work out?
Why you're tired on recovery days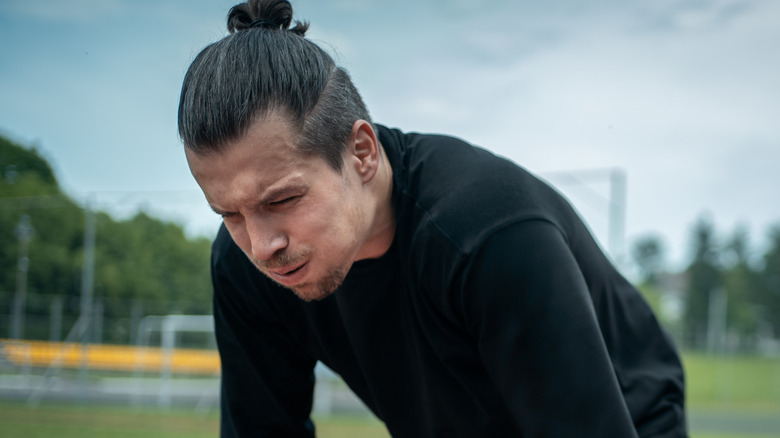 Goami/Shutterstock
Typically, exercise increases endorphins, which are those feel-good hormones that give us energy. That's why we might reach for that third cup of coffee on days we don't exercise. If we skip our morning spin class and sleep in, this disrupts our circadian rhythm, which might leave us feeling sluggish, too (via Stylist). Also, when our body isn't challenged to perform, it begins repairing muscles and tissues so we can return to peak performance the next day (per Well + Good). 
According to the American Council on Exercise, when high-intensity exercise places stress on the body, our body seeks homeostasis. That's why our body tries to restore our inner balance on rest days by using the energy to recover. High-intensity exercise creates both metabolic and mechanical overload. With metabolic overload, our system is depleted of energy that typically fuels exercise, and we need time to restore this energy. Mechanical overload refers to the tiny tears in our muscles and tissues that need time to repair.
What to do on days you don't work out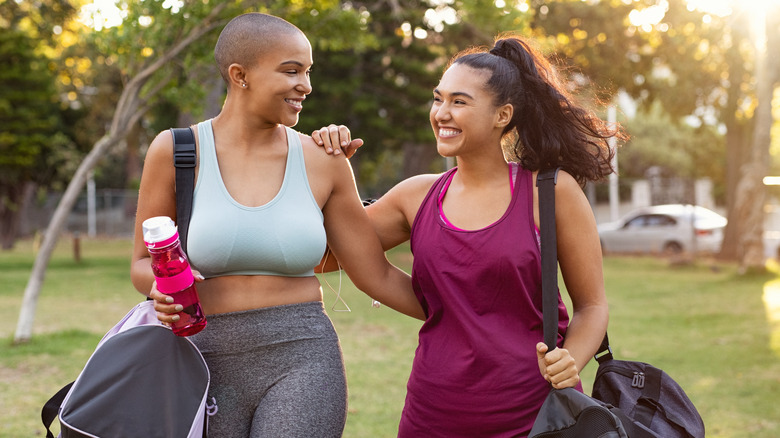 Rido/Shutterstock
Depending on your fitness level, a recovery day might not look the same for everyone. For example, Cycling Weekly says Tour de France cyclists will still ride a few easy miles to aid recovery and eliminate muscle waste. They also keep the same diet on their off and race days.
The more intense your workouts, the more time you'll need to repair damage and remove metabolic waste, according to the American Council on Exercise. If you've done a low-intensity workout, you might not need a strategy for recovery days. Still, a low-intensity activity might be the right way to recover after an intense workout. Increasing your heart rate on a recovery day can speed nutrients to your muscles while loosening any inflammation that might limit the healing process. A 2008 study in the Journal of Endocrinological Investigation found that our cortisol levels spike when we train at moderate and strenuous intensities. Low-intensity exercise — about 40% of your VO2max — can reduce these stress hormones in your body.
According to Purple Patch Fitness, one thing you can do during active recovery is to avoid hitting a specific goal such as minutes or miles. A gentle yoga class might help free your mind from achieving a personal record if you're a CrossFit enthusiast. Hard-core runners might decide to reconnect with their non-competitive friends and go for an easy jog. You might need a day on the couch if you're exceptionally depleted.