Research Suggests 10 Hours Of Sleep For Your Little One Is Key For Kindergarten Success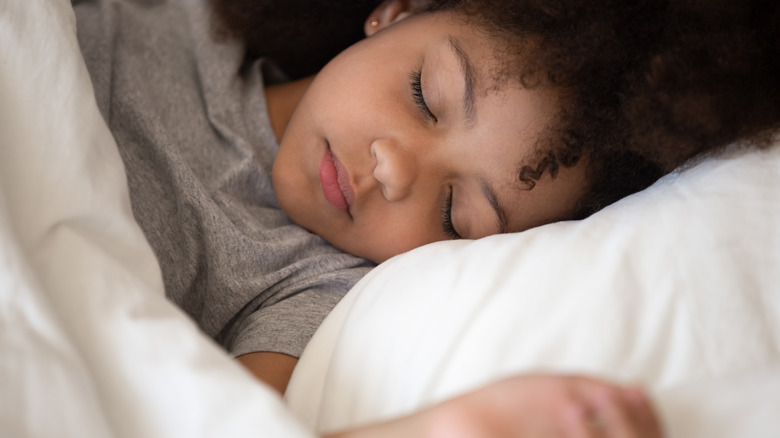 fizkes/Shutterstock
It's easy to understand how important sleep is if you've ever had a restless night or pulled an all-nighter. Suddenly you can't focus, everything is bothering you, and all you can think about is closing your eyes. And these effects of being overtired are no different for young children entering kindergarten, a new study showed.
We already know that sleep is essential. But sleep is even more essential for kids, according to Johns Hopkins All Children's Hospital. Not getting enough sleep has been linked to depression, obesity, and high blood pressure. The American Academy of Pediatrics recommends that children 3-5 years old sleep 10-13 hours per night and children 6-12 years old get 9-12 hours of sleep per night. Yet more than half of U.S. children ages 6-17 are getting less than 9 hours of sleep each night, which some experts are calling a public health problem among children (via Healthline). This can be connected to early school start times, too much screen time, and other external pressures.
How sleep affects social, emotional, and academic learning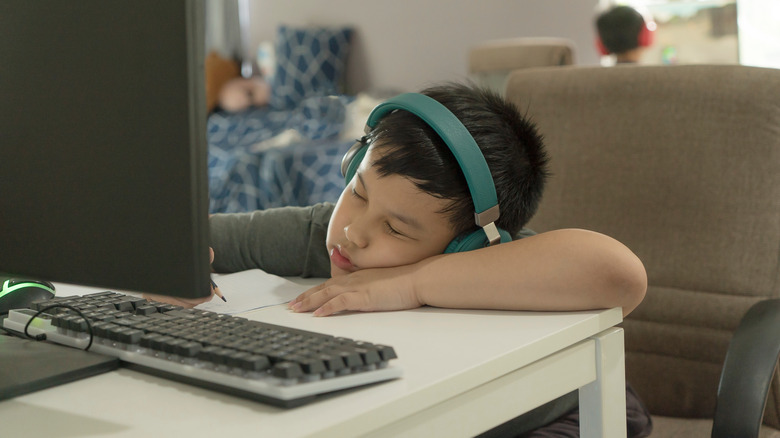 WORAWOOT.S/Shutterstock
A new study published in Pediatrics found that when children entering kindergarten get at least 10 hours of sleep per night, they do better socially, emotionally, and academically (via Healthline). The study included 230 families, with 23.1% of participants belonging to racial/ethnic minority families. Researchers analyzed sleep measures of children at four different points throughout the kindergarten school year, including before the school year began.
They found that children who regularly got at least 10 hours of sleep per night had better outcomes in socioemotional, learning engagement, and academic domains. Results showed that children did better throughout the year when they had already established healthy bedtime routines before entering kindergarten.
Researchers noted that parents' busy work schedules, which often can't be controlled, can interfere with children's sleep schedules. They also emphasized that screen time plays a role in quality of sleep, which other studies have confirmed. Per Healthline, the American Academy of Child and Adolescent Psychiatry recommends that children aged 2-5 get no more than an hour of screen time per weekday and three hours on weekends.
Other risk factors for insufficient sleep include living below the federal poverty line, lack of caregiver education on getting adequate sleep, adverse home-life situations, and mental health issues (via Healthline). You can help your child get better sleep by limiting screen time, talking with them about the importance of sleep, and following a consistent bedtime routine.