Over-The-Counter Birth Control Could Be A Reality Sooner Than You Think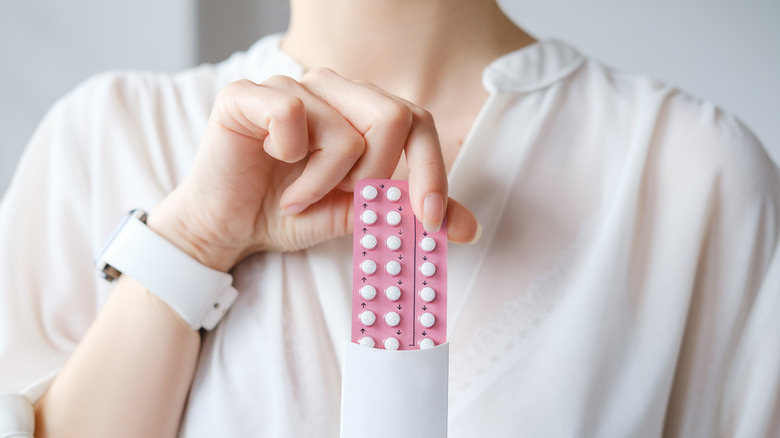 KaryB/Shutterstock
More than 60 years after prescription birth control pills first revolutionized sexual health and family planning in the U.S., the Food and Drug Administration (FDA) may soon approve the use of an over-the-counter contraceptive pill. According to the New York Times, HRA Pharma, a French-based pharmaceutical company, has filed an application with the FDA to authorize the first ever over-the-counter birth control pill in the U.S. Known as Opill, the contraceptive was originally approved for prescription use in the U.S. in 1973, but has not been marketed in the country for some time (per PopSugar).
After years of research and remaining stagnant in the FDA's prolonged pre-application process, a more accessible birth control may be available as early as next year (via PopSugar). According to Frédérique Welgryn, the chief strategic operations and innovation officer at HRA Pharma, Opill's FDA application is a "groundbreaking" step toward reproductive equity in the nation. "Moving a safe and effective prescription birth control pill to OTC will help even more women and people access contraception without facing unnecessary barriers," Welgryn said in a statement.
What is Opill?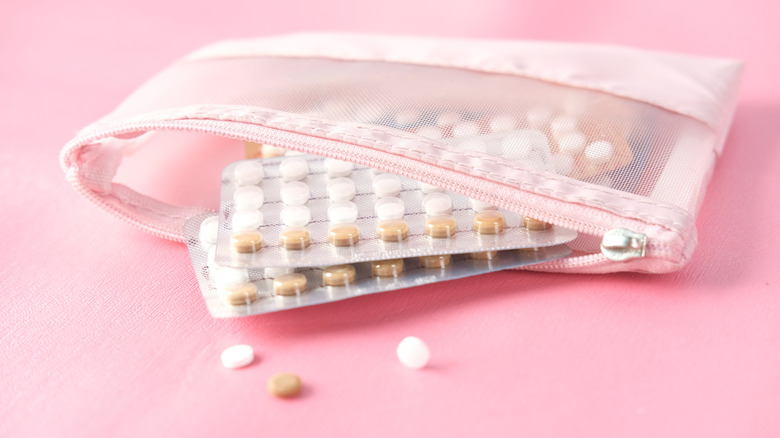 Towfiqu ahamed barbhuiya/Shutterstock
Opill is known as a mini pill because it only contains progestin, which prevents pregnancy by blocking sperm from entering the cervix (via Associated Press). Most birth control pills, however, are combination pills that contain both progestin and estrogen. While estrogen is a hormone that can help make your periods lighter and more regular, it also accounts for most of the blood clot risk in birth control pills. Although combination pills are still overwhelmingly safe, there is less risk associated with progestin-only pills.
As it turns out, Opill is already sold without a doctor's prescription in the U.K., and a number of major medical organizations in the U.S., including the American Medical Association (AMA) and the American College of Obstetricians and Gynecologists, have signaled their support for making birth control available over the counter (via PopSugar).
The only concern is the price of the pill if approved by the FDA. While prescription birth control pills are completely covered under the Affordable Care Act, this would no longer apply to over-the-counter medications. In response to this concern, however, Welgryn has pledged to make Opill "very affordable for consumers," according to PopSugar.