The Best Way To Remember To Put On Sunscreen, According To Married To Medicine's Dr. Jackie - Exclusive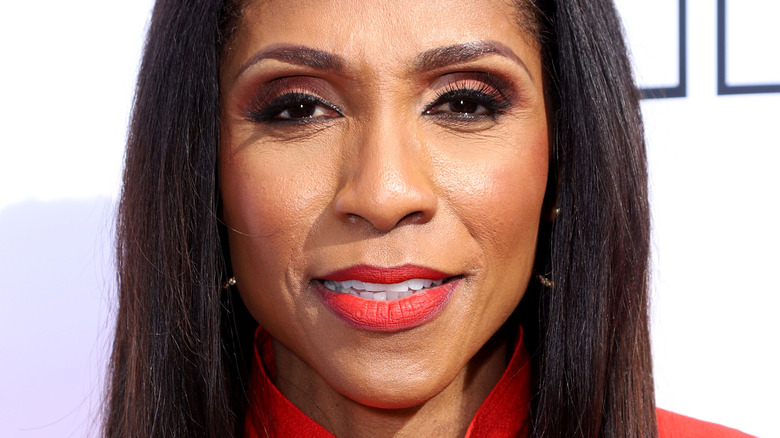 Justin Baker/Getty Images
We may receive a commission on purchases made from links.
Dr. Jackie Walters came to fame as part of the cast of Bravo's "Married to Medicine" in 2013, but she has used her time in the spotlight to accomplish so much more than the typical reality TV star. The Atlanta-based OB-GYN gives fans an inside look at her booming medical practice on the show. She's also used the series as a springboard for several other projects that have turned her into a businesswoman. In 2020, she released her book "The Queen V: Everything You Need to Know About Sex, Intimacy, and Down There Health Care," which dives into the basics of vaginal health. The release laid the groundwork for her podcast "Dr. Jackie's Point of V."
As a self-described "two-time breast cancer survivor," Dr. Walters is passionate about helping others who have been diagnosed. She launched her 50 Shades of Pink non-profit the same year "Married to Medicine" hit TV screens, with the goal to empower anyone who is going through treatment for the disease. She is also dedicated to helping prevent the onset of cancer. She's working in that regard by partnering with Volition Beauty to launch her very own sunscreen — the Adaptint Super Seamless Mineral Shield SPF 30.
In an exclusive interview with our sister site The List, Dr. Walters explained why sunscreen is essential. She also shared a handy tip to help others remember to incorporate the product into their daily routine. 
Store your sunscreen next to your makeup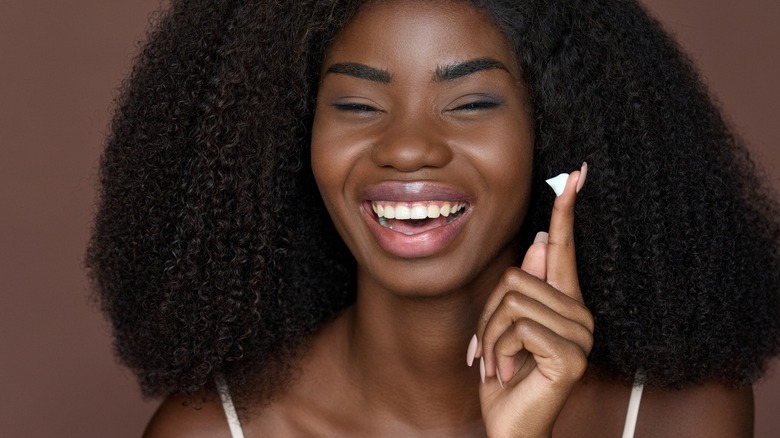 Ground Picture/Shutterstock
Sunscreen is an essential product that protects skin from the sun's damaging rays. If you don't incorporate sunscreen into your daily routine, you run a higher risk of contracting skin cancer or even aging your skin. But it's one skin product that some people struggle to remember — and that's where Dr. Jackie Walters comes in with a handy tip. She told The List that she adds a drop of foundation to her sunscreen. "I do want a little bit of coverage," she explained. "I was in Greece for nine days, and I wore [sunscreen] every day in Greece, and it was amazing. It looked like I had on makeup."
That's how she remembers to include the product in her daily routine. "I put mine [on] with my makeup, so if it's in the same area of my makeup, I put a dab of foundation and I cover my entire face and neck with it so that I don't forget it," Dr. Walters said. She added, "It's almost like I tell my patients: Put your birth control pills with your toothpaste." Of course, the tip can be modified to fit your own schedule. 
For example, if you don't wear makeup, consider putting a bottle of sunscreen next to your keys. As long as it is by an item you use every day, you will hopefully remember to put some on before you leave the house.
Dr. Jackie Walters said 'everybody should wear sunscreen'
Science suggests that it is a very good idea to wear sunscreen every day. Dr. Jackie Walters agreed. In fact, she took that statement one step further and clarified exactly who should be concerned about the risks of sun exposure. "The first thing I'm going to say [is]: Everybody should wear sunscreen," she said. "Man, woman, boy, girl — everybody should wear sunscreen."
"For the first time this year, I actually saw a skin cancer in the genital area," Walters added. "[It] brought me back to why we need this product, and that it is protective to the skin." She also directed her message at a group that sometimes hears conflicting information about the importance of sunscreen — the Black community. "Nobody thinks about it because we always think as people of color [that] the melanin protects us, and it doesn't."
New episodes of "Married to Medicine" air Sundays on Bravo at 9:00 p.m. EST/PST.