Will Getting A COVID Booster Shot Help Prevent Reinfections?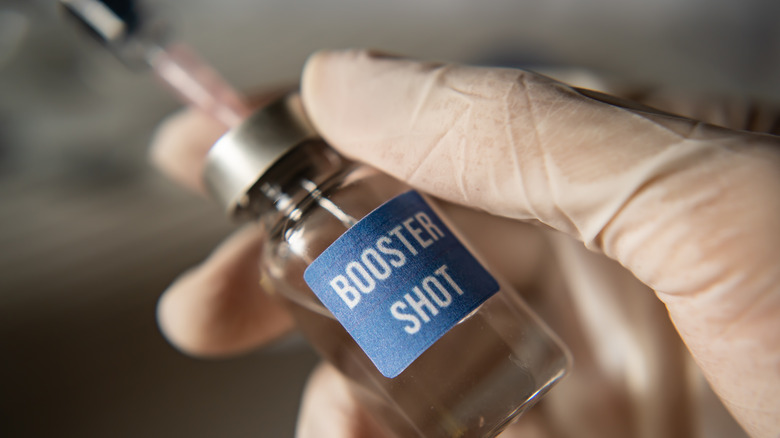 Wachiwit/Shutterstock
COVID-19 cases are on the rise again in the U.S. now that the highly transmissible BA.5 subvariant of Omicron is the dominant strain of COVID-19 in the country. According to HealthDay, BA.5 currently accounts for 80% of infections in the U.S. and is largely responsible for the increase in reinfections, which have nearly doubled since May. That's because it's the most immune evasive subvariant of COVID-19, meaning a recent infection may not protect against reinfections in the near future.
Dr. William Schaffner, the medical director of the National Foundation for Infectious Diseases in Bethesda, Maryland, said this is a result of the virus constantly mutating. The more a virus mutates, the more infectious it becomes. "We did think that once you had gotten infected, you would have fairly long-term protection," Schaffner told HealthDay. "This is clearly not the case with Omicron." Due to Omicron's high transmissibility, it can more easily reinfect those previously infected with COVID-19.
Booster shots can strengthen protection against COVID-19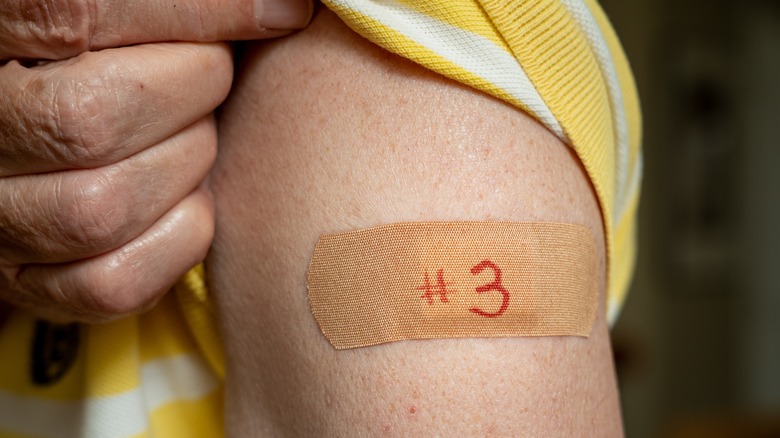 Steve Heap/Shutterstock
However, vaccinations and booster shots can help strengthen protection against the virus. In fact, research has shown that three doses of the COVID-19 vaccine can provide sufficient protection against severe illness and hospitalization. "Booster vaccinations increase antibodies quite a bit, which helps to overcome some of the virus' immune evasion," Dr. Anne Liu, an infectious disease doctor, told Healthline. When it comes to reinfections, however, whether or not you'll be reinfected again largely depends on the strain of COVID-19 you initially contracted.
For instance, if you were infected with Omicron or its subvariants, you will likely have more protection than those infected with Delta or other earlier variants of the virus. In other words, previous infections from earlier variants will not provide much protection against reinfection with Omicron. However, if you have already been infected with Omicron, you will have stronger immunity against reinfection. Of course, this doesn't mean you are completely immune. That's why it's important to stay up to date on your vaccinations.