CEO Pankaj Gogia On The Benefits Of Psychedelic Water, A New Psychoactive Herbal Drink - Exclusive Interview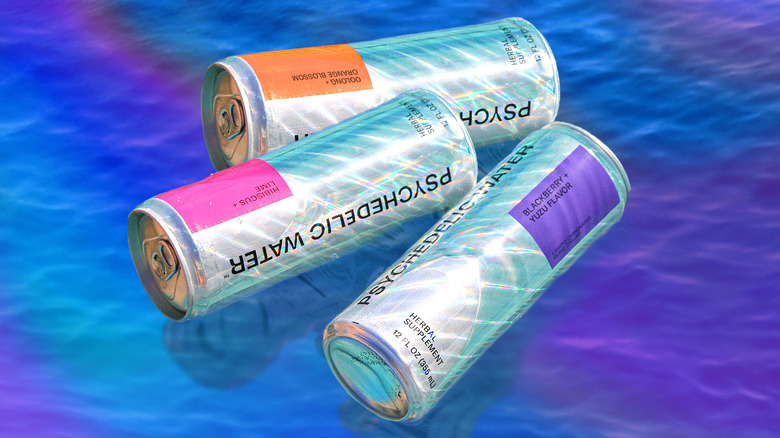 Psychedelic Water
Not all psychedelics are illegal. In fact, you can now get Psychedelic Water in over 500 retail locations across the United States, including Urban Outfitters and Walmart. Psychedelic Water is a new herbal supplement beverage that is the first of its kind.
This lightly carbonated, fruit-flavored beverage is helping psychedelics become mainstream, and they actually taste good too — without the hangover or next-day regret that alcohol can bring. Psychedelic Water claims to provide a unique mood-boosting experience that will leave you smiling and craving more. "People have described themselves as feeling giggly, bubbly, serene, and content after trying our blend," says CEO Pankaj Gogia.
We sat down with Gogia for an exclusive interview with Health Digest. According to him, the goal of Psychedelic Water is to create products that are highly accessible and make people feel good while being psychoactive and FDA-compliant. He shared with us the health benefits of Psychedelic Water, what exactly makes it psychoactive, and how it can help boost your mood. He also dived into the future of psychedelics and why they are becoming more socially accepted.
Psychedelic Water benefits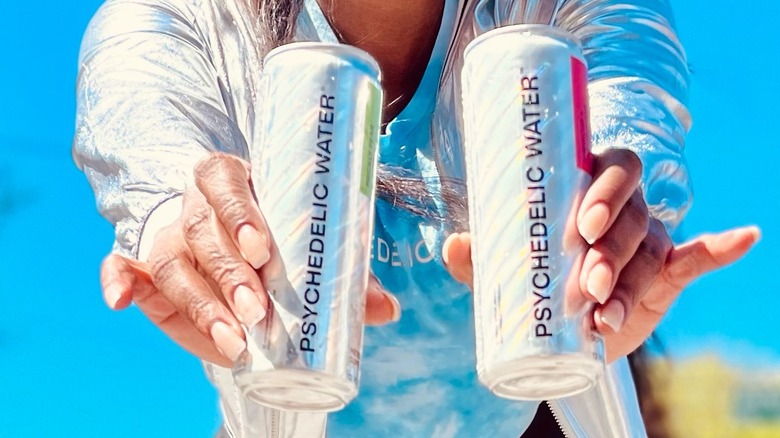 Psychedelic Water
What is Psychedelic Water, and what's in it?
Psychedelic Water is the first FDA-compliant, psychedelic-branded product of its kind, and is positioned to capitalize on and contribute to the ever-growing excitement and interest surrounding psychedelics. We spent six months developing our one-of-a-kind formulation of kava, damiana, and green tea leaf extract, which is designed to replicate the euphoria-inducing effects of psychedelics on a milder level. Psychedelic Water relaxes your body, elevates your mood, and leaves you feeling lifted.
How can Psychedelic Water boost your mood?
Psychedelic Water's mood-boosting effects are the result of our primary active ingredient: kava root. Pretty quickly after you consume kava, you'll start to notice its effects. It's common to feel a tingling sensation on the tongue followed by a sense of physical relaxation, mild euphoria, and overall mood elevation. People have described themselves as feeling giggly, bubbly, serene, and content after trying our blend. Basically, it gets you feeling good and puts a smile on your face while keeping your head clear and your cognition intact. It doesn't mess you up the way that alcohol or cannabis does.
What exactly makes Psychedelic Water psychoactive?
Both kava and damiana have psychoactive properties. Technically, so does green tea leaf, as it contains caffeine which is considered psychoactive under a strict definition of the term — although the effects of caffeine aren't generally what people think of when they hear the term.
What does it taste like?
One of the biggest challenges in creating our blend was overcoming the bitter, earthy taste that kava naturally has. We're incredibly proud of what we've accomplished with the taste of Psychedelic Water and currently have four flavors available: Hibiscus and Lime, Blackberry and Yuzu, Oolong and Orange Blossom, and Prickly Pear. Hibiscus and Lime is floral and citrus forward. Blackberry and Yuzu is subtle, slightly sweet, and refreshing. Oolong and Orange Blossom is tea-forward with a touch of sweetness. Prickly Pear is our sweetest flavor and has notes of peach in addition to prickly pear.
Are there health benefits to drinking Psychedelic Water?
The main benefit of Psychedelic Water is its mood-boosting effect. Some people who experience a lot of stress find our blend really helps quiet their nerves and puts them in a good place mentally. While Psychedelic Water can certainly benefit those dealing with a lot of stress, it of course should not be treated as a replacement for any doctor-prescribed medications or treatments.
Because of its mood-boosting effect, Psychedelic Water makes for a great alternative to alcohol. It's low-calorie, vegan, GMO-free, alcohol-free, and gluten-free, making it a great choice if you're looking to cut back on alcohol consumption or if you're just looking for a healthy choice to keep the fridge stocked this summer.
The future of psychedelics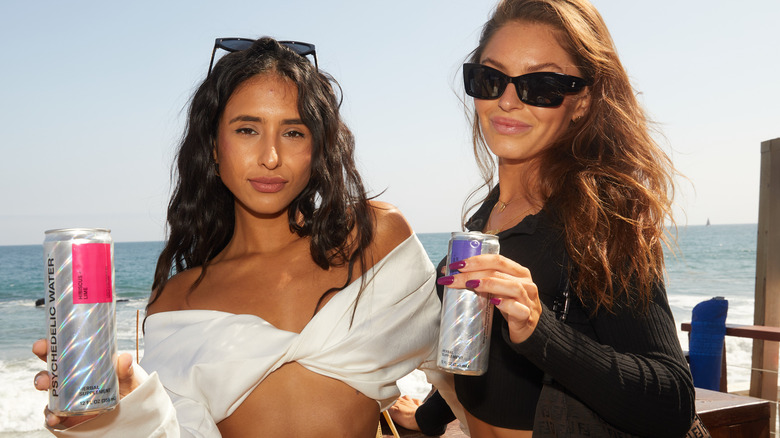 Psychedelic Water
Are there any potential negative side effects?
When you bring up kava, the most likely concern to be raised is the risk of liver toxicity associated with the plant. There are a small handful of accounts from the late '90s and early '00s linking kava to liver hepatotoxicity. In the majority of these accounts, other factors such as alcohol consumption and use of certain medications are relevant, as well consumption of improperly harvested or poorly stored kava, and current research has demonstrated that the link between kava and liver toxicity is minute at best.
A 2016 public health inquiry by the governments of New Zealand and Australia concluded that "There is no evidence that occasional use of kava beverage is associated with any long-term adverse effects, including effects on the liver." Also in 2016, the WHO reported that kava has an "acceptably low level of health risk" when consumed moderately.
In short, liver toxicity need not be a concern for kava users. That said, there are of course some people whose bodies don't agree with kava and/or caffeine, and a small percentage of people who try our product experience nausea and related side effects. You also shouldn't consume our drink if you are taking an SSRI or are pregnant or breastfeeding. If you have any concerns, we suggest consulting a medical professional before trying Psychedelic Water.
Do you think psychedelics are becoming more mainstream and socially accepted?
Absolutely. There have already been announcements and changes regarding decriminalization and legalization in medical and recreational settings in some states. With full legalization still on a distant horizon, we see a large opportunity in the psychedelic space. Currently, there's still a lot of fear and uncertainty around psychedelics in the eyes of the public. 50+ years of drug war propaganda tends to have that effect. There are a lot of fantastic people and organizations doing great work to destigmatize, normalize, and educate the public on psychedelics.
We want to contribute to this normalization with a unique approach. We feel that having a psychedelic-branded product on the shelves of your local convenience store between cans of Red Bull and jugs of milk could have a significant impact on the public perception and normalization of psychedelics. The goal of Psychedelic Water, at least in this phase of our existence, is to create products that are highly accessible, make people feel good, and emulate some of the effects of traditional psychedelics using FDA-compliant ingredients.
We're here for the people who are interested in, unsure about, or unfamiliar with psychedelics. We want to act as an entry point for people into the wider world of these substances and their many benefits. In particular, we've found our product really resonates with the sober curious and wellness communities, folks who just want to sip on something that tastes good, makes you feel good, is better for you than alcohol, and won't have you texting your ex or waking up with a hangover.
Do you have plans for any other psychoactive products in the future?
Yes — we'll be launching a new product: Psychedelic™ Functional Microdose quite soon. It will likely be out when this article drops. Functional Microdose is designed to replicate the effects of a traditional psilocybin microdose using FDA-compliant ingredients. It will be released in a daily shot format that allows it to fit seamlessly into your morning routine and start the day off with a boost of energy, focus, and positivity.
To find out more about Psychedelic Water, you can visit the website and online shop.
This interview was edited for clarity.