As Monkeypox Cases Rise, Here's What Parents With Young Children Should Know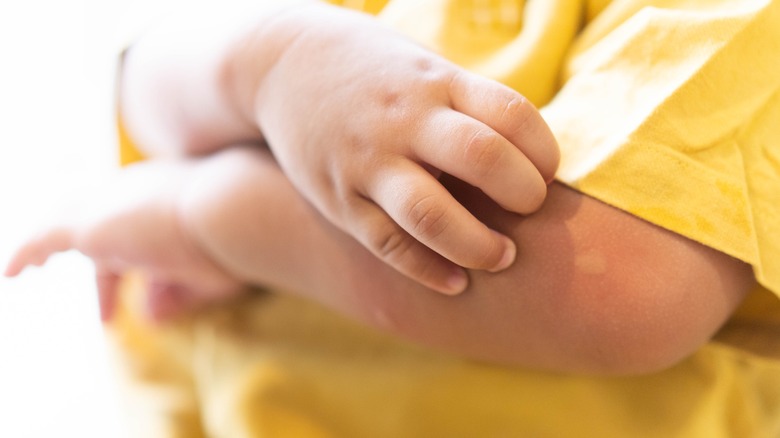 MIA Studio/Shutterstock
Last week, the U.S. Centers for Disease Control and Prevention (CDC) announced that two confirmed pediatric cases of monkeypox have been detected in the U.S. (via CNN). The cases include a toddler based in California and an infant traveling to the U.S. who tested positive for the virus while in Washington D.C., according to Healthline.
The World Health Organization (WHO) reports that as of July 28, more than 80 children 17 years of age or younger have been diagnosed with monkeypox worldwide (via BuzzFeed News). Although most cases thus far have been identified in adults, children are among the populations most susceptible to severe infection. In both U.S. cases, each child's symptoms have been mild. "The children in the United States that we're aware of, while they became ill, they were not severely ill, and they appear to be doing well right now. I think, hopefully, the number of cases in kids is going to remain low," said Dr. Jennifer McQuiston, head of the CDC's monkeypox response team, via BuzzFeed News.
Monkeypox is transferred through close personal contact, as well as respiratory particles. Experts say that for children, this means the virus can be contracted by means of hugging, kissing, or the mutual sharing of items, such as utensils (via BuzzFeed News). Currently, health officials are working to provide widespread education to the public regarding how to identify and protect oneself against monkeypox infection.
Treatment options for pediatric cases of monkeypox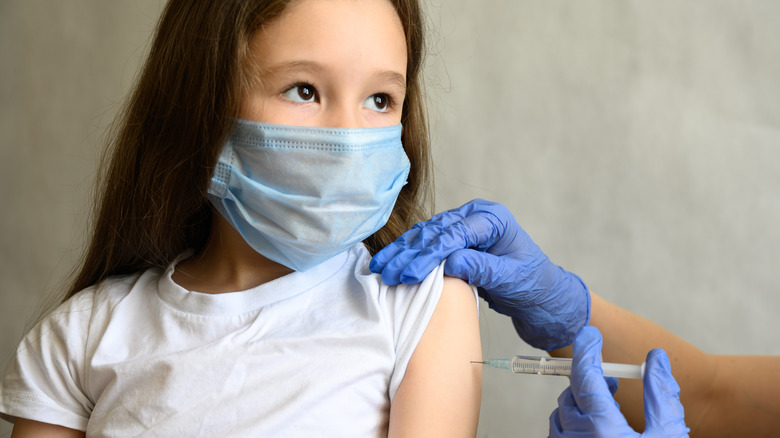 Viacheslav Lopatin/Shutterstock
Symptoms to be on the lookout for in children include fever, sore muscles, fatigue, headache, and rash or lesions that develop on the skin or the insides of the mouth (via BuzzFeed News). Experts also stress that children below the age of 8 may be particularly susceptible to severe infection, as well as those with certain skin conditions.
In the two U.S. pediatric cases, both children are being treated with the antiviral medication tecovirimat (TPOXX), reports BuzzFeed News. While the drug is available to children, the CDC reports that its use is currently exclusive to high-risk individuals with severe symptoms or complications. The smallpox vaccine can also be used to treat symptoms of monkeypox and is most effective when administered before and after exposure, according to the CDC. BuzzFeed News reports that individuals and children recently exposed to the virus are being given first priority for doses of the Jynneos smallpox vaccine. Additionally, Dr. Shannon Ross, associate professor at the University of Alabama at Birmingham's Division of Pediatric Infectious Diseases, tells Healthline that most cases of monkeypox resolve on their own — the risk of infection is minimal.
For parents concerned about their children heading back to school, Dr. Jennifer McQuiston reassured caregivers via BuzzFeed News that there is currently no reason to believe that school environments will put children at risk for monkeypox infection, as transfer seems to be most common amongst family members.