Sex Sells Host WeezyWTF Explains Why We Need To Destigmatize Sex And Sex Work - Exclusive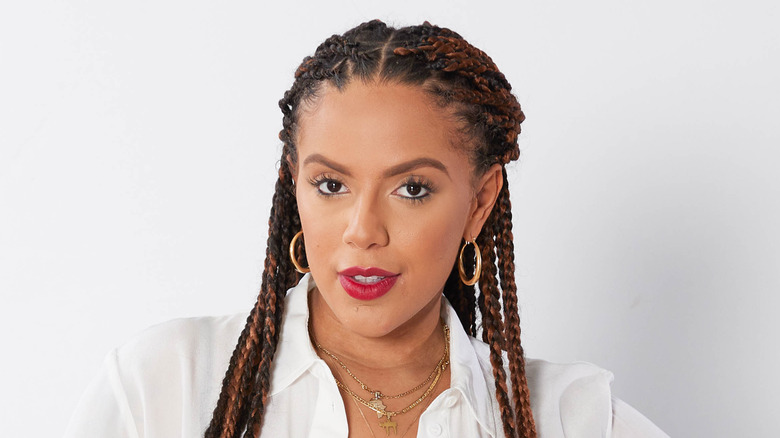 Tony Romain/Fuse
WeezyWTF wants everyone to understand that there's nothing shameful about sex or sex work. She and her best friend from high school started a podcast called "WHOREible Decisions" with the goal of making open and honest conversations about sex part of acceptable mainstream conversation. When she saw how much of an impact the podcast had on people's lives, Weezy quit her career in tech to become a full-time sex expert and educator.
After a few years of doing her podcast, Weezy decided that if she was really serious about destigmatizing sex, then she needed to work to destigmatize sex work as well. She teamed up with another friend to produce and host the docuseries "Sex Sells." The show features interviews and on-the-job experiences with people who do legal sex work, diving into the details of their jobs, how they're helping people take the shame out of sex, and the massive paychecks they're bringing home.
In an exclusive interview with Health Digest, Weezy revealed why she wanted to make a show about sex work and why it's so important to destigmatize both sex and sex work.
Understanding sex work
Tony Romain/Fuse
Weezy said that her number one goal when she started making "Sex Sells" was to help people understand that sex work is legitimate, important work.
"I realized how big the industry is and how important it is to everybody," she said. "I wanted other people to understand it, and I really didn't feel like they did at the time."
She went on to say that there's a common perception that people who do sex work have messed up their lives or been forced into sex work. Weezy said that while that's true for some people, a lot of people choose to do sex work because they love it and they can make a lot of money doing it.
"There's also sex work that people do by choice, that know that it's going to empower others, that feels sexually liberated by it, that enjoy what they do," Weezy pointed out. "Having an OnlyFans doesn't mean you f***ed up at life ... One of the women highlighted in 'Sex Sells,' she's making six figures a month on OnlyFans. I'm making six figures a year. There's so much to be celebrated about sex work and so many different entities, and these are real people, real business owners with real business acumen."
Destigmatizing sex for health and happiness
Weezy explained that when sex is "taboo" and not part of regular education and conversation, people don't know how to have sex in a way that protects their physical health and prioritizes their bodily autonomy.
"If we're not talking about it, we're not going to be safe with sex," Weezy insisted. "All of my friends in high school who didn't have moms like mine got pregnant first. They were the first ones to get knocked up, and then [they needed to be taught] about Planned Parenthood or whatever."
But destigmatizing sex isn't just about health, in Weezy's opinion. She firmly believes that sex is meant to be enjoyed, but her work as a sexpert has shown her that so many people, especially people assigned female at birth, don't even know how to enjoy sex because they've been taught sex is taboo or shameful.
"So many women talked [to me] about how they hadn't had orgasms before and how learning about it, talking about it, teaching them how to masturbate really changed their lives," Weezy revealed.
The work she's done to destigmatize sex through education and media has shown Weezy that a sex-positive world is really a safer and happier world.
New episodes of Sex Sells premiere Wednesdays at 11:00 p.m. ET on Fuse and Fuse+.