Which State In The US Had The Most COVID-19 Deaths In 2021?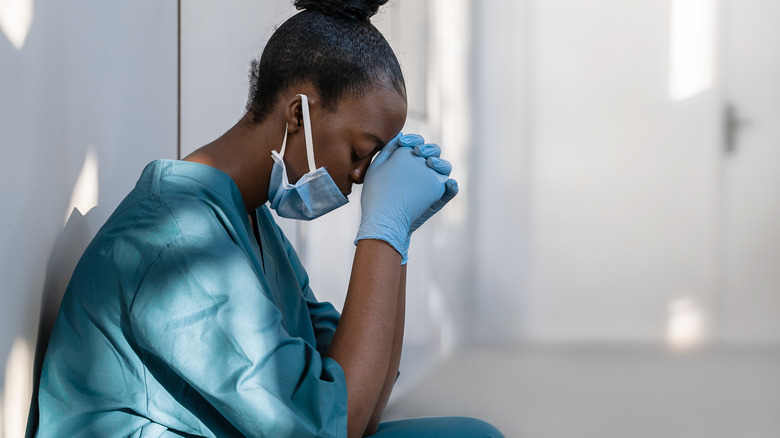 Ground Picture/Shutterstock
The COVID-19 pandemic has been (and continues to be) one of the most devastating health-related events in modern history. First identified in humans in 2019, the coronavirus can cause severe respiratory illness in people of all ages, although people over the age of 60 have the highest risk of serious symptoms and death (via Cleveland Clinic). Symptoms of COVID-19 include fever, cough, and shortness of breath. While many people who have COVID will recover, it is still a serious illness that should not be taken lightly.
COVID-19 attacks the lungs first. Those with mild or moderate symptoms are often able to recover at home, but high-risk individuals often need to be hospitalized as the virus infects their respiratory system and makes it difficult for them to breathe without treatment (via WebMD). In severe cases, the lungs can also fill with fluid and lead to pneumonia. In the most critical cases, patients need to be put on a ventilator in order to breathe. In these cases, the coronavirus causes severe lung and respiratory system damage that may lead to permanent health issues or even death. COVID-19 can also cause blood clots in the lungs, heart, and brain that can also lead to death. Since the beginning of the pandemic, over 6 million people have died from COVID-19 around the world (via World Health Organization).
How COVID-19 has affected the United States
According to the World Health Organization, over 1 million people have died from COVID-19 in the United States since the beginning of the pandemic. Although the development of several vaccines brought protection and relief to many people in late 2020 and early 2021, there have still been many deaths that have occurred due to COVID since 2021. In fact, more people in the United States died from COVID-19 complications in 2021 than in 2020 (via WebMD).
COVID-19 has been tricky to control in the United States due to differing levels of management by the states. While some states have strongly encouraged health measures like indoor masking and avoiding crowded spaces, others chose to have limited health guidelines (via AARP). COVID restrictions have been controversial since the beginning of the pandemic and there are many factors at play when it comes to the number of COVID deaths per state, including the number of vaccinated individuals and high-risk individuals who live there. However, it is clear which states have experienced the highest death rates.
In 2021, Oklahoma recorded 194.6 deaths per 100,000 people in the state, making it the state with the most COVID deaths per 100,000 people in the U.S. that year. Alabama had the second-highest rate, recording 178.3 deaths per 100,000 people, and Mississippi had the third-highest rate with 173.3 deaths per 100,000 people in 2021. The three states with the lowest death rates in 2021 were Maine, Hawaii, and Vermont.