Why Public Health Leaders Say The Current Response To Monkeypox Is Falling Short
Angellodeco/Shutterstock
At the start of the week, roughly 5,811 cases of probable or confirmed monkeypox infection had been reported in the U.S., according to CNN. In actuality, many public health experts believe case numbers are likely to be substantially higher. Presently, the administration is issuing nearly 1.1 million doses of the monkeypox vaccine to the public, reports The New York Times. However, local health leaders across the country state that the current demand for vaccination far exceeds the supply, with an estimated need of 3.5 million doses across the country to contain the spread.
As a result, individuals seeking care have endured long wait times, a lack of appointment availability, and excessive amounts of paperwork barring access to treatments (via CNN). "We are, once again, in a moment where a lack of urgency and an inadequate response has left our community filled with fear, unanswered questions and valid outrage. A moment where we have been abandoned by inaction," Tyler TerMeer, CEO of the San Francisco AIDS Foundation, publicly stated earlier this week (via CNN).
Government officials say they have focused heavily on educational outreach amongst communities most vulnerable to infection, particularly the LGBTQ+ community, reports CNN. However, local health experts feel these efforts have fallen short and that the window of opportunity to get ahead of the outbreak may be closing.
When can we expect more vaccine doses?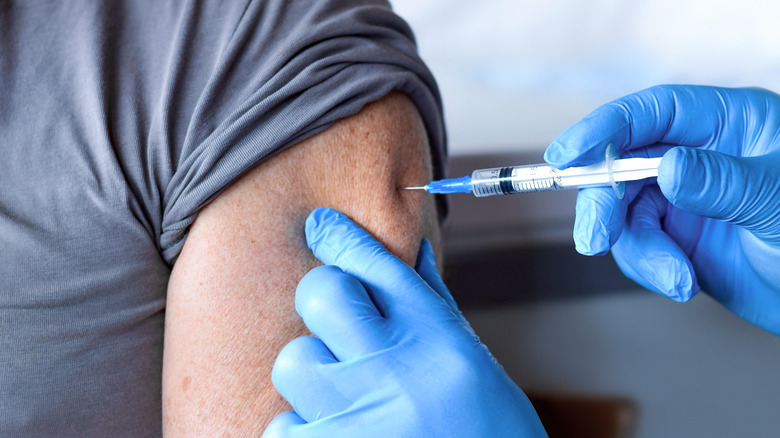 Marina Demidiuk/Shutterstock
One contributing factor to the current delays in care was that the Department of Health and Human Services did not stock up enough on vaccines ahead of time, reports The New York Times. Once the U.S. needed bulk orders, the vaccine manufacturer relayed that they were backed up with other clients and it would be months before they could fill the government's request. Presently, 500 thousand doses are not expected to arrive until October, with an additional 5.5 million doses not estimated to arrive until 2023.
Such delays have led some individuals to attempt to seek care in neighboring countries. Others are enduring a loss of income as they remain quarantined at home with monkeypox symptoms, unable to access treatment (per CNN). For the medical community, this has left healthcare providers short-staffed and burned out in the face of increased patient caseloads and inadequate funding. CEO of the San Francisco AIDS Foundation Tyler TerMeer highlights just how pressing the need for vaccines is. He stated how one of their clinics currently has a waitlist of 10,000 people eligible for vaccination.
At this time, the U.S. has not yet declared a federal public health emergency, reports CNN. Health leaders continue to stress the need for increased access to vaccines, testing, and grant money.