What Global Warming Could Mean For Kids' Mental And Physical Health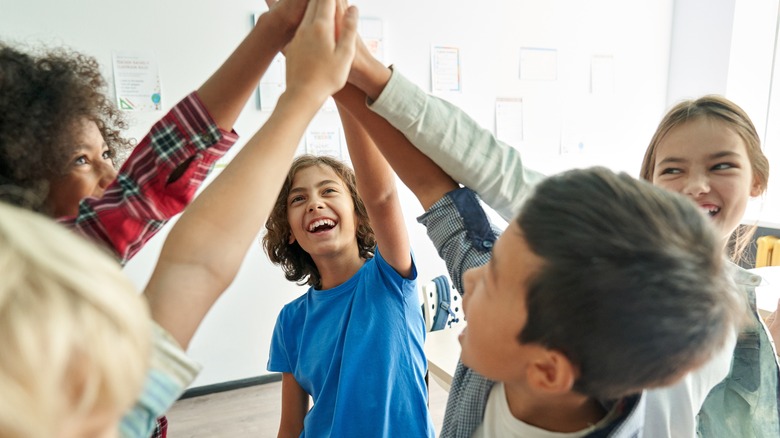 Ground Picture/Shutterstock
Our environment impacts our health and climate change is threatening it. As the earth continues to warm from global climate change, changes such as melting glaciers, wildfires, severe rainfall, droughts, heat waves, and rising sea levels are happening at faster rates than anticipated (via NASA). However, these threats leave certain groups more vulnerable to the health effects of climate change, with children being one of the most susceptible groups.
Children are not tiny adults. They cope with heat differently than the fully mature adult, are more sensitive to air pollution and dehydration, and are more susceptible to infections and heat stress (per Better Health Channel). At the same time, children are more likely to be obese and less fit nowadays, which directly impacts their health. A recently published study in the journal Temperature points out that "children have 30% lower aerobic fitness than their parents did at the same age". The researchers explain that as the climate continues to change, children may have a more difficult time adjusting and tolerating it.
According to the U.S. News & World Report, these findings were based on 150 studies that examined physical fitness, heat tolerance, and exercise in youngsters, along with investigating how global warming may play a role. One of the studies reviewed indicated that when exercising outdoors, overweight boys compared to those within a normal weight range are twice as likely to have problems managing body temperature. Participants in this study were between the ages of 5 and 12.
More health effects and how to stay healthy during a changing climate
Monkey Business Images/Shutterstock
Hot temperatures caused by global warming combined with high obesity rates are making it even more difficult for kids to safely play outside. Both poor fitness and obesity may lead to more health problems from heat such as dehydration, heat stress or stroke, and cramps (per U.S. News & World Reports). And if parents deem it too hot to play outside, this may cause additional barriers for youngsters to meet the daily physical activity recommendations.
Believe it or not, climate change may also affect kids' mental health. For instance, wildfires or storms can uproot families and destroy buildings ranging from schools to homes, increasing the odds of post-traumatic stress, points out Harvard. This includes feelings of depression or anxiety. If you're concerned about your child's mental health, seek support from their doctor.
Environmental exercise physiologist at Slovenia's University of Ljubljana, Shawnda Morrison, tells U.S. News & World Report, "It is imperative that children are encouraged to do daily physical activity to build up, and maintain, their fitness, so that they enjoy moving their bodies and it doesn't feel like 'work' or 'a chore' to them."
Harvard recommends a minimum of 60 minutes of daily exercise. This physical activity should be fun, geared towards their age, and doesn't have to be all at once. In addition, Better Health Channel suggests staying properly hydrated, eating fruits and veggies, never leaving someone inside a car, and being mindful of air pollution.