The Inflation Reduction Act For Insulin Prices Is A Step In The Right Direction. But Is It Enough?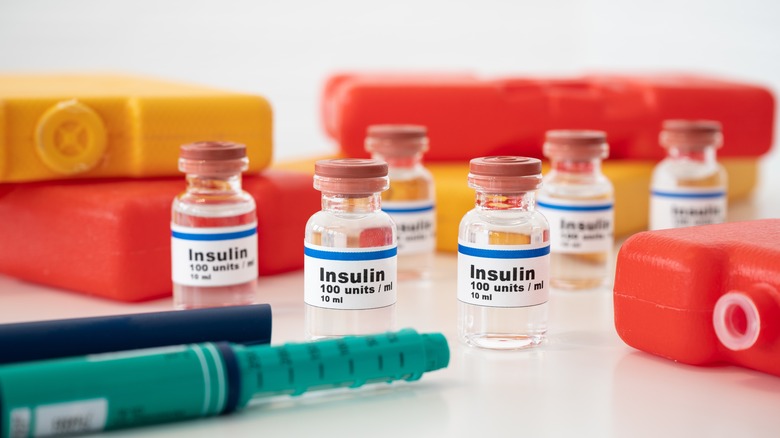 Daniel Beckemeier/Shutterstock
The Inflation Reduction Act, which was signed into law by President Joe Biden on Tuesday, is a historic legislative package that lowers the cost of health care and certain prescription drugs, like insulin (via CNBC). As a matter of fact, the legislation places a $35 monthly cap on insulin copays for Medicare recipients, starting in 2023. For many people with diabetes, insulin is a life-saving medication that helps regulate glucose levels in the bloodstream.
Gaining access to this vital and necessary medication remains a financial burden to many Americans. That's because the price of insulin in the U.S. has skyrocketed within the last two decades (via Time). While insulin is still relatively cheap to manufacture, the cost of each vial has significantly increased between 2002 and 2013 and has only continued to rise since then. Now, the average vial of insulin costs around $175 to $300, causing many people with diabetes to ration their insulin, a practice that is incredibly dangerous and can even lead to death (per Forbes).
Experts say more needs to be done to lower insulin prices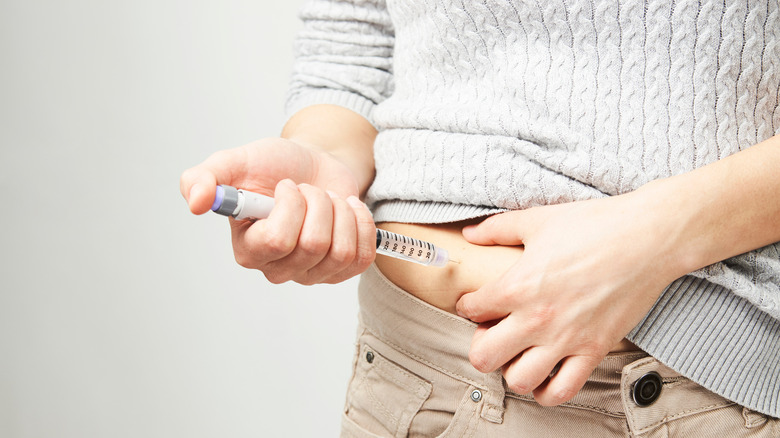 Gecko Studio/Shutterstock
The Inflation Reduction Act is a step in the right direction, but it is ultimately not enough, according to experts at Healthline. Although the law seeks to make insulin more affordable for Medicare patients, it does not help the millions of Americans who are uninsured or do not have Medicare. Dr. Keri Hurley-Kim, an associate clinical professor at the University of California at Irvine's College of Health Sciences, told Healthline that more still needs to be done to reduce the price of insulin for everyone who needs it.
"The people most impacted by the price of insulin are those who do not have coverage and so must pay in cash for medications, as well as those with certain commercial plans that may have low premiums in exchange for very high deductibles," Hurley-Kim said. Even capping copays for all insured Americans, which was one of the initial provisions included in the bill, leaves uninsured diabetes patients on their own. As a result, Hurley-Kim argues that there will not be a complete solution to this problem until insulin prices are drastically lowered across the board.