The Real Reason The CDC Is About To Undergo Significant Changes
University of College/Shutterstock
You've probably heard more from the CDC in the past two years than any other time in your life. The Centers for Disease Control and Prevention played a leading role in how the COVID-19 pandemic was handled, and recently admitted that it could have done a better job. According to NBC News, CDC director Dr. Rochelle Walensky announced on Wednesday that several large changes are coming to the organization, including how quickly the agency communicates with the public as well as a new strategy to analyze and share data.
These changes come after criticism of the CDC's frequently-changing COVID policies and guidelines. In a statement to the media, Walensky admitted that the CDC did not "reliably meet expectations" during the pandemic. "My goal is a new, public health action-oriented culture at CDC that emphasizes accountability, collaboration, communication, and timeliness," she continued in the statement. "I want us all to do better and it starts with CDC leading the way." Leadership changes are also anticipated to happen in the near future.
The CDC hopes these changes will regain the public's trust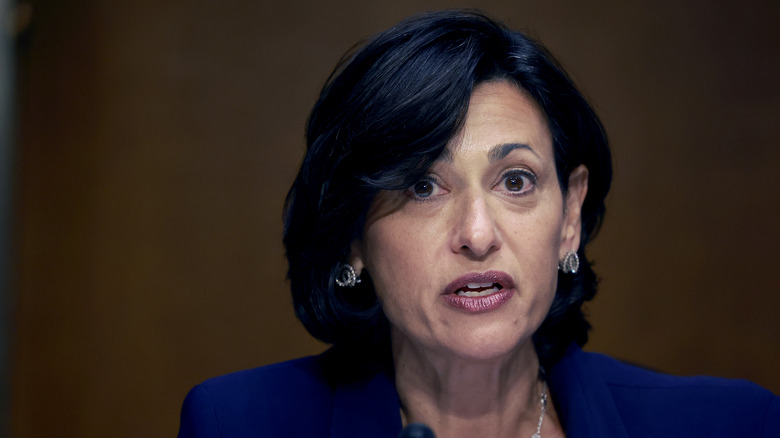 Joe Raedle/Getty Images
Dr. Rochelle Walensky's announcement in an email to staff came after a review of the CDC in April led by Jim Macrae, an administrator at the US Department of Health and Human Services (via CNN). Walensky initiated the review to help the agency better determine what went wrong during the response to COVID and how to address those problems. Walensky also asked several staff members to look into operations and recommend changes.
"We saw during COVID that CDC's structures, frankly, weren't designed to take in information, digest it and disseminate it to the public at the speed necessary," said Jason Schwartz, a health policy researcher at the Yale School of Public Health (via NPR). Other anticipated changes to the CDC include the ability to streamline information shared with the public and an overhaul of the CDC website, which should make it easier for people to access information. However, Schwartz does not believe that the CDC is completely at fault for the nation's COVID response because the White House and other agencies also played a large role and should be held accountable.