Why Do You Run Faster In The Fall?
baranq/Shutterstock
What's not to love about fall? It's the season of cozy sweaters, hot chocolate, pumpkin everything (did someone say "pumpkin spice lattes?"), and apple picking with friends. But beyond the abundance of yummy treats, autumn provides the perfect opportunity to hit the refresher on your workout routine. Enter a runner's dream season. But why? Because you run faster in the fall and "every fall, runners can very well experience a welcome boost in performance," says Michael Meliniotis, a Mile High Run Club coach, to Shape. This running boost is likely due to a number of contributing factors.
While January is technically the start of the new year, September is also the start of something new. The back-to-school season begins. Sports teams are gearing up for the season. As such, summer is ending which means frequent traveling and vacationing may be ending. Aaptiv points out that there may be more wiggle room in your schedule for running. With that in mind, fall is the perfect time to settle into (or start) a new running routine.
The cozy weather may also benefit your mood, since many people adore the fall season. This in turn could positively influence your desire to exercise, explains Aaptiv. "Being in a good mood while working out just sets you up to obtain your goals faster, because you actually want to be doing the workout," says Aaptiv trainer Kelly Chase.
More opportunities to sign up for fun races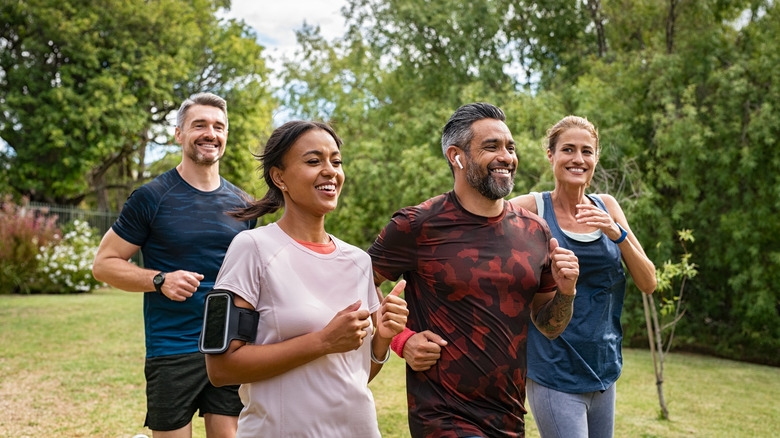 Rido/Shutterstock
Apart from fall being the start of school season and sports, this season is also overflowing with fun runs. "Fall is one of the busiest months for marathons, and runners who are planning on participating in a fall marathon will be in peak physical condition coming out of the summer months," says the president of JAG Physical Therapy, John Gallucci, Jr. (via Shape). With that being said, you'll likely notice the running and training payoffs coming from the hotter summer months, especially if you were training for a race. Plus, fall races are simply fun. Aaptiv recommends taking a peak at your local community's calendar to see if they're hosting any 5Ks, marathons, or various themed runs (did someone say zombie run).
However, prepping for races isn't the only reason you'll likely run faster in the fall. According to Shape, the magical formula for lightening speed during the fall is favorable weather conditions and hard work. Better weather conditions (aka less heat and humidity) may put less stress on the body and slow down the chances of dehydration, explains Runtastic. As for the hard work, Meliniotis tells Shape "runners work hard in the summer, often following training programs or running socially more often than in the winter. The cumulative effect of building a running base and engaging in speed work builds performance." Don't be surprised if you end up setting a new personal record in the meantime.
There's beautiful scenery and cooler temperature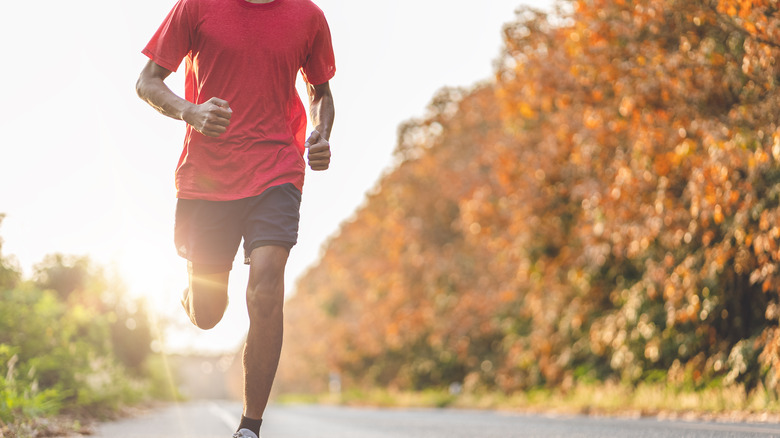 sutadimages/Shutterstock
If you're a fan of autumn, the colorful scenery awaits. From vibrant yellows to fiery reds, autumn transforms the surrounding areas into a picturesque backdrop as runners pound the pavement.
The cooler temperature is another factor that contributes to faster runs in the fall. Chilly yet sunny mornings and nippy evenings create the ultimate opportunity. "In the fall, we begin to see legitimate drops in temperatures and humidity. Coming off a hot summer, this means we can run at the same effort level and heart rate — yet see immediate increases in speed," Meliniotis tells Shape. This means you can put in the same amount of work, and your speed will naturally pick up. But that doesn't mean every refreshing fall day is created equal.
As strange as it may seem, there is a sweet spot for the optimal running temperature. And running distance also plays a role (per Elite Daily). One study explains that air temperature has the biggest impact on marathon running performance, regardless of level. During the study, researchers analyzed six European and American marathons over the span of ten years. They found as the temperature increased, performance decreased — and vice versa, verifying the coolness craze runners love. Elite Daily points out that the optimal temperature for long-distance female runners is 44 degrees Fahrenheit. But this number can also be as high as 55 degrees Fahrenheit, says Meliniotis (per Shape). Essentially, the further you're running, the cooler you'll want the air temperature to be.