There May Be Good News When It Comes To The Rate Monkeypox Has Spread In The US
Tomas Ragina/Shutterstock
The number of confirmed monkeypox cases globally is 48,844 as of this publication, according to the Centers for Disease Control and Prevention (CDC), and the United States leads the world in the highest number of cases at 18,100. On August 8, the country saw the highest number of new cases at 787, but that number decreased slowly over the following days. According to data obtained by the CDC, the number of global daily cases has also dropped. These findings might suggest that we may be in the middle of a downward trend.
While the number of cases is still on the rise, the downtrend may be some good news. CDC Director Dr. Rochelle Walensky told reporters on August 26 that the trend is promising. "We're watching this with cautious optimism, and really hopeful that many of our harm-reduction messages and our vaccines are getting out there and working," she said (via CNBC).
Cases are trending downward in monkeypox hotspots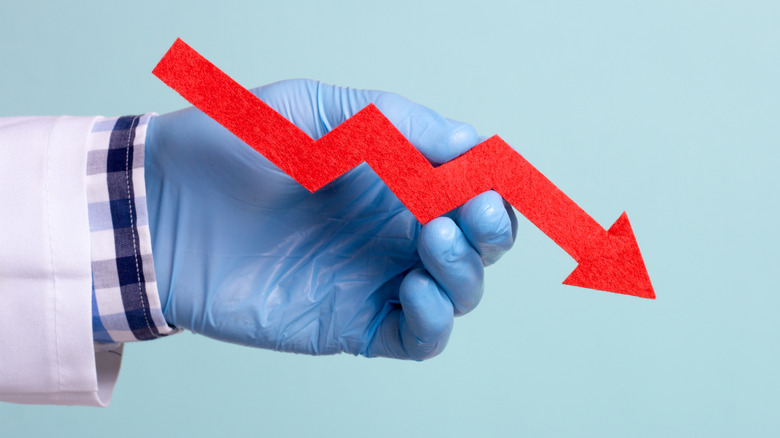 ADragan/Shutterstock
States and cities reporting the highest number of cases are also seeing a downward trend. For instance, New York City, which has reported the most cases in any city, is seeing a downward trend. New York City health commissioner Dr. Ashwin Vasan said part of the reason the spread has slowed is because of outreach programs and vaccinations. Chicago, another hotspot for the virus, is seeing a similar trend. Dr. Allison Arwady, Chicago's public health commissioner, said that the city is not experiencing the exponential growth it saw in the past weeks. "Too early to say things look really good, but definitely some signs of slowing of cases," Dr. Arwady said (via CNBC).
While the rates of monkeypox spread appear to be dropping, Dr. Walensky told the Wall Street Journal that experts are wary because cases in Black and Hispanic men are still rising (via WebMD). She urged people who are at risk, including college students, to get vaccinated.