Study Results Show The Effectiveness Of A Smallpox Antiviral On Monkeypox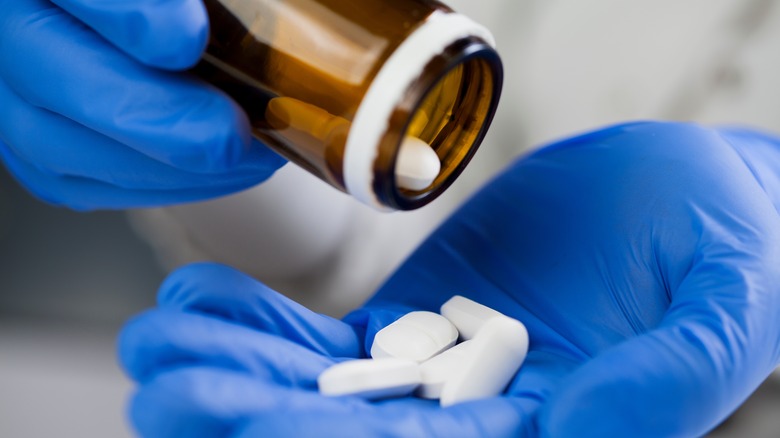 Cryptographer/Shutterstock
Currently, there is no cure for monkeypox. The virus is self-limited, meaning that symptoms usually disappear on their own within two to four weeks without the need for medication. That said, some treatments are available. The monkeypox virus is similar to the smallpox virus, meaning some antiviral drugs and vaccines used to treat smallpox may be helpful for treating monkeypox, according to the Centers for Disease Control and Prevention (CDC).
The antiviral medication, tecovirimat (TPOXX), happens to be one of those drugs. While it is not approved by the Food and Drug Administration to treat monkeypox, it is approved for treating smallpox. The drug works by slowing the spread of the virus. It is available in capsule form or it can be injected, per the Administration for Strategic Preparedness & Response (ASPR). A small study published in JAMA Network shows that TPOXX might be effective at treating symptoms of monkeypox.
Many patients saw relief in 7 days
BearFotos/Shutterstock
For the study, 25 patients at the University of California at Davis (UC Davis) infected with monkeypox completed a course of treatment. The patients were male with a median age of 40 years. One patient was treated for 21 days, while the remaining were treated for 14 days. After seven days, 10 patients (40%) reported that their lesions healed, and by day 21, a total of 23 patients (92%) reported their lesions had healed and they were no longer in pain. While TPOXX was generally well tolerated, some patients did report side effects. Fatigue was the most common side effect, reported by seven (28%) patients. Other side effects included headache, nausea, itching, and diarrhea.
Dr. George Thompson, a co-author of the study, said that it was important to understand the data completely. He added that it was difficult to know the difference between the side effects caused by the medication and the virus. Researchers acknowledge that because the study was small and there was no control group, more research is needed (via HealthDay News).