How Monkeypox Cases Have Risen In The United States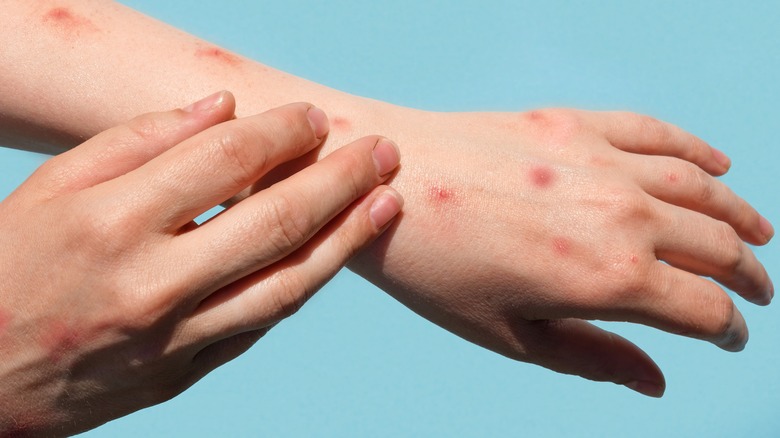 Marina Demidiuk/Shutterstock
Health officials in Harris County, Texas, are looking into how monkeypox might have contributed to the death of an immunocompromised adult, according to USA Today. Although the person had several illnesses, this would be the first monkeypox death in the United States if confirmed. Monkeypox deaths are rare and mostly occur in young children or people whose immune systems are weak, as per the Centers for Disease Control and Prevention (CDC).
The World Health Organization reports that 98% of the monkeypox cases are male, and the median age is 36. Turns out, more than 90% of the reported cases were transmitted by a sexual encounter, and a party setting involving sexual contacts accounted for more than 60% of the cases. As of today, there are less than 300 monkeypox cases involving healthcare workers. Among the monkeypox infections in children, none occurred in a school setting. Although Europe is at a high risk for monkeypox, the WHO still considers the virus to be a moderate risk globally and in the Americas.
The summer surge of U.S. monkeypox cases
The United States didn't see its first monkeypox case until May 18. By the end of May, the number of cases increased to 21. As summer arrived, so did more case numbers. June saw a 20-fold hike in monkeypox cases, ending the month with 470 people with the virus. The month of July saw another jump. The biggest surge in July occurred towards the end of the month when cases rose from 1,767 cases on July 15 to 5,175 by July 31. August had doubled its cases by the middle of the month, beginning with 5,792 and hitting 10,726 cases by August 11.
Although these monkeypox numbers might sound worrisome, the CDC reported 19,145 new cases of COVID-19 on August 28 alone and a seven-day average of 82,815. So far, the CDC has more than 94 million cases of COVID-19 on record in the United States. The CDC also has reported that up to 13 million people in the United States have had the flu from October 1, 2021, through June 11 this year.