Is America's Love For Starbucks' Pumpkin Spice Latte Due To Taste Buds Or Emotions?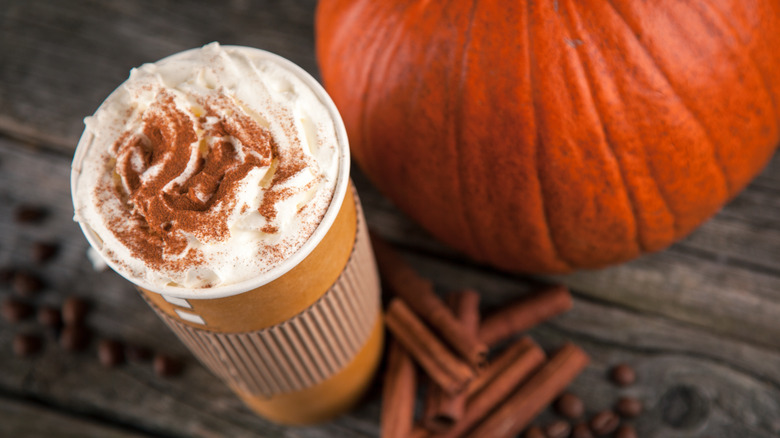 George Dolgikh/Shutterstock
In 2018, survey data showed that more than 33% of adults in the U.S. ages 18 through 29 had visited a Starbucks roughly within the last 90 days (via Statista). With Starbucks' signature Pumpkin Spice Latte now making its annual appearance on the menu, many customers find themselves clamoring to the chain of coffeehouses to get their first taste of fall. Demonstrating just how popular this flavored beverage is amongst Americans, research from 2018 shows that Starbucks items with pumpkin flavoring produced a 10% boost in profits when released early that year during the last week of August, reports Forbes.
Nutmeg, cinnamon, cloves, and ginger are the four ingredients that make up pumpkin spice's uniquely delicious flavor (per Cedars-Sinai). Experts say this mix of herbs and spices has both antimicrobial and antioxidant benefits to offer — but are these potential health perks what has people lining up at Starbucks counters around the country during this time of year? According to Healthline, it's not so much the health benefits — or even our taste buds — driving our desire for pumpkin spice come autumn. Instead, experts say it's more so a combination of brain chemistry and nostalgia.
How pumpkin spice prompts cozy fall feelings in the brain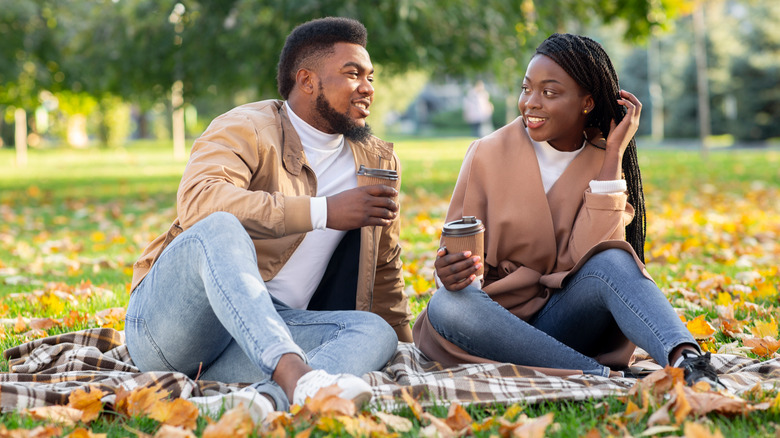 Prostock Studio/Shutterstock
Experts say that our sense of smell may play a sizable role in our emotional attachment to pumpkin spice lattes. "Pumpkin spice aromas emerge in the fall in shops and cafes, coinciding with the arrival of colorful leaves, family gatherings, and back-to-school bustle," Jason Fischer, professor of psychological and brain sciences at Johns Hopkins' Krieger School, told KRLD NewsRadio 1080. "The association that the smell has with the season in our memories allows it to powerfully evoke the refreshing feelings of fall." This connection is so strong that we don't even need the smell itself to trigger these feelings. Rather, even just reading the labels of certain scents can be enough to stimulate the brain regions responsible for our olfactory senses and associated memories.
Included in these brain regions is the hippocampus, whose functions overlap with digestion as well as emotion regulation (per Healthline). Not only does the hippocampus help consolidate our long-term memory, but it also plays a role in our appetite and eating habits. Bruce Clark, professor of marketing at the D'Amore-McKim School of Business at Northeastern University, gets to the heart of the matter. "When the world is crazy, a pumpkin spice latte is particularly comforting," Clark tells Forbes, explaining the intersection of eating habits and our emotional investment in pumpkin spice lattes.