Why One Flu Shot For Kids May Not Be Enough This Season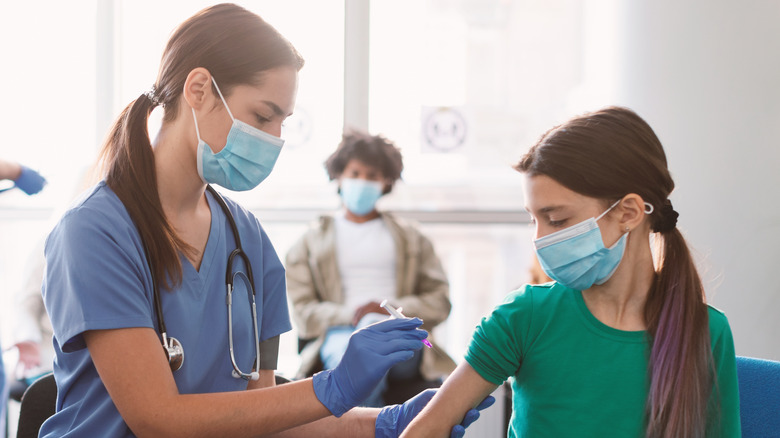 Prostock-studio/Shutterstock
With flu season fast approaching, the American Academy of Pediatrics (AAP) has released a new set of recommendations regarding influenza immunization, urging parents to make sure their kids get vaccinated against the flu this fall. According to the AAP, all children 6 months or older should receive their annual flu shot by the end of October (via NBC News). However, some children may need to get more than one.
As it turns out, the AAP recommends that children 8 years old and under, who have either never received a flu vaccination or only ever received one shot, get two flu shots this year, one month apart. This recommendation comes as pediatric vaccination rates have fallen amid the COVID-19 pandemic. Due to masks and social distancing measures, the spread of the flu dropped quite significantly within the last two years. During this time, however, parents were less likely to get their children vaccinated or take them to the doctor's office for wellness checkups.
Unvaccinated children are vulnerable to the flu virus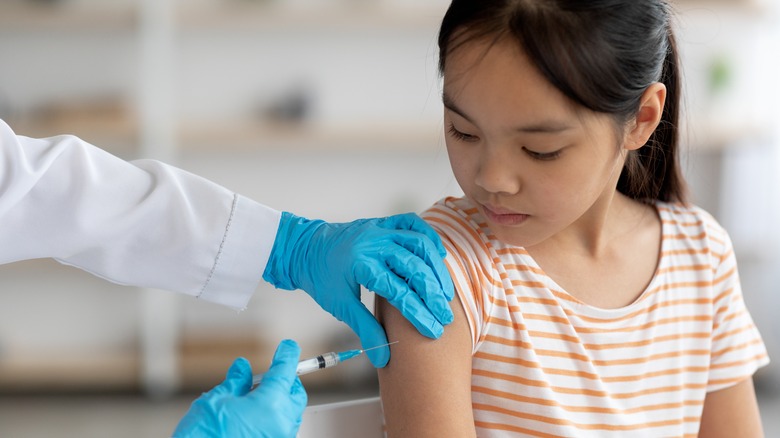 Prostock-studio/Shutterstock
According to Today, only 55% of children were vaccinated against the flu last year, leaving many children unvaccinated and vulnerable to the virus. Now that COVID-19 safety measures are no longer being enforced, however, the AAP expects this year's flu season to be much worse than the last. In fact, Australia just experienced its worst flu season in five years. As a result, experts are concerned that the U.S. will experience a similar outcome.
That's why it's important to make sure every child is vaccinated and protected against the flu, especially now that many students are returning to in-person learning full-time. "Vaccines remain the best way to prevent severe illness and keep kids in classrooms," the AAP said in a statement released on Tuesday. "The AAP observes that vaccination coverage lagged last season and that, historically, the flu has taken a disproportionate toll on families who are Black, Hispanic or American Indian or Alaska Native."