Should You Get The Flu Shot And COVID Booster At The Same Time?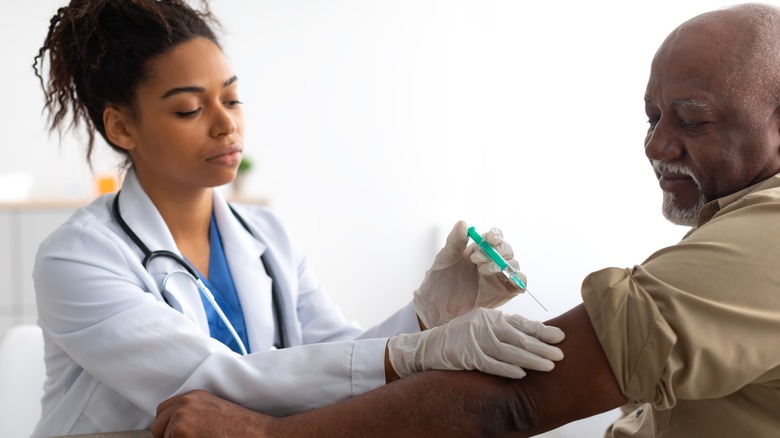 Prostock Studio/Shutterstock
In a public statement issued on September 6, 2022, the Biden administration encouraged Americans to receive their updated booster shot as soon as possible. As bivalent vaccines, the new boosters are better able to combat the current Omicron strains. Pfizer's booster has been approved for those ages 12 and up, while Moderna's booster vaccine has been authorized for adults at least 18 years old, reports CNN.
In addition to receiving a COVID-19 booster as we enter the fall season, health officials are also urging individuals to seek out another vaccine: the flu shot (per CNN). Some experts predict the U.S. may be hit particularly hard by the flu this year — but is it safe to receive both shots simultaneously?
Dr. Keith Armitage, medical director of the University Hospitals Roe Green Center for Travel Medicine & Global Health, explained how the guidelines have changed since the start of the pandemic to University Hospitals. "When the COVID-19 vaccines were first approved, the recommendation was to not get [another] vaccine two weeks before or after," Dr. Armitage told the source. "The reason for this was to not confuse adverse reactions."
Extend your protection throughout flu season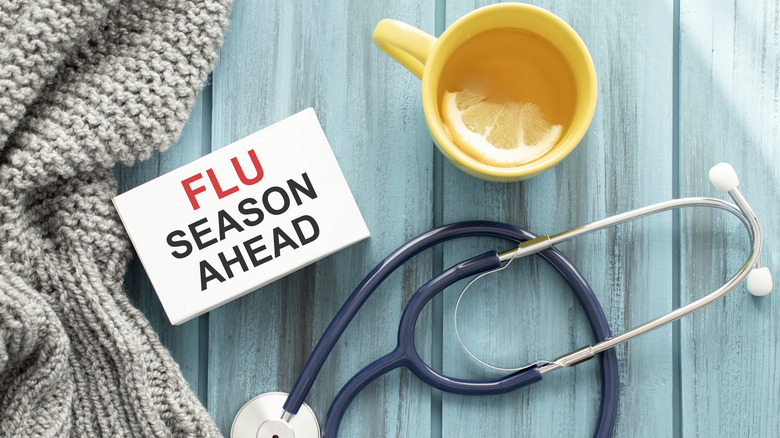 Inna Kot/Shutterstock
Lori Tremmel Freeman, chief executive officer of the National Association of County and City Health Officials, told CNN that there is no issue receiving both vaccines simultaneously or within the same timeframe. In fact, health experts are taking measures to make it easier for individuals to receive both shots at the same time. "Jurisdictions are going to be standing up joint flu and Covid vaccine clinics and other opportunities for people to get both their flu vaccine and their Covid updated booster together," Freeman told the publication.
Although the public has been advised to receive their updated booster as soon as possible, STAT News reports that coupling the booster with the flu shot at this time may pose one potential problem. Disease experts explain that getting a flu shot too early can leave individuals vulnerable later on during flu season. "You've got about four months of pretty solid protection," Emily Martin, an associate professor of epidemiology who specializes in flu at the University of Michigan School of Public Health, told STAT News. Therefore, receiving the flu shot in tandem with the COVID booster in September means that one's protection may significantly wane by February or March — which proved to be the height of flu season last year.
While updated COVID boosters are currently recommended for those who are eligible, CNN reports that some experts suggest holding off on the flu vaccine until October or November in order to prolong protection.