CDC Issues New Guidance On Masks In Nursing Homes To Help Prevent COVID-19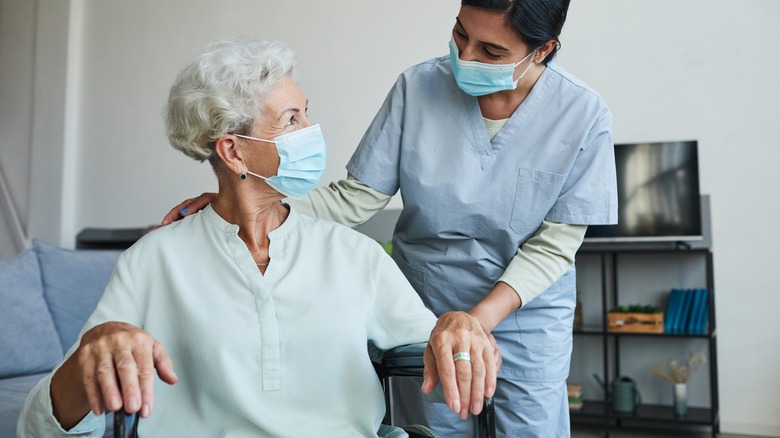 SeventyFour/Shutterstock
On Friday, September 23, the U.S. Centers for Disease Control and Prevention (CDC) released updated guidelines regarding the use of personal protective equipment (PPE) in healthcare settings, specifically for nursing home facilities. These new guidelines ease the use of PPE that falls under the category of "source control," defined by the CDC as, "respirators or well-fitting facemasks or cloth masks to cover a person's mouth and nose to prevent spread of respiratory secretions when they are breathing, talking, sneezing, or coughing," as per the news release.
However, the new guidelines are extended only to healthcare facilities located in regions with low COVID-19 case counts, reports CBS News. Based on the CDC, this would include counties who now have the option of dropping masking requirements for health care professionals, patients, and visitors. This decision comes in the face of growing immunity amongst Americans due to vaccination, previous infection, preventative measures, as well as increased access to available treatment methods (via press release).
Exceptions to the new masking guidelines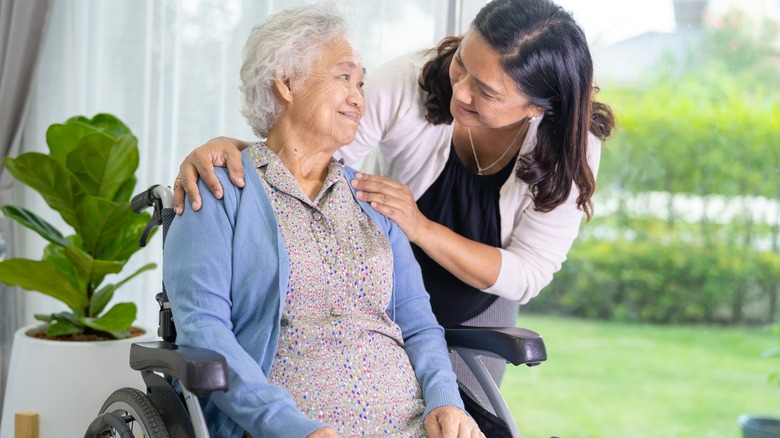 sasirin pamai/Shutterstock
The CDC also noted scenarios in which continued masking would still be recommended, such as in the event of an outbreak or when interacting with a patient with compromised immunity, according to CBS News. Additionally, those in healthcare settings are encouraged to continue masking in the event of viral exposure, a confirmed case of infection, or if exhibiting respiratory illness-related symptoms, as per the press release.
Otherwise, healthcare professionals working in counties with low COVID-19 case numbers may opt to forgo masking while in areas restricted to healthcare personnel only, such as a staff break room. In light of the new recommendations, the CDC also encouraged all patients, visitors, and healthcare providers to stay updated with their COVID-19 vaccinations.
Holly Harmon, a senior vice president for the American Health Care Association and the National Center for Assisted Living, announced in a public statement the ways in which the new guidance will have a positive impact on patients and healthcare workers alike. "After more than two years, residents will get to see more of their caregivers' smiling faces, and our dedicated staff will get a moment to breathe," as reported via CBS News.