Which Plant-Based Meat Alternative Is Best For You?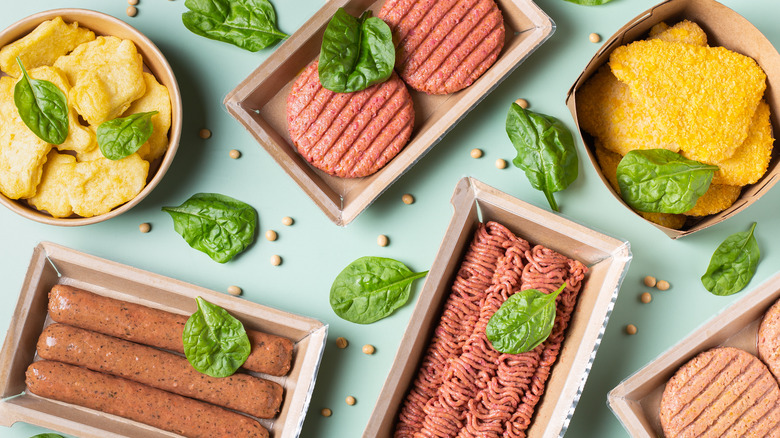 Antonina Vlasova/Shutterstock
If you're a vegan, vegetarian, or are simply looking to cut back on meat, you might want to consider incorporating plant-based meat alternatives into your diet. For those who enjoy the flavor and texture of meat but not the ingredients or nutritional content, plant-based meat products can really hit the spot without compromising your personal ethics or dietary restrictions (via Medical News Today).
With a growing number of flexitarians in America or those who mostly consume a vegetarian diet while allowing the occasional inclusion of animal meat, there are now more plant-based meat alternatives than ever before. According to Dr. Chris Bryant, an honorary research associate for the Department of Psychology at the University of Bath, plant-based meat is a great way to "directly replace meat" in all of your favorite dishes. "If you can still have a burger or a bolognese without needing to come up with completely new plant-based dishes, that makes it far easier, and for many people, more enjoyable," Bryant told Medical News Today.
Which plant-based meat alternatives are healthier?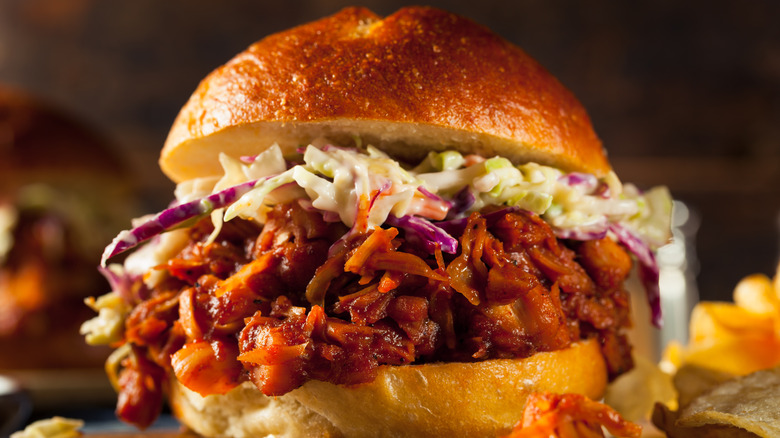 Brent Hofacker/Shutterstock
There are a number of different plant-based meat alternatives to choose from, according to experts at Healthline. For instance, one popular plant-based meat substitute is known as seitan. As it turns out, seitan is made from wheat gluten and is fairly high in protein. Due to its chewy texture and savory flavor, seitan is a great protein to add to pasta, stir-fry, stews, and sandwiches. Another popular plant-based meat alternative is Beyond Meat. Best known for its creation of the Beyond Burger, Beyond Meat also makes other plant-based meat products, like sausage, chicken, ground meat, and meatballs, all of which are primarily made from pea protein. Impossible Foods is also a similar idea to Beyond Meat, except Impossible Foods' plant-based meat products are made from potato and soy proteins.
In addition, jackfruit and soy-based foods, like tofu and tempeh, are also commonly used as meat substitutes. Soy-based foods can be quite versatile, while jackfruit is mostly used as an alternative to pulled pork and other types of slow-cooked meat. Since they are both minimally processed, however, they're also considered the healthiest plant-based meat alternatives compared to Impossible Foods and Beyond Meat products. But that doesn't mean that you should stop eating Beyond Burgers altogether. It just means that it's best not to consume these products on a daily basis.