New Study Suggests Ground, Decaf, And Instant Coffee Could All Boost Health And Longevity
Kingmaya Studio/Shutterstock
If you're one that needs your daily java to get your brain going in the morning, there's good news. Turns out, it might also help you live longer. According to a new study in the European Journal of Preventive Cardiology, drinking ground, decaf, or instant coffee every day reduces your risk of cardiovascular disease and death.
The study tracked people aged 40 to 69 from the United Kingdom for more than 12 years. The researchers asked each participant how many cups of coffee they drank and whether they drank instant, decaf, or ground coffee. They also kept track of whether or not they were diagnosed with cardiovascular disease or arrhythmia. During the long-term follow-up, 6.2% of the participants died from heart disease.
After adjusting for demographic variables, obesity, high blood pressure, diabetes, sleep apnea, smoking, and alcohol consumption, the study found that drinking one to five cups of either ground or instant coffee reduced the risk of arrhythmia. Drinking decaf didn't have a lower risk compared to people who didn't drink coffee.
The researchers concluded that two to three cups of any type of coffee reduced the risk of cardiovascular disease, coronary heart disease, congestive cardiac failure, and death regardless of the cause.
Is it the caffeine or coffee?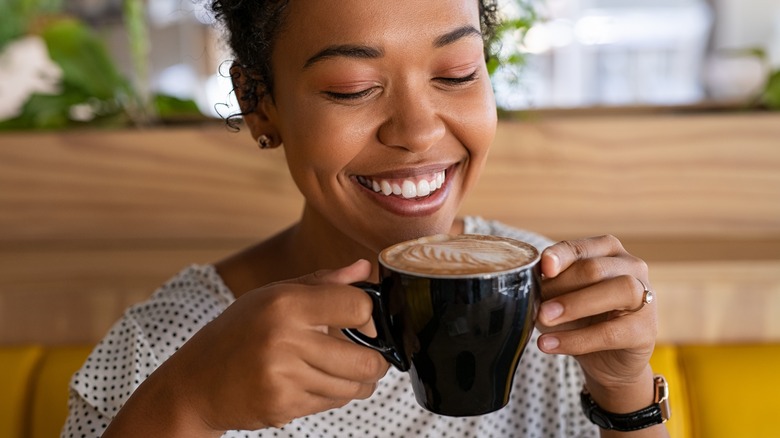 Rido/Shutterstock
The recent study described how moderate amounts of caffeine can improve alertness, but too much caffeine can make you anxious, restless, and sleepless. Caffeine also elevates your blood pressure, although, over time, you build a tolerance to caffeine to keep the blood pressure levels under control. Caffeine, however, can be toxic if you consume more than 1,200 milligrams per day (per U.S Food & Drug Administration). The authors of the study noted that caffeine can protect the heart from arrhythmia, which is why the study didn't find a reduced risk for arrhythmia among decaf drinkers.
In a press release about the study, one of the authors, Professor Peter Kistler, from the Baker Heart and Diabetes Research Institute in Australia, said that the compounds in coffee could contribute to cardiovascular health (via Bloomberg). Kistler said, "It is likely that the non-caffeinated compounds were responsible for the positive relationships observed between coffee drinking, cardiovascular disease and survival. Our findings indicate that drinking modest amounts of coffee of all types should not be discouraged but can be enjoyed as a heart healthy behaviour."