Should You Get Vaccinated While Pregnant? - Exclusive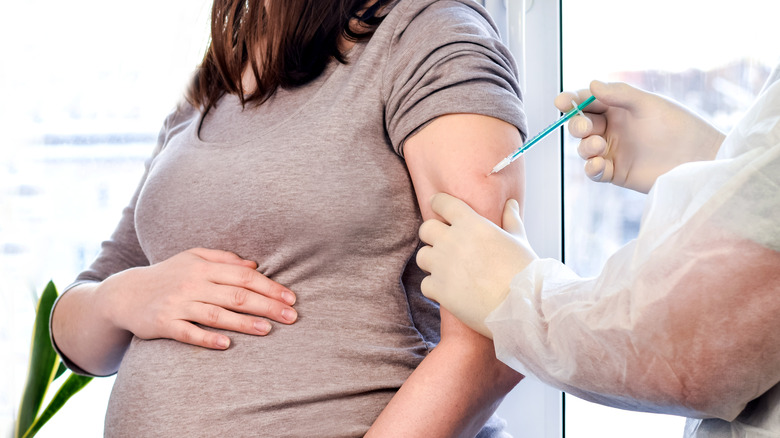 Marina Demidiuk/Shutterstock
​​There are many things you are not supposed to do while pregnant, including eating certain foods and participating in dangerous activities. It is normal to be concerned about what you put in your body while pregnant, including whether or not you should get a vaccine during that time. To learn more about what is safe, Health Digest spoke with Tiffanny Jones, MD Double Board Certified Fertility Specialist, about the topic. According to Dr. Tiffany Jones, yes, you should consider getting vaccinated while pregnant. The most important vaccines to consider getting while pregnant, if you are overdue for them, are the influenza vaccine, the COVID vaccine, and the TDAP vaccine.
"The immune system, heart, and lungs all change in pregnancy and make complications from the virus more severe," said Dr. Jones. Pregnancy itself can also increase your risk of developing a severe illness from many conditions, including the flu. "Vaccines decrease the risk of acute respiratory infection by 50% and hospitalizations by 40%," Dr. Jones went on. "The antibodies that result cross the placenta and help protect a baby. Babies cannot be vaccinated."
The TDAP vaccine, which protects against tetanus, diphtheria, and pertussis, is also important for expecting mothers because these illnesses can cause severe illness in babies as well. Vaccination of the pregnant woman and those in close contact with her and the baby can help decrease exposure to the baby," explained Dr. Jones.
When you should get vaccinated while pregnant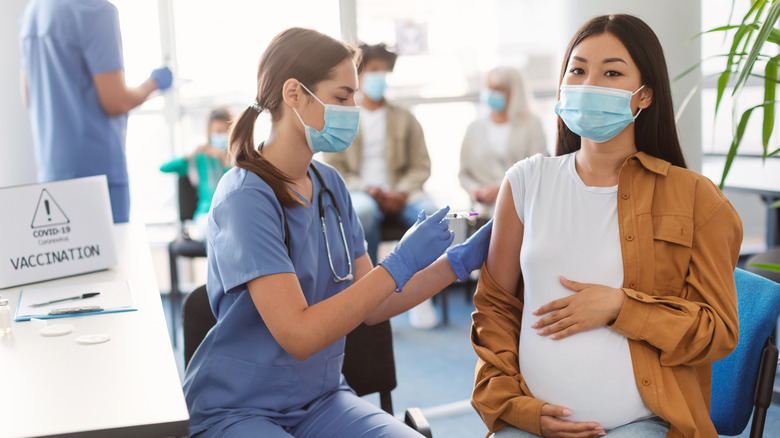 Prostock-studio/Shutterstock
Vaccines will be more impactful at certain times during pregnancy, according to Dr. Jones. She recommends the TDAP vaccine during the third trimester to create the best environment for "passive immunity" during birth. The flu and COVID vaccine can be administered at any time during pregnancy.
Of course, it is always smart for pregnant women to check with their doctors before getting any vaccine. There are some risks associated with certain vaccines and some people will have a higher risk of those side effects than others. According to Dr. Jones, some people may have negative reactions to vaccines, although flu-like symptoms and soreness are more common. "Always consult a physician prior to getting a vaccine and provide your healthcare provider with information of a reaction after a vaccine," said Dr. Jones. "Some vaccines, such as the nasal flu vaccine, cannot be taken during pregnancy." Dr. Jones also noted that women who are breastfeeding should also get these recommended vaccines if applicable. 
Dr. Tiffany Jones, MD is a member of the American Association of Gynecologic Laparoscopists, the Society for Reproductive Endocrinology and Infertility, the Pacific Coast Reproductive Society, the Society for Reproductive Investigation, and the American Society for Reproductive Medicine. She currently works with Conceive Fertility Center in Frisco, TX.