Why The White House Is Urging Americans Over 50 To Get Boosted Immediately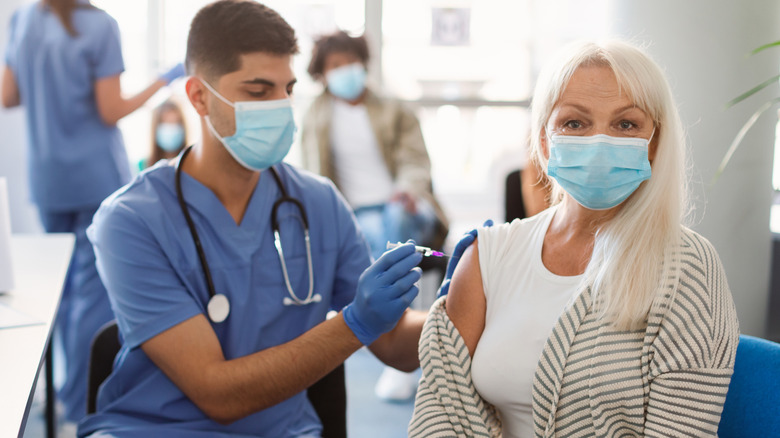 Prostock Studio/Shutterstock
Data from the last two years shows that surges in COVID-19 cases across the country were experienced predominantly between the months of November and February, reports The Kaiser Family Foundation. Following in 2020 and 2021's footsteps, experts anticipate an increase in case numbers as we enter the fall and winter seasons (per CNBC).
White House officials have advised all eligible Americans to receive the updated booster shot. However, Dr. Ashish Jha, head of the White House COVID task force, announced that doing so as soon as possible is particularly important for those over the age of 50. "If you're over 50, certainly if you're over 65, you've got to go get these vaccines because it actually, literally could save your life. It's a difference between life and death," Dr. Jha told Yahoo Finance, as reported via CNBC. Experts explain the reason being is that older adults now make up the majority of COVID-19-related deaths and hospitalizations in the U.S.
Most COVID deaths are being seen in older adults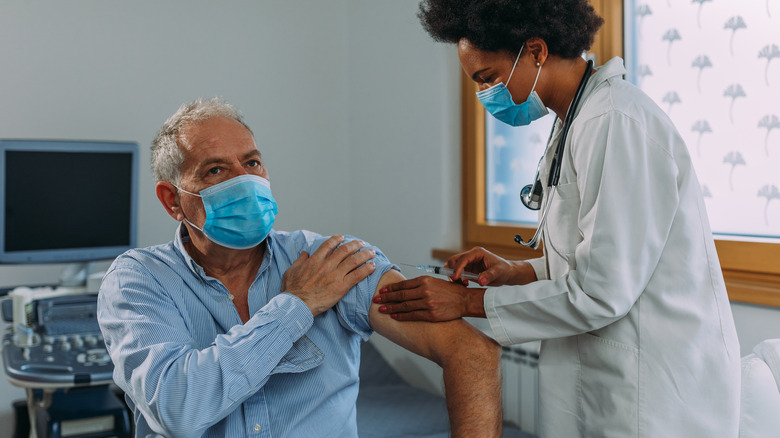 Bbernard/Shutterstock
In a previous statement, Dr. Jha had reported that roughly 70% of COVID deaths are currently occurring in those 75 years of age and older (via CNBC). The Kaiser Family Foundation further narrows down these statistics, reporting that 40% of COVID deaths are being seen in people at least 85 years old. Earlier in October, government health officials had advised Americans to receive their booster shot no later than Halloween. However, data from the Centers for Disease Control and Prevention shows that more than 300 people are continuing to die from COVID daily. Therefore, those 50 and older — the group most susceptible to severe illness — are encouraged to get boosted as soon as possible.
For those younger than 50, The Kaiser Family Foundation states that choosing to receive a booster vaccine roughly two to four weeks ahead of time could help protect older family members and friends you may see over the coming holidays. It could reduce the risk of infection and viral transfer.