Pfizer Takes The Next Crucial Step In Creating A Combo COVID-Flu Vaccine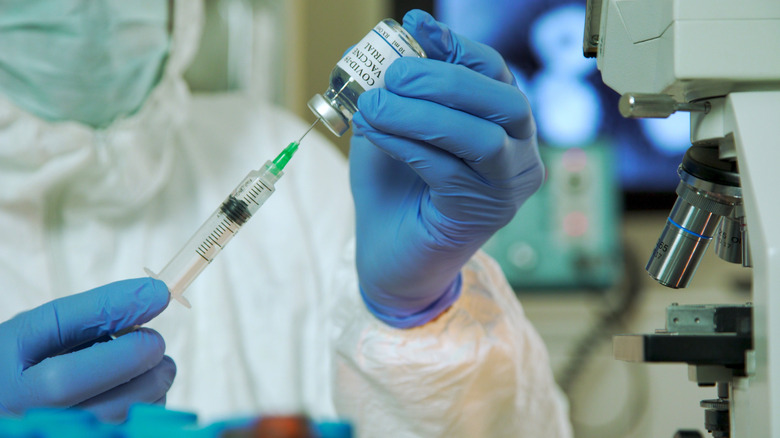 JHDT Productions/Shutterstock
In early September, the Biden Administration advised Americans to receive both their annual flu shot, as well as the new bivalent booster shot targeting the Omicron COVID-19 variant (via CNN). Rather than receiving two separate shots simultaneously, however, Pfizer is now exploring a new alternative — a combination COVID-flu vaccine.
In a press statement issued Thursday, the company announced that they have entered into Phase 1 of a clinical trial to evaluate the efficacy of their combo vaccine made up of their quadrivalent flu vaccine, as well as their bivalent COVID-19 vaccine. As a bivalent shot, the COVID-19 booster caters to the BA.4 and BA.5 Omicron subvariants. Similarly, the U.S. Centers for Disease Control and Prevention (CDC) explains that a quadrivalent influenza vaccine targets two different influenza A viral strains and two influenza B strains. With the clinical trial now underway, Pfizer stated the combination vaccine has officially been administered to the first study participant. The company hopes to include 180 total adult participants in the trial in order to evaluate the safety, immune response, and proper dosage amount of the combination vaccine. Researchers will continue to monitor patients during a six-month follow-up period.
Strains of COVID-19 and influenza continue to evolve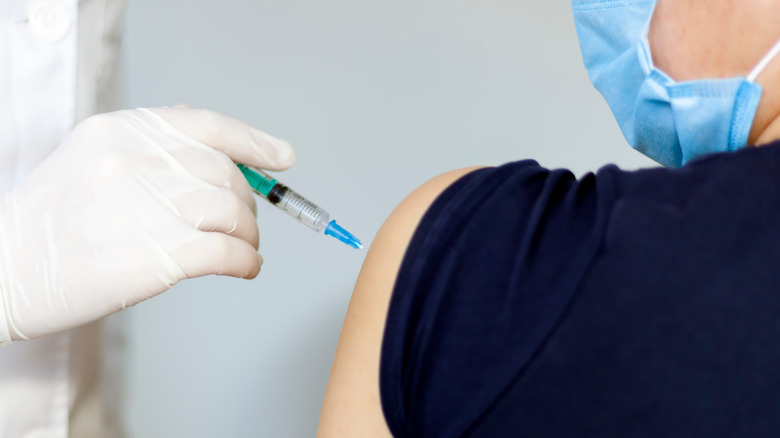 Nr-stock/Shutterstock
"The data will also provide us with more insights on the potential of mRNA vaccines addressing more than one pathogen. This will help us to further develop our infectious disease pipeline to deliver on patient centric vaccination approaches," professor and co-founder of BioNTech Ugur Sahin stated via the public announcement.
As per the CDC, 4,326 people were hospitalized for the flu in the week ending on October 29. In addition, one pediatric death has been reported for the 2022-2023 flu season. "Even with existing seasonal influenza vaccines, the burden of this virus is severe across the world causing thousands of deaths and hospitalizations every year," stated Dr. Annaliesa Anderson, senior vice president, and chief scientific officer, vaccine research and development, Pfizer, via the press release. With COVID-19 still circulating alongside the flu, Professor Ugur Sahin adds that this vaccine is focused on addressing the continuously mutating strains of each virus. "By combining both indications in one vaccine approach, we aim to provide individuals with an efficient way to receive immunization against two severe respiratory diseases with evolving viruses that require vaccine adaptation," Sahin stated via the public statement.