Why Health Experts Are Concerned About The Recent Amoxicillin Shortage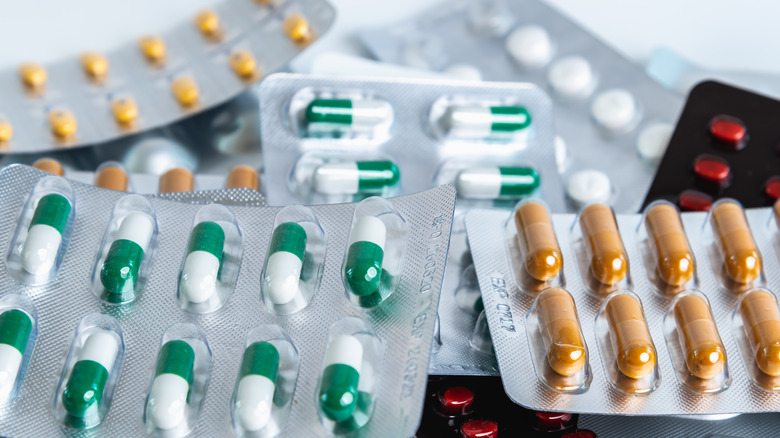 Torjrtrx/Shutterstock
As an antibiotic, amoxicillin is prescribed by healthcare professionals to treat bacterial infections of the throat, nose, ears, skin, and more, reports MedlinePlus. Offered in the form of a capsule, liquid, or tablet, the drug works by hindering bacterial growth, making it an effective treatment for pneumonia, bronchitis, or as part of a combination treatment for ulcer-causing H. pylori bacterial infections. Not intended for cases of viral infection, amoxicillin can dampen one's immune system if taken unnecessarily, increasing the risk for antibiotic-resistant infection later on.
Often administered to kids for cases of ear infections, amoxicillin is considered the primary go-to of antibiotics, reports The Hill. However, the U.S. Food and Drug Administration (FDA) has announced that there is currently a shortage of the liquid form of the medication, commonly taken by children. Among the various pharmaceutical companies reporting supply shortages of the drug are Hikma Pharmaceuticals, Teva Pharmaceutical Industries, Sandoz, Aurobindo, and Rising, according to The Hill. Reasons for the shortage appear to be multifaceted, with experts citing the energy crisis, lingering pandemic issues, and increased demand among such contributing factors (per NBC News). The Hill also notes that this comes at a time of increased pediatric respiratory illness cases during this year's flu season, though amoxicillin isn't used to treat viral infections like RSV or the flu.
Why this is concerning
PeopleImages.com - Yuri A/Shutterstock
This shortage points out some drug supply issues that have experts concerned. The United States Pharmacopeial Convention (USP) reports that antibacterial drugs are 42% more susceptible to supply shortages than the average medication. "A lot of that risk is driven by market factors, particularly price," says Matt Christian, USP's director of supply chain insights, as reported via Bloomberg. "Lower priced drugs have a higher risk of shortage. No margin, no inventory." Christian goes on to point out concerns about how turning to alternative antibiotics may pose potential health risks to patients. "If you run out of an antibiotic as ubiquitous as amoxicillin, there is a concern that unnecessarily moving [to a more aggressive antibiotic] can further cause antimicrobial resistance."
Parents have also expressed frustration in the midst of the shortage, as some families report being unable to find amoxicillin at their local pharmacies (per New York Post). In response to the shortage, drug manufacturers have stated they are actively seeking solutions to increase production, according to NBC News. Such methods include increasing employee shifts and providing alternate medication options to consumers. "We currently face a uniquely difficult situation," a representative from pharmaceutical company Sandoz told NBC News. "We are working with key stakeholders including governments to find ways to manage this critical situation."