How The Health And Human Services' 'Countdown To Thanksgiving Vax Up America Tour' Will Work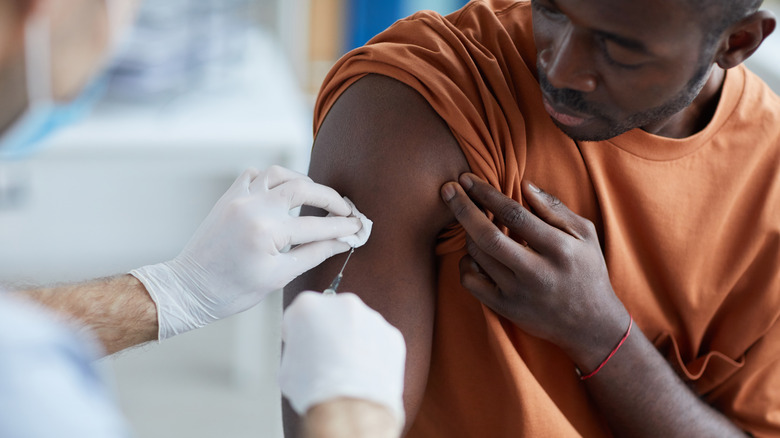 Seventyfour/Getty Images
On October 25, The White House announced plans via a public statement to increase vaccination numbers across the country in time for the rapidly-approaching holiday season. Among these efforts include at-home deliveries of antiviral prescription medications; the launch of television, radio, and print ads aimed at reaching community members of various demographic groups; as well as the launch of the Health and Human Services' (HHS) #VaxUpAmerica Family Vaccine Tour.
As of Monday, government officials have now launched a new effort, deemed the HHS "Countdown to Thanksgiving Vax Up America Tour," reports U.S. News & World Report. Posted via the HHS's "We Can Do This" website, the page features a countdown timer of days left until the holiday.
"As we countdown to Thanksgiving, I have one simple message for all Americans: It's time to vax up, America," HHS Secretary Xavier Becerra told U.S. News & World Report in a video message. "Because while COVID-19 may not be the disruptive force it was when President Biden first took office, the virus continues to evolve, and the stakes are still high."
Offering vaccine sites at events across the country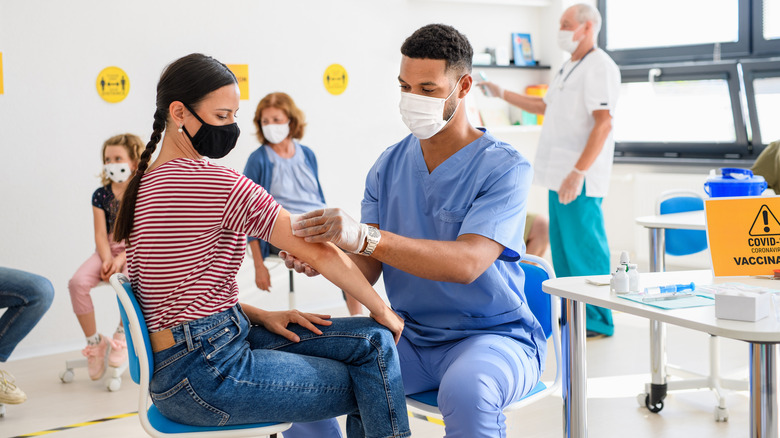 Halfpoint/Getty Images
The campaign will work by offering pop-up vaccine sites at large-scale community gatherings across the U.S. including sporting events (via U.S. News & World Report). This will include university football games at historically Black colleges to encourage vaccination amongst Black communities. Government officials will also continue to work with local schools and businesses in their efforts to increase vaccination numbers.
Per the White House's previous public statement, President Biden will request every U.S. school district, college, and university provide students with the opportunity to get vaccinated by offering at least one on-site clinic before the Thanksgiving holiday. For employers, the administration is asking business owners to consider paid time off for employees looking to get vaccinated.
In a recent poll conducted by the Global Healthy Living Foundation, researchers asked over 800 patients living with chronic disease how they plan to celebrate the upcoming holiday season (per Business Wire). Although more than 90% of respondents said they were up to date on their vaccinations, many still expressed concerns regarding their risk of infection, and plan to implement safety precautions while celebrating, whether alone or with family.
As reported via U.S. News & World Report, President Biden continues to urge Americans to get their updated booster shot to help protect loved ones and those most vulnerable this holiday season.