Yes, You Can Still Get Free COVID-19 Tests Heading Into The Holiday Season. Here's How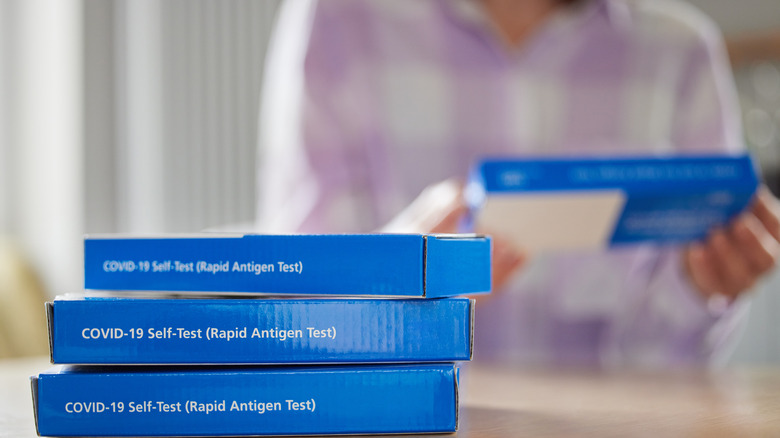 Daisy-daisy/Getty Images
As the U.S. heads into the Thanksgiving holiday next week, health experts are reminding Americans about the importance of exercising precautions to reduce the spread of COVID-19. NBC News reports that COVID is currently responsible for an average of at least 300 deaths daily across the country. In addition to remaining up-to-date with one's vaccinations, testing is another tool families are being encouraged to utilize this holiday season in preparation for celebratory indoor gatherings.
At the start of September, the government discontinued its free at-home test kit mailing service due to a lack of federal funding (per NBC News). However, if you're looking to keep a few extra at-home testing kits on hand throughout the coming winter months, Medicare recipients and those with private insurance can receive coverage on as many as eight antigen tests monthly. Those with private insurance have two options. They may order their test kits through covered pharmacies or choose to submit a claim to their insurance company for reimbursement after purchasing. Medicare recipients can visit Medicare.gov to find a list of participating pharmacies offering over-the-counter test kits free of charge. Additionally, lists of low or zero-cost testing sites by state can also be found at HHS.gov.
How close to the holidays should you take your at-home test?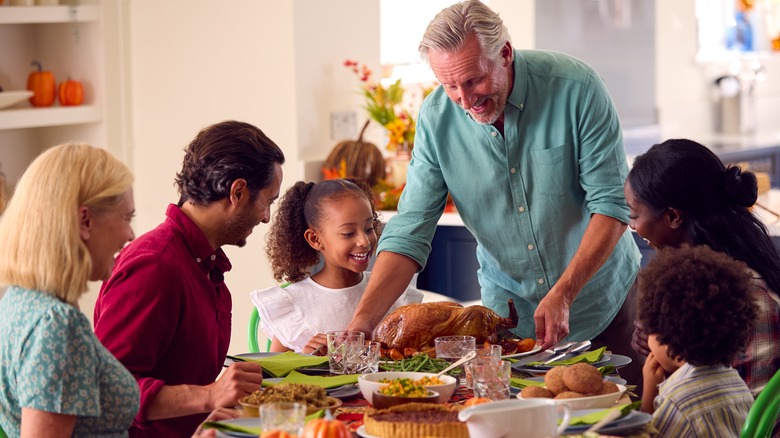 Monkey Business Images/Shutterstock
So you've gotten your COVID-19 test kits. Now, what's the best way to use them in preparation for the holidays? Experts at Today share that you'll want to consider a few different factors when deciding whether to self-test. For instance, will there be family members in attendance who are considered more high risk for infection? This can include older adults or those with compromised immunity.
Before attending a holiday gathering, Dr. Thomas Murray, associate medical director for infection prevention at Yale New Haven Children's Hospital in Connecticut, tells Today that it's best to use more than one self-test. "There is some evidence that if you do more than one [rapid] test in the two days leading up [to an event], and those are both negative, then that's better than a single test," Dr. Murray tells the news outlet. Even better, administer the test in the hours just prior to the event to get your most up-to-date COVID status check.
Lastly, consider if you've been experiencing any symptoms of respiratory illness recently. Even if your at-home test shows a negative test result, health experts tell Today that it's best to err on the side of caution and stay home until recovered.