The Best Snacks To Munch On When You're On The Go, According To A Registered Dietitian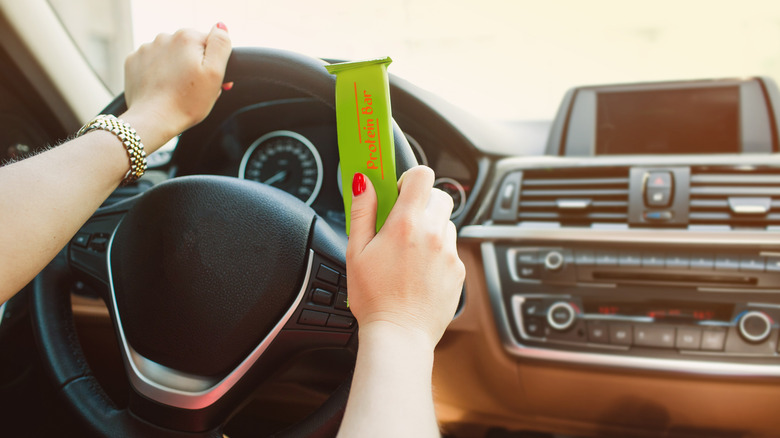 Peakstock/Shutterstock
We may receive a commission on purchases made from links.
We are all familiar with the difficulties of eating healthy on the road. It seems like no matter where you are — an airport, a gas station food store, or even a random highway rest stop — the options generally consist of fast food or processed meals. For those trying to stick to healthier options, doing so on the go can be troublesome. At some point — and anyone who has done serious traveling can attest to this — you are faced with the option of eating or starving. That's when we fall into temptation and go for our favorite fast food option — like a large order of french fries from Mcdonald's or a high-fat option at Taco Bell – or something else that's quick, delicious, and entirely unhealthy. In fact, a 2017 survey by On Call International found that 44% of American business travelers were more than likely to go for an unhealthy food option during their trips. 
Fortunately, a little prep can go a long way when it comes to maintaining your healthy diet while on the go. On her podcast "Good Instincts", registered dietician Shira Barlow talks about her favorite snacks to keep you fueled while you're out and about.
Do you have these snacks in your go pack?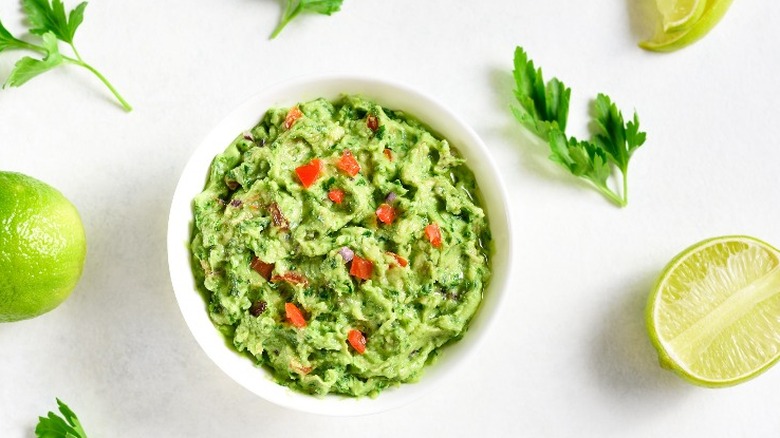 Tatiana Volgutova/Shutterstock
In the podcast episode, Barlow notes that if your snack serves as a tideover until you eat a proper meal, then go for snacks with fiber, protein, fat, or a combination of them. Barlow also offers snacks that are crunchy or sweet to curb your cravings. At the top of Barlow's list are SunnySnacks. "They are little snack packs. The one I love has grain-free crackers and guacamole," says Barlow. For those who want a crunchy chip alternative, Barlow says she is "a huge fan of the brand LesserEvil, they make these coconut puffs that I'm obsessed with." Barlow is also obsessed with Ultima's electrolyte powder. "It makes water taste amazing, it's natural without sweeteners," she explains. Another drink Barlow likes is Space Shake, which consists of coconut milk, coconut cream, and cacao. And if you want some chocolate, Barlow recommends Hu Kitchen hazelnut chocolate.
Barlow also recommends packs of nuts or nut butter packs which are packed with protein to fill you up. She also recommends The Wholesome Bar, as well as Base Culture bars. Finally, Barlow says that seaweed is a great on-the-go snack, "This is definitely not going to fill you up, but it is nice to have if you like that flavor profile." You can find some of Barlow's travel snack favorites on Amazon.