The Highest Fat Item On Taco Bell's Menu Isn't What You Think
Rblfmr/Shutterstock
Taco Bell is a popular fast food restaurant chain with nearly 8,000 restaurants in 31 countries globally as of 2021 (via Statista). It is known for its munchable motley of Mexican-American-style food items, and it's a staple of late-night fast food culture. However, it may come as a surprise to you that Taco Bell has taken great strides to become synonymous with the word, "healthy."
For starters, Taco Bell employs an in-house registered dietician, Missy Schaaphok, who serves as the director of global nutrition and sustainability. "Since 2008, Taco Bell has already reduced sodium by 15% on average across the menu and has since expanded that commitment to 25% by 2025," Schaaphok said in a Taco Bell press release. That's the equivalent of removing 1.5 million pounds of salt from the menu each year.
Taco Bell also champions a customizable menu. "Taco Bell offers a variety of dishes, including vegetarian and food allergy-sensitive options," registered dietitian Willow Jarosh told Verywell Fit. "You can customize most meals to include beans and veggies for a satisfying combo of high-fiber carbs, protein, fat, and flavor."
Taco Bell also became the first quick service restaurant to partner with the American Vegetarian Association (AVA) in 2015. Despite all of this progress, however, there are still items on the menu that any health-conscious eater might avoid. 
The least nutritious item is a Super Bowl Sunday favorite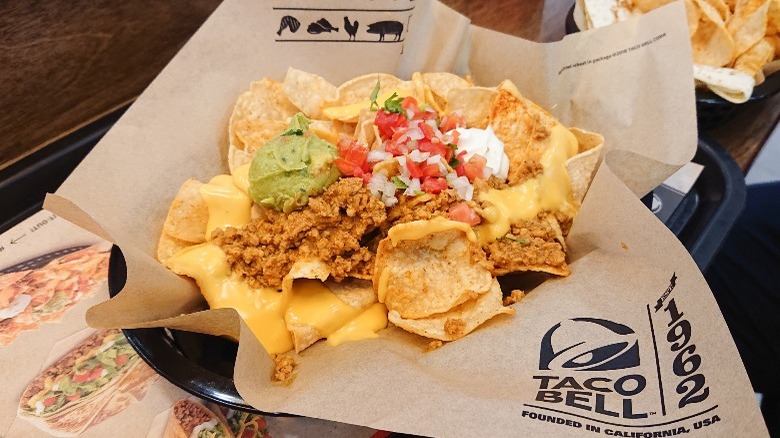 Suphachok Rengsomboon/Shutterstock
Close your eyes and try to imagine the stereotypical Super Bowl Sunday football party. What do you see on the dining table? There might be ice cold refreshments, chicken wings, and of course, nachos. Believe it or not, Taco Bell's item with the highest amount of fat is the Nachos BellGrande (via Taco Bell).
The dish includes diced tomatoes, nacho cheese sauce, refried beans, reduced fat sour cream, and seasoned beef — all served over a bed of tortilla chips (via Taco Bell). In addition to the 730 calories, these nachos contain 38 total grams of fat (49% daily value), including six grams of saturated fat (30% daily value). On top of that, the Nachos BellGrande accounts for nearly half of the recommended daily value of sodium. All things considered, you might want to avoid the popular upgrades, like guacamole. 
Taco Bell has the potential to be a part of your healthy lifestyle — the customizable and vegetarian-friendly menu gives you the power to choose. If you're looking to keep it healthy, you might just avoid the Nachos BellGrande altogether or opt for Taco Bell's light "Fresco style" option.