What Higher Levels Of Vitamin D Can Do For Your Brain Health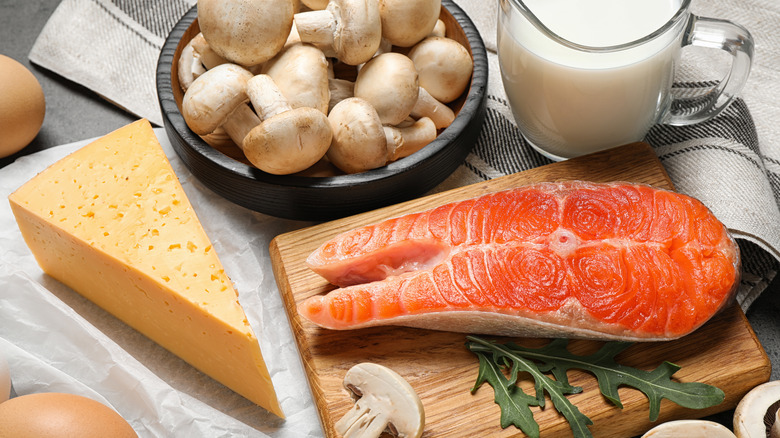 New Africa/Shutterstock
Vitamin D helps your body absorb calcium to keep your bones strong, according to the National Institutes of Health (NIH). It can protect against heart disease and may minimize high cholesterol. Now, vitamin D might also be linked to a healthy brain as you age, according to a recent study in Alzheimer's & Dementia.
Experts drew from a long-term study about aging and memory, where participants agreed to annual cognitive evaluations to measure memory and perception. When the participants died, a neurologist determined from the previous evaluations whether the participants had dementia, mild cognitive impairment, or no cognitive impairment. The researchers took brain tissue samples from 499 of the participants who died to measure levels of vitamin D in the four regions of the brain, including the mid-temporal cortex, mid-frontal cortex, cerebellum, and anterior watershed white matter. Keep in mind, the temporal lobe is associated with learning and memory, while the frontal lobe is responsible for our executive functions, such as planning (via The University of Queensland).
Fortunately, participants with a higher concentration of vitamin D in the brain had up to a 33% reduced risk of dementia or cognitive decline. The higher concentration of vitamin D was also associated with a slower rate of cognitive decline and better overall cognition before the participants died.
Vitamin D and the brain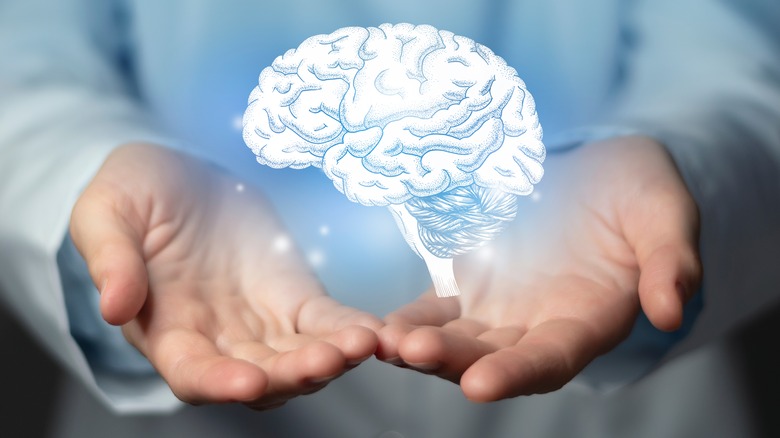 mi_viri/Shutterstock
Although previous studies have found a link between brain health and vitamin D in the diet or blood, this is considered the first study to look into vitamin D in the brain tissue, according to a news release. Nutrition is key to protecting the brain from cognitive decline. However, the study didn't find any connection between vitamin D and physiological markers of Alzheimer's or Lewy body disease.
"Dementia is multifactorial, and lots of the pathological mechanisms underlying it have not been well characterized," said lead author Kyla Shea, who is a scientist on the Vitamin K Team and an associate professor at the Friedman School of Nutrition Science and Policy at Tufts University. "Vitamin D could be related to outcomes that we didn't look at yet, but plan to study in the future."
Although vitamin D might help protect the brain, don't go overboard with supplements. Too much vitamin D can cause nausea, confusion, and dehydration, and extreme levels may lead to an irregular heartbeat, kidney failure, or even death, according to NIH. More than 4000 international units (IU) of vitamin D can create adverse effects. The recommended amount of vitamin D in adults under 70 is 600 IU per day and 800 IU for those over 70 years old.