What To Know About The New American Pediatric Association's Dental Guidelines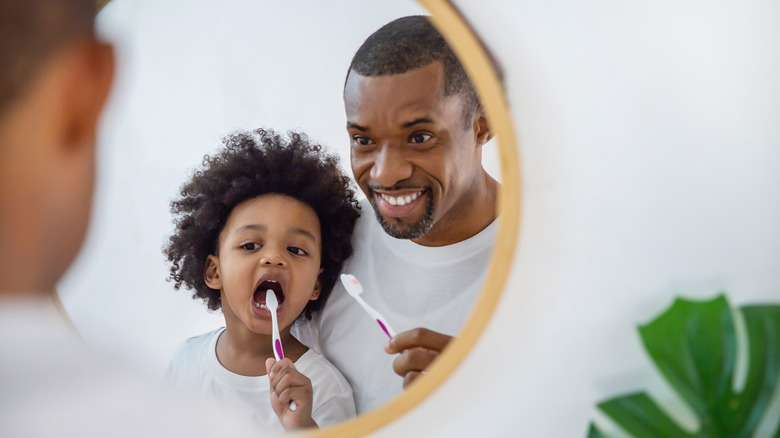 paulaphoto/Shutterstock
When it comes to our health, education plays a key role in preventative care. For that reason, non-profit medical professional organizations regularly update guidelines that — when adhered to — can successfully prevent or limit health issues and disease.
As it stands, tooth decay is the most prevalent chronic disease among youths. Nearly half of all American children encounter tooth decay before their 19th birthday, according to the American Academy of Pediatrics (AAP). Despite an increase in dentist visits across the board, the children of adults in a lower income bracket, those without dental insurance, and those who struggle with language barriers are still not receiving adequate dental care.
In an effort to abate the tremendous number of children experiencing dental issues in the U.S., the AAP recently released an updated clinical report in Pediatrics. The report contains new guidelines that they hope will help educate parents about their children's dental care — and subsequently reduce the occurrence of tooth decay in adolescents.
Forming good habits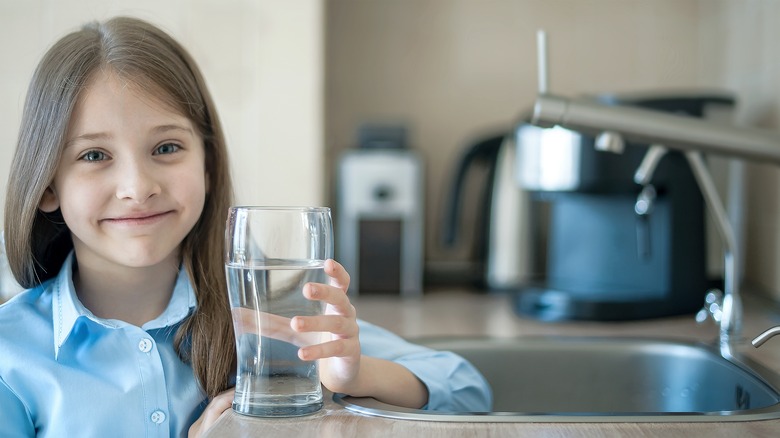 PaniYani/Shutterstock
The lead author of the study, Dr. David Krol, said in an AAP press release that pediatricians should be teaching parents about how they can start protecting their children's teeth before the teeth even break through the gums — which begins with forming healthy habits. "Families can instill good habits early by never putting a child to bed with a bottle, avoiding sugary drinks, and serving as role models by brushing and flossing regularly," said Krol.
The new guidelines suggest that parents should secure a dentist for their child before the baby's first birthday (per Healthline). The report also notes that in an attempt to limit sugary drinks, babies under a year old shouldn't be given any juice. Little ones between 1 and 3 years of age should be limited to 4 ounces daily. The amount of juice children should be allowed to have increases slightly as they grow, according to the report. Kids between the ages of 4 and 6 are recommended to stay within a corresponding range of 4 to 6 ounces of juice each day, and those between 7 and 18 years old shouldn't have any more than a cup of juice every 24 hours.
The role of pediatricians in preventing tooth decay in children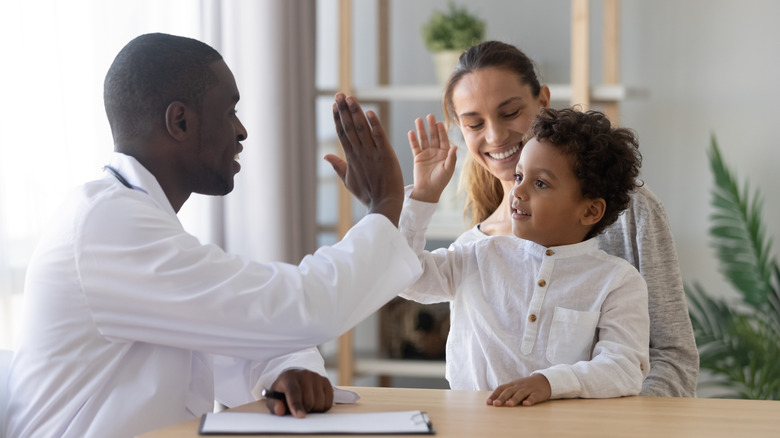 fizkes/Shutterstock
Under the new guidelines, kids should also be encouraged to drink tap water between mealtimes, as most of the American public water supply has been treated with fluoride – a mineral that helps to harden tooth enamel, strengthening the teeth's resistance to harmful acid and decay (per Just for Kids).
The report also instructed pediatricians to become more proactive in the fight against tooth decay in youngsters, recommending that they examine children's mouths during doctor visits and inform parents of any burgeoning oral health issues (per Healthline). Pediatricians are also encouraged to educate parents about how to properly brush their children's teeth, including how much toothpaste they should be using. The report also recommends that pediatricians inform parents that they should start brushing their child's teeth two times daily as soon as the first tooth breaks the surface. Brushing should be done under parental supervision until the child reaches 10 years of age to ensure that they are forming good oral hygiene habits.