Pelé's Cause Of Death Explained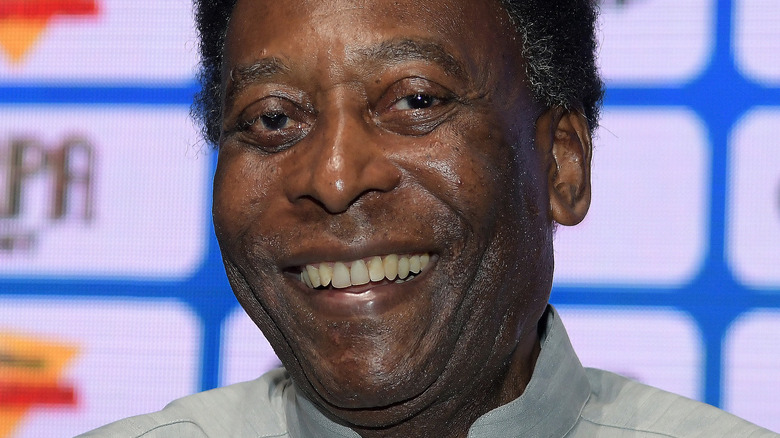 A.PAES/Shutterstock
Pelé, beloved Brazilian soccer legend and international sports icon, has died in a Sao Paulo hospital at the age of 82 (via NBC Sports). Joe Fraga, agent of the late athlete, gave confirmation in a statement to the Associated Press, saying, "The king has passed."
According to The New York Times, a statement was made by Israelita Albert Einstein Hospital — where Pelé spent his last days — announcing that he died of multiple organ failure occurring as a consequence of progressing colon cancer. He was diagnosed with the disease in September 2021 and had been undergoing treatment.
Football fans across the globe held their breath after Pelé's admission to the hospital at the end of November, where he sought treatment for a respiratory infection and other complications brought on by his worsening cancer (via CNN). Despite his declining condition, Pelé did what he had always done, and gracefully gave his admirers the gift of hope.
Pelé's last days
Marc Atkins/Getty Images
On December 3, 2022, Pelé posted a picture of his medical report to Instagram, saying, "My friends, I want to keep everyone calm and positive. I'm strong, with a lot of hope and I follow my treatment as usual. I want to thank the entire medical and nursing team for all the care I have received."
However, just a couple of short weeks later, Israelita Albert Einstein Hospital released a statement suggesting that Pelé was in need of continued care as his worsening illness was wreaking havoc on his kidneys and heart (via Fan Nation). This came just a week before his death.
His daughter, Kely Nascimento, paid homage to him on Instagram with a photo of their family holding his hand in the hospital. The caption reads, "All that we are is thanks to you." Fans and colleagues across the globe remember the superstar for his talent, creativity, activism, and goodness. Let's hear it for number 10.